Biomass
Epilogue: Farmer takes the waste and odor out of hog manure
Biomass Rules, LLC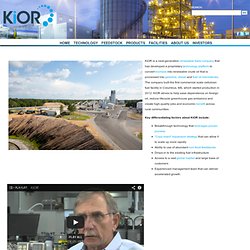 KiOR – Redefining Oil - Home
KiOR is a next-generation renewable fuels company that has developed a proprietary technology platform to convert biomass into renewable crude oil that is processed into gasoline, diesel and fuel oil blendstocks. The company built the first commercial scale cellulosic fuel facility in Columbus, MS, which started production in 2012. KiOR strives to help ease dependence on foreign oil, reduce lifecycle greenhouse gas emissions and create high-quality jobs and economic benefit across rural communities. Key differentiating factors about KiOR include: Breakthrough technology that leverages proven process "Copy exact" expansion strategy that can allow it to scale up more rapidly Ability to use of abundant non-food feedstocks Drops-in to the existing fuel infrastructure Access to a vast global market and large base of customers Experienced management team that can deliver accelerated growth.
Biomass is biological material derived from living, or recently living organisms. It most often refers to plants or plant-based materials which are specifically called lignocellulosic biomass.[1] As an energy source, biomass can either be used directly via combustion to produce heat, or indirectly after converting it to various forms of biofuel. Conversion of biomass to biofuel can be achieved by different methods which are broadly classified into: thermal, chemical, and biochemical methods.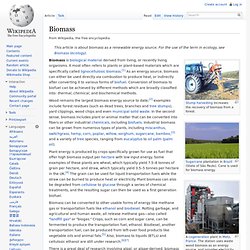 Dell-Point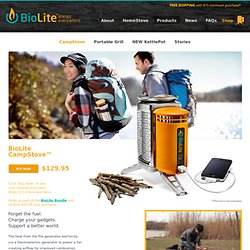 How It Works - BioLite Stove
Click "Buy Now" to see user reviews and video Ships in 1-2 business days Order as part of the BioLite Bundle and receive $15 off your purchase. Forget the fuel. Charge your gadgets.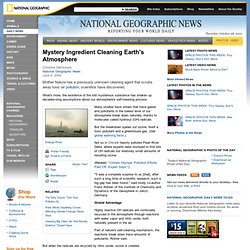 June 4, 2009 Mother Nature has a previously unknown cleaning agent that scrubs away toxic air pollution, scientists have discovered. What's more, the existence of the still mysterious substance has shaken up decades-long assumptions about our atmosphere's self-cleaning process. Many studies have shown that trace gases and pollutants in the lowest level of our atmosphere break down naturally, thanks to molecules called hydroxyl (OH) radicals. But the breakdown spews out ozone, itself a toxic pollutant and a greenhouse gas.
Mystery Ingredient Cleaning Earth's Atmosphere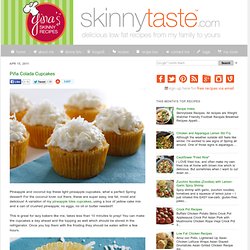 Piña Colada Cupcakes
Pineapple and coconut top these light pineapple cupcakes, what a perfect Spring dessert! For the coconut lover out there, these are super easy, low fat, moist and delicious! A variation of my pineapple bliss cupcakes, using a box of yellow cake mix and a can of crushed pineapple; no eggs, no oil or butter needed!! This is great for lazy bakers like me, takes less than 10 minutes to prep! You can make the cupcakes a day ahead and the topping as well which should be stored in the refrigerator. Once you top them with the frosting they should be eaten within a few hours.
biofuels_compare.gif (GIF Image, 828x491 pixels)
Scharlemann_et_al_2008.pdf (application/pdf Object)
The Carbon Footprint of Biofuels: Can We Shrink It Down to Size in Time?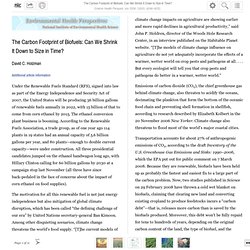 Environmental Health Perspectives National Institute of Environmental Health Science Under the Renewable Fuels Standard (RFS), signed into law as part of the Energy Independence and Security Act of 2007, the United States will be producing 36 billion gallons of renewable fuels annually in 2022, with 15 billion of that to come from corn ethanol by 2015.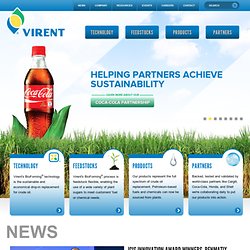 Virent's Director of Chemicals, Kieran Furlong, gave a presentation at "OPEC Oil Embargo +40: A National Summit on Energy Security" in Washington D.C. This event was hosted by Securing America's Future Energy's (SAFE) and marked the 40th anniversary of the 1973 oil embargo. Virent took third place in SAFE's Emerging Innovation Award.
Virent Energy Systems, Inc.
Welcome to the IEA Bioenergy Task 38 Website
Biomass Rules, LLC
Aebiom - European Biomass Association
19/03: Press Release: Want a competitive Europe? Embrace renewables [HERE]19/03: Open letter to EU's Heads of State and Government on Energy Dependency [HERE]28/02: AEBIOM February Newsletter HERE12/02: AEBIOM response to a public consultation on the state aid guidelines [HERE]05/02: Heat Coalition- 2030 climate and energy policy framework: the Parliament calls for a heat strategy HERE23/01: AEBIOM Annual Report 2013 HERE10/12: AEBIOM Statistical Report 2013 HERE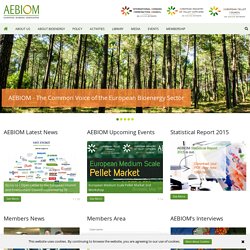 EUBIA, the European Biomass Industry Association, is partner in many European Commission co-founded projects as well as in many international commercial initiatives where bioenergy is promoted at all levels. Thanks to its experience, gained in more than 20 years of activity, EUBIA is able to operate supporting bioenergy in each of its aspects. Read More In the last year EUBIA distributed its efforts working on different initiatives and projects expanding its activities in collaboration with our contacts and our members. To this end, EUBIA has enlarged its membership with 6 more members and aims to further increase its operating network in the future.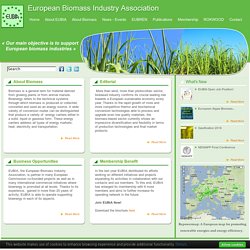 EUBIA - European Biomass Industry Association: Home
Goals & Objectives: Through collaboration in the fields of agriculture and biomass engineering technologies, the Working Group's focus is in four areas: By implementing innovative renewable and sustainable biomass energy technologies, not only can environmental (CO2) and energy independence (foreign oil imports) goals be realized -- but U.S. Manufacturing can regain competitiveness by lowering energy costs from fossil fuels (oil, natural gas, coal).
Biomass Energy Crop & Biomass Power Working Group.
Biomass Power and Thermal | Biomassmagazine.com
The Mailing Lists Biomass Cooking Stoves Mailmain List Cocinas y Estufas Mejoradas These lists help people develop better stoves for cooking with biomass fuels in developing regions. Gasification Mailman List This list is for people involved in the development of Gasification Systems Biochar (Terra Preta) Yahoo Group This list is for people interested in the intentional placement of charcoal in soil Anaerobic Digestion (Biogas) This is a general discussion about technical aspects of anaerobic digestion. The discussion is moderated by Paul Harris, University of Adelaide. Greenbuilding Discussion List Strawbale List The Web Sites
Improved Biomass Cooking Stoves | This site exists to help people develop better stoves for cooking with biomass fuels in developing regions.
IEA Bioenergy: An international Collaboration in Bioenergy
IEA BioEnergy Agreement Task 33: Thermal Gasification of Biomass (home)
Task 33 is a working group of international experts with the aim to promote the commercialization of efficient, economical, and environmentally preferable thermal biomass gasification processes. Thermal biomass gasification is a process converting cellulosic biomass into: heat/power and steam and/or synthesis gas, which can be used for production of: liquid fuels (biodiesel) hydrogen methane mixed alcohols other chemicals
Gasification
Gasification is a process that converts organic or fossil based carbonaceous materials into carbon monoxide, hydrogen and carbon dioxide. This is achieved by reacting the material at high temperatures (>700 °C), without combustion, with a controlled amount of oxygen and/or steam. The resulting gas mixture is called syngas (from synthesis gas or synthetic gas) or producer gas and is itself a fuel. The power derived from gasification and combustion of the resultant gas is considered to be a source of renewable energy if the gasified compounds were obtained from biomass.[1][2][3][4] The advantage of gasification is that using the syngas is potentially more efficient than direct combustion of the original fuel because it can be combusted at higher temperatures or even in fuel cells, so that the thermodynamic upper limit to the efficiency defined by Carnot's rule is higher or not applicable.
Bioenergy News, Bioenergy Articles, Bioenergy Photos
5M Publishing's Portals Our EditorsAboutNewsCompany NewsEventsEmail PageVideosDownloadsMedia Partners Click above to view menu
UW Biotechnology Center
HomePage : HEDON Household Energy Network
Jump to Content | language in Boiling Point 61 - Climate Change: Adaptation, Resilience and Energy Security Last edited by Mohamed Allapitchai , based on work by raffaella , Miriam Hansen , Mauro Vanzini , Elizabeth Norris , Christopher Hughes and Nelson Ko .
Biopact | Home
Bixby Energy