Times&numbers
Timeline of Medical Biotechnology | An Introduction to Biotechnology
The Tree of Life Gets a Makeover
PLoS GeneticsResearchers mapped evolutionary relationships among families of seed plants. Darwin called it the "abominable mystery": the reason for a sudden explosion of diverse flowering plants in the fossil record. Biologists have pondered the issue for years but were hampered by the absence of full studies of some plants and a lack of sophisticated tools for analyzing large genetic data sets.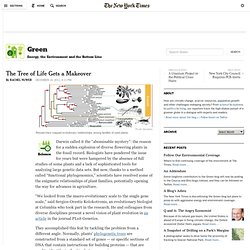 We traditionally think about the tree of life in terms of Kingdoms: plants, animals, fungi, bacteria, etc. Genetics has really revolutionized the way we think about the tree of life and, because our classifications should reflect ancestry (that is, who is more closely related to whom), it has actually called into question a lot of our traditional classifications. Most biologists split up life into three domains: Archaea, Bacteria, and Eucarya (the last of which includes animals, plants, fungi, etc.). The three domains of life. From Carl Zimmer's blog The Loom. Science writer Carl Zimmer has an interesting post on his blog about how the newest genetic data may even call this classification into question by adding a fourth domain.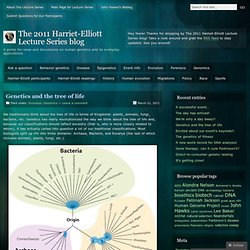 Time Tree :: The Timescale of Life
How It Works Two species or higher taxa are queried (e.g., cat and dog). TimeTree compares all taxa in one inclusive group (e.g., Feliformia) with those in the other group (e.g., Caniformia) to find all published times of divergence for the evolutionary split. Citing TimeTree: Kumar S & Hedges SB (2011) TimeTree2: species divergence times on the iPhone. Bioinformatics 27:2023-2024 [Download PDF]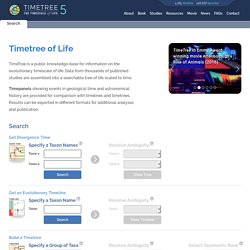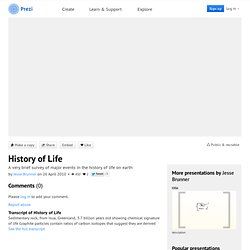 Sedimentary rock, from Isua, Greenland, 3.7 billion years old showing chemical signature of life Graphite particles contain ratios of carbon isotopes that suggest they are derived from living cells. From Rosing (1999) microscopic fossils in 3.26 billion-year old rocks from South Africa A spiny fossil from the Doushantuo Formation, China. This 590-million-year-old fossil represents either the preserved cell wall of a single-celled eukaryote, the reproductive cyst of a multicellular alga, or the egg case of an early animal.
History of Life by Jesse Brunner on Prezi
Transcript of History of Life on Earth Double click anywhere & add an idea Formation of Earth 4.5 Billion years ago 3.8 billion years first appearence of oceans on earth 2.2 Billion first photosynthetic cells 2.0 billion first eukaryotic cells 1.2 billion first multi-cellular eukaryotes 520 million first fish 420 million years first land plants 380 million first land animals 300 million first reptiles 200 million dinosaurs ruled the earth 170 million first birds 65 million dinosaurs go extinct mammals dominate 2 million first humans Earth December 7, 1972
History of Life on Earth by scott ketcham on Prezi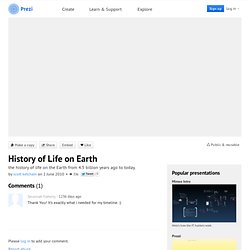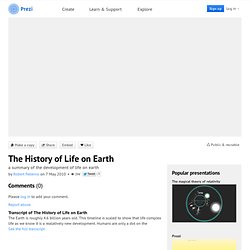 The History of Life on Earth by Robert Patierno on Prezi
The Earth is roughly 4.6 billion years old. This timeline is scaled to show that life complex life as we know it is a realatively new development. Humans are only a dot on the timeline. Archaean Eon 4.6 billion years ago the earth was formed.
Some cells are visible to the unaided eye The smallest objects that the unaided human eye can see are about 0.1 mm long. That means that under the right conditions, you might be able to see an ameoba proteus, a human egg, and a paramecium without using magnification.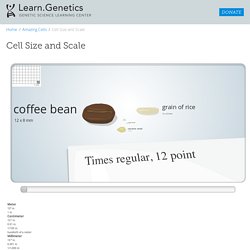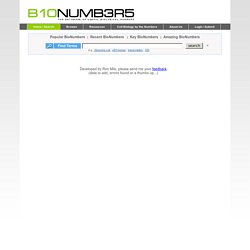 Did you ever need to look up a number like the volume of a cell or the cellular concentration of ATP, only to find yourself spending much more time than you wanted on the Internet or flipping through textbooks - all without much success? Well, it didn't happen only to you. It is often surprising how difficult it can be to find concrete biological numbers, even for properties that have been measured numerous times. To help solve this for one and all, BioNumbers (the database of key numbers in molecular biology) was created.
BioNumbers - The Database of Useful Biological Numbers