RNA structure & modeling course
Home : PSI-Nature Structural Biology Knowledgebase
Structural Biochemistry and Bioinformatics 2001: Lecture notes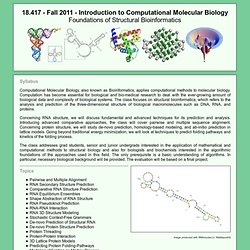 18.417: Introduction to Computational Molecular Biology
Syllabus
Valadkhan Lab, The Center for RNA Molecular Biology, Case Western Reserve University
Free Online MIT Course Materials for High School | RNA/DNA Structure & Function | MIT OpenCourseWare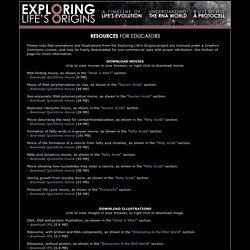 Exploring Life's Origins: Resources for Educators
Please note that animations and illustrations from the Exploring Life's Origins project are licensed under a Creative Commons License, and may be freely downloaded for non-commercial uses with proper attribution.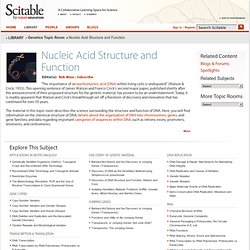 Nucleic Acid Structure and Function | Learn Science at Scitable
"The importance of deoxyribonucleic acid (DNA) within living cells is undisputed" (Watson & Crick, 1953). This opening sentence of James Watson and Francis Crick's second major paper, published shortly after the announcement of their proposed structure for the genetic material, has proven to be an understatement.
SGC | Oxford - Toronto - Stockholm