Resources
Home | BioLOD.org, The Download Hub of Biological Linked Open Databases for Phenomes
Gene Expression Omnibus (GEO) Main page
Biology - Stack Exchange
BenchFly - Laboratory Techniques and Advice for Your Life in Science
Home | www.genomespace.org
WikiGenes - Collaborative Publishing
FGED: Home
Welcome | bioontology.org
Home
Main Page - MIBBI
BioSharing
BioSharing
Those helping the BioSharing Team to enrich the content to the catalogues are acknowledged here: Iain Hrynaszkiewicz, Guillaume Susbielle, Naomi Attar, BMC Nick Lynch, AstraZeneca
Communities | BioSharing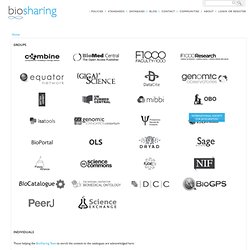 Standards | BioSharing
Research community, funding agencies, and journals participate in the development of reporting standards for the bioscience domain ( 1 ) to ensure that shared experiments are reported with enough information to be comprehensible and (in principle) reproducible, compared or integrated. Similar trends in both the regulatory arena ( 2 , 3 ) and commercial science ( 4 , 5 ).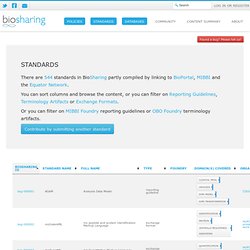 BioSharing
Genes, pseudogenes, and gene models including CDS and predicted proteins and non-coding RNAs for multiple nematode species Sequence Features inc. Operons, PolyA features, SL1 and SL2 Trans-splice leader sequences, UTRs, Binding sites, Promoters, etc.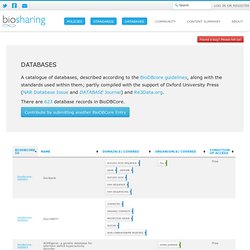 Biology Directory - Biology Resources Online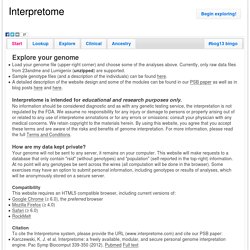 Load your genome file (upper-right corner) and choose some of the analyses above. Currently, only raw data files from 23andme and Lumigenix ( unzipped ) are supported.
Interpretome
‪Intrepretome, tool to help explore your genome‬‏
Behold, the Interpretome! | Gene Expression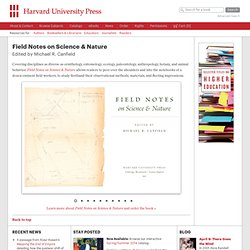 Covering disciplines as diverse as ornithology, entomology, ecology, paleontology, anthropology, botany, and animal behavior, Field Notes on Science & Nature allows readers to peer over the shoulders and into the notebooks of a dozen eminent field workers, to study firsthand their observational methods, materials, and fleeting impressions. Learn more about Field Notes on Science & Nature and order the book » Back to top
University Press - Field Notes on Science and Nature
This Week in Virology — A netcast about viruses – the kind that make you sick
BioQUEST Curriculum Consortium | Biology Curriculum Development | Curriculum Resources
BiologyBrowser | Free information from a trusted source