courses
Get flash to fully experience Pearltrees
Biological and biomedical research careers allow someone to be involved in scientific work that will improve human health. Graduate degrees are needed for the most advanced and creative positions in biological sciences. Inside Biological and Biomedical Sciences Many areas in the biological and biomedical sciences may appeal to those seeking a higher education. This field encompasses the study of biological chemistry, molecular pharmacology, cancer and cell biology, developmental and regenerative biology, genetics, genomics, microbiology and immunology. Degree programs are available at the undergraduate and graduate levels.
In a cell, nucleic acids are represented by two separate yet equally important forms: the DNA that stores information in the nucleus and RNA that is used to translate that information into proteins. These are their stories. Nucleic Acids Miss Crimson : Good day, ladies and gentlemen of the jury. My name is Miss Crimson, and I'm here to prove to you without a shadow of a doubt that my client, Colonel Custard, is not guilty of the most heinous crime of murdering poor Mr.
Free biology talks by the world's leading scientists. Our mission is to produce a library of outstanding science lectures. We will add 15-20 seminars per year in a wide-range of biology topics.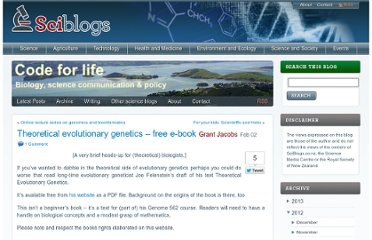 [A very brief heads-up for (theoretical) biologists.] If you've wanted to dabble in the theoretical side of evolutionary genetics perhaps you could do worse that read long-time evolutionary geneticist Joe Felenstein's draft of his text Theoretical Evolutionary Genetics. It's available free from his website as a PDF file. Background on the origins of the book is there, too. This isn't a beginner's book – it's a text for (part of) his Genome 562 course. Readers will need to have a handle on biological concepts and a modest grasp of mathematics.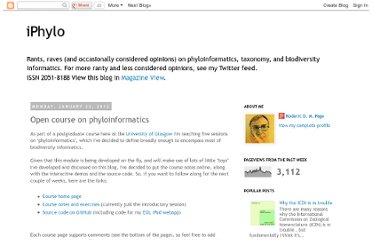 As part of a postgraduate course here at the University of Glasgow I'm teaching five sessions on "phyloinformatics", which I've decided to define broadly enough to encompass most of biodiversity informatics. Given that this module is being developed on the fly, and will make use of lots of little "toys" I've developed and discussed on this blog, I've decided to put the course notes online, along with the interactive demos and the source code. So, if you want to follow along for the next couple of weeks, here are the links: Each course page supports comments (see the bottom of the page), so feel free to add comments, or suggestions. The notes are at a crude stage, and will be developed over the duration of the course (2 weeks). I'm also endeavouring to get all the source code for the demonstration apps into GitHub.
The third annual installment of my virology course at Columbia University, Biology W3310, has begun. This course, which I taught for the first time in 2009, is intended for advanced undergraduates and will be taught at the Morningside Campus. Until I started this course, no instruction in virology had been offered at the Morningside Heights campus of Columbia University since the late 1980s. This is a serious omission for a first-class University. Sending graduates into the world without even a fundamental understanding of viruses and viral disease is inexcusable.
The basic thesis of the course is that all viruses adopt a common strategy. The strategy is simple: 1. Viral genomes are contained in metastable particles. 2. Genomes encode gene products that promote an infectious cycle (mechanisms for genomes to enter cells, replicate, and exit in particles).