Blogs
The World Anti-Doping Agency (WADA) has committed $50 million US dollars to research since 2001 ( see their grant applications & projects here ). Since 2007, some of those research funds have gone to the emerging problem of gene doping. Read about the first public evidence of gene doping, from the trial of the German track coach Thomas Springstein., in the NYT article Outlaw DNA . So what is gene doping?
Detecting Gene Doping in Sports: MicroRNA biomarker sought | Epigenetics Experts Blog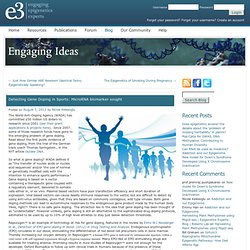 Outlaw DNA - New York Times
Enabling RNA therapy
Scientists Discover New Clue To The Chemical Origins Of Life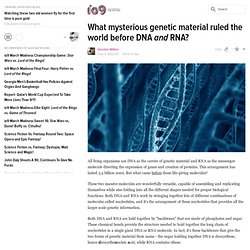 What mysterious genetic material ruled the world before DNA and RNA?
It's all and well that this "TNA" can fold into complex shapes, but it does nothing to help explain how the complex dependency between itself and proteins arose. DNA, RNA and I'm going to assume TNA (as it's apparently only different in the number of carbon atoms) require complex protein molecules to exist to replicate, and at the same time the only known way for protein molecules to be created is with the gene sequences found in DNA and RNA. As stated in the article, a "catch-22" scenario.
biobabel | exploring diverse new biological research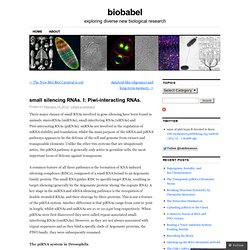 small silencing RNAs. I: Piwi-interacting RNAs. | biobabel
Three major classes of small RNAs involved in gene silencing have been found in animals: microRNAs (miRNAs), small-interfering RNAs (siRNAs) and Piwi-interacting RNAs (piRNAs). miRNAs are involved in the regulation of mRNA stability and translation, whilst the main purpose of the siRNA and piRNA pathways appears to be the defense of the cell and genome from viruses and transposable elements. Unlike the other two systems that are ubiquitously active, the piRNA pathway is generally only active in germline cells, the most important locus of defense against transposons. A common feature of all three pathways is the formation of RNA-induced silencing complexes (RISCs), composed of a small RNA bound to an Argonaute family protein.
lincRNAs in development and evolution | biobabel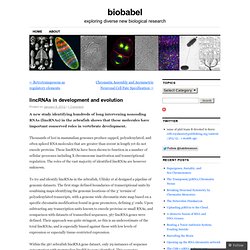 A new study identifying hundreds of long intervening noncoding RNAs (lincRNAs) in the zebrafish shows that these molecules have important conserved roles in vertebrate development. Thousands of loci in mammalian genomes produce capped, polyadenylated, and often spliced RNA molecules that are greater than 200nt in length yet do not encode proteins. These lincRNAs have been shown to function in a number of cellular processes including X chromosome inactivation and transcriptional regulation.
RNAi and Chromatin Modification | biobabel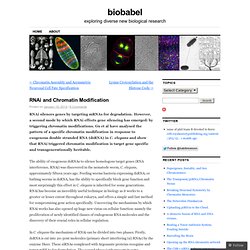 RNAi silences genes by targeting mRNAs for degradation. However, a second mode by which RNAi effects gene silencing has emerged: by triggering chromatin modifications. Gu et al have analysed the pattern of a specific chromatin modification in response to exogenous double stranded RNA (dsRNA) in C. elegans and show that RNAi triggered chromatin modification is target gene specific and transgenerationally heritable.
RNomics' Posterous - RNA, evolution, origin of life, genomics, drug discovery, etc
RNOMICS
Researchers reveal an #RNA modification influences thousands of genes Topics of interest include stable and transient #RNA interference, gene silencing, #RNA editing, bioinformatics, small noncoding #RNAs, and #RNomics. http://bit.ly/UiQYbH #bing Anesthesia Central: Computational #RNomics of drosophilids. The topic Computational #RNomics of drosophilids. was found in Unbound MEDLINE … Bioinformatics Group, Department of Computer … The intergenic #RNA … http://bit.ly/ZQ4o4d #bing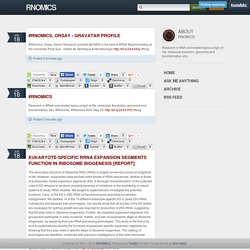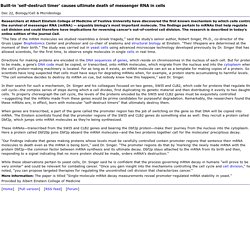 Built-in 'self-destruct timer' causes ultimate death of messenger RNA in cells
Dec 22, Biology/Cell & Microbiology Researchers at Albert Einstein College of Medicine of Yeshiva University have discovered the first known mechanism by which cells control the survival of messenger RNA (mRNA) -- arguably biology's most important molecule. The findings pertain to mRNAs that help regulate cell division and could therefore have implications for reversing cancer's out-of-control cell division. The research is described in today's online edition of the journal Cell .
Researchers develop CAD-Type tools for engineering RNA control systems
Dec 22, Biology/Biotechnology JBEI researchers have developed CAD-type tools for engineering RNA components that hold enormous potential for microbial-based production of advanced biofuels and other goods now derived from petrochemicals. Credit: Image by Zosia Rostomian, Berkeley Lab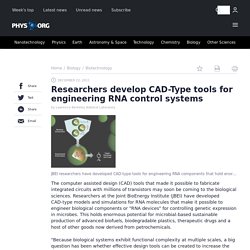 Related images (click to enlarge) Image by Zosia Rostomian, Berkeley Lab Photo by Roy Kaltschmidt, Berkeley Lab The computer assisted design (CAD) tools that made it possible to fabricate integrated circuits with millions of transistors may soon be coming to the biological sciences. Researchers at the U.S.
CAD for RNA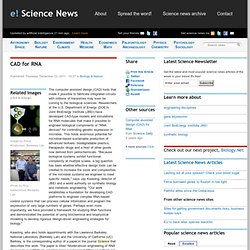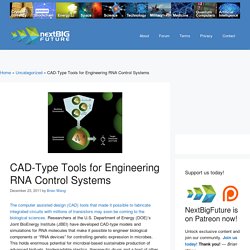 Researchers at the U.S. Department of Energy (DOE)'s Joint BioEnergy Institute (JBEI) have developed CAD-type models and simulations for RNA molecules that make it possible to engineer biological components or "RNA devices" for controlling genetic expression in microbes. This holds enormous potential for microbial-based sustainable production of advanced biofuels, biodegradable plastics, therapeutic drugs and a host of other goods now derived from petrochemicals.
CAD-Type Tools for Engineering RNA Control Systems
A collaborative effort between Epicentre and the HudsonAlpha Institute for Biotechnology resulted in the development of two novel transposon-based methods for RNA-Seq library preparation. The technique, called Tn-RNA-Seq, can use double-stranded cDNA created from rRNA-depleted RNA to prepare an Illumina ® sequencing library using only two enzymatic reactions. The researchers generated high-quality RNA-Seq libraries from as little as 10 pg of mRNA (~1 ng of total RNA) with this approach. They also present a strand-specific RNA-Seq library construction protocol that combines transposon-based library construction with uracil DNA glycosylase and Endonuclease VIII to specifically degrade the second strand constructed during cDNA synthesis. These directional RNA-Seq libraries maintained the same quality as the nondirectional libraries, while showing a high degree of strand specificity (99.5% of reads mapped to the expected genomic strand).
Transposome-based RNA-Seq library construction from low input amounts of RNA
2011 UGA Conference on Drug Discovery: anti-HIV RNAs, enhanced DNA vaccines, and adenosine ligands « Antiviral Immunity
The real highlight of the 2011 UGA Conference on Drug Discovery (sponsored by the University of Georgia Center for Drug Discovery ) was the food. After all the free soda, scones, biscuits, fried chicken and rice, strawberry shortcake, malt balls, and gummy worms, I feel a little sick to my stomach. In addition to all the good food, there were some good talks, including "Small RNAs: their biology and therapeutic applications in HIV and cancer" by John Rossi, PhD , "Synthetic DNA vaccines for treatment or prophylaxis of difficult pathogens" by David Weiner, PhD , and "Drug discovery based on G protein-coupled receptors for extracellular nucleosides and nucleotides" by Kenneth Jacobson, PhD . These talks are summarized below. Small RNAs: their biology and therapeutic applications in HIV and cancer John Rossi's group works on RNA-based therapies.
The genome is a plastic thing. Yes, that's right: the genome is plastic. No, it's not true that an individual's DNA doesn't change. It's not true that genes dictate what we are, and it's not true that DNA is just a set of instructions.
the fundamental role of RNA editing
Seq Blog
Computer simulation of evolution of primordial molecular machine
As a molecular machine found in all living cells that is of central importance for the synthesis of the proteins upon which all life depends, the ribosome is perhaps the primordial example of a molecular machine. For this reason, a recent Open Access publication in the Journal of Molecular Modeling is of substantial interest to those wishing to understand how molecular machines could evolve to execute complex functions. " An information-carrying and knowledge-producing molecular machine. A Monte-Carlo simulation " presents a computer simulation of how, by a long sequence of chemical steps, a simple self-replicating oligomer in a specific environment could evolve into a machine to translate a genetic code into amino acid sequences. [Be sure to download the supplemental material as well as the main text because the supplemental figures make it much easier to follow the author's argument.]