Bio
Fusion Medical Animation Video | DnaTube.com - Scientific Video Site
James Mollison - Photographer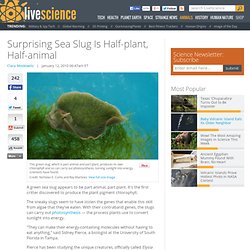 A green sea slug appears to be part animal, part plant. It's the first critter discovered to produce the plant pigment chlorophyll. The sneaky slugs seem to have stolen the genes that enable this skill from algae that they've eaten. With their contraband genes, the slugs can carry out photosynthesis — the process plants use to convert sunlight into energy. "They can make their energy-containing molecules without having to eat anything," said Sidney Pierce, a biologist at the University of South Florida in Tampa.
Surprising Sea Slug Is Half-plant, Half-animal
The Open Biomedical Ontologies
The OBO Foundry is a collaborative experiment involving developers of science-based ontologies who are establishing a set of principles for ontology development with the goal of creating a suite of orthogonal interoperable reference ontologies in the biomedical domain. The groups developing ontologies who have expressed an interest in this goal are listed below, followed by other relevant efforts in this domain. In addition to a listing of OBO ontologies, this site also provides a statement of the OBO Foundry principles, discussion fora, technical infrastructure, and other services to facilitate ontology development. We welcome feedback and encourage participation. Click any column header to sort the table by that column. The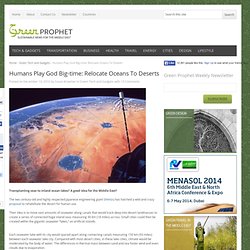 Transplanting seas to inland ocean lakes? A good idea for the Middle East? The two century-old and highly respected Japanese engineering giant Shimizu has hatched a wild and crazy proposal to rehabilitate the desert for human use.
by John Walker Welcome to Your Sky, the interactive planetarium of the Web. You can produce maps in the forms described below for any time and date, viewpoint, and observing location. If you enter the orbital elements of an asteroid or comet, Your Sky will compute its current position and plot it on the map. Each map is accompanied by an ephemeris for the Sun, Moon, planets, and any tracked asteroid or comet. A control panel permits customisation of which objects are plotted, limiting magnitudes, colour scheme, image size, and other parameters; each control is linked to its description in the help file.
uk aerial photography: aerial maps, digital aerial photos, aerial photo prints
Eco EnR TV, Web tv des économies d'énergie et énergies reno
Noé ou l'écologie participative, à l'occasion du Grene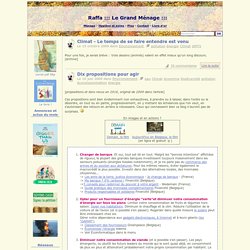 Me revoilà donc. Très longuement, comme à mon habitude (en même temps ça fait longtemps hein ), je voudrais vous expliquer qu'aujourd'hui une page s'est tournée, en tout cas pour moi, grâce à Home. J'encourage donc tous ceux qui ne l'ont pas encore vu et qui se demandent encore pourquoi/comment on en est arrivé là de le voir (zappez le générique de début et de fin, svp). Il est en diffusion gratuite sur Youtube jusqu'au 14 juin 17 juillet.