Data Mining
Thank you - OutWit Hub. So, what is OutWit, in a word?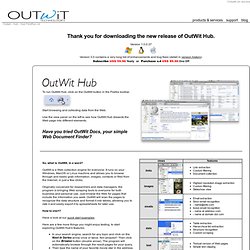 OutWit is a Web collection engine for everyone. It runs on your Windows, MacOS or Linux machine and allows you to browse through and easily grab information, images, contacts or files from the Internet, in just a few clicks. Originally conceived for researchers and data managers, the program is bringing Web scraping tools to everyone for both business and personal use. Just browse the Web for pages that include the information you seek. Available KNIME Extensions. KNIME extensions provide additional functionality for KNIME ranging from Excel support, R integration, JFreeChart for advanced visualisations, 100+ nodes wrapping machine learning algorithms from Weka, the Reporting extension, and much more.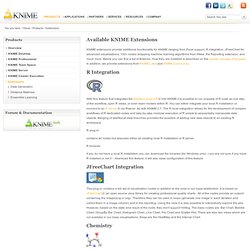 Below you can find a list of features. How they are installed is described on the update manager help page. In addition, we provide extensions from KNIME Labs and KNIME Community. Sign in or create an account. Infochimps Data Marketplace + Commons: Download Sell or Share Databases, statistics, datasets for free.
Some Datasets Available on the Web » Data Wrangling Blog. Some Datasets Available on the Web The Datawrangling blog was put on the back burner last May while I focused on my startup.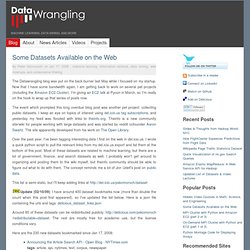 Now that I have some bandwidth again, I am getting back to work on several pet projects (including the Amazon EC2 Cluster). I'm giving an EC2 talk at Pycon in March, so I'm really on the hook to wrap up that series of posts now. The event which prompted this long overdue blog post was another pet project: collecting public datasets. Web Search and Data Mining. Event: WSDM. My Data Mining Weblog » Web Search Interest of Data Mining in 2010. Following to my previous post titled "Data Mining Trends (2004-2010): By Country, City and Language", I am eager to know what are the latest worldwide interests for data mining in 2010.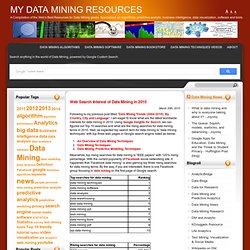 Using Google Insights for Search, we can figured out Top 10 searches and what are the rising searches for data mining terms in 2010. Well, as expected top search term for data mining is "data mining techniques" with top three web pages in Google search engine listed as below: Meanwhile, top rising searches for data mining is "IEEE papers" with 120% rising percentage. With the current popularity of Facebook social networking site, it happened that "Facebook data mining" is also gaining top three rising searches for data mining terms.
By the way, if you are interested, there is one Facebook group focusing in data mining on the first page of Google search. Data Mining Research - www.dataminingblog.com | Data Mining Blogs. If you're new here, you may want to subscribe to my RSS feed.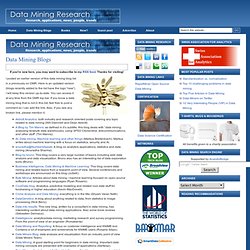 Thanks for visiting! I posted an earlier version of this data mining blog list in a previously on DMR. Here is an updated version (blogs recently added to the list have the logo "new"). I will keep this version up-to-date. An Introduction to Data Mining-online book. Tags: Analytics, Australia, bi, book, Chart, conference, consulting, data, data mining, data visualization, editor, Free, Hospital, images, interview, KNIME, learning, media, Microsoft, mining, nature, network, online, open, open source, Paper, Pie chart, Professor S.
Sayad, R, RapidMiner, social media, social media analytics, software, Solution, source, Stacked, text mining, tutorial, uk, University of Toronto, visualization, weka, White paper By Ajay Ohri in Analytics on . Data Mining and Predictive Analytics.
---