Data Mining
So, what is OutWit, in a word?
Thank you - OutWit Hub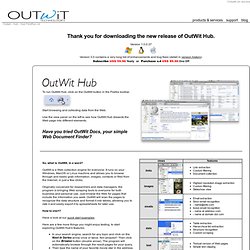 Available KNIME Extensions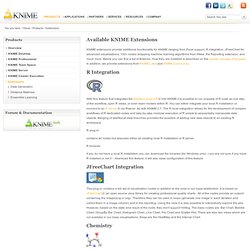 KNIME extensions provide additional functionality for KNIME ranging from Excel support, R integration, JFreeChart for advanced visualisations, 100+ nodes wrapping machine learning algorithms from Weka, the Reporting extension, and much more.
Sign in or create an account
Infochimps Data Marketplace + Commons: Download Sell or Share Databases, statistics, datasets for free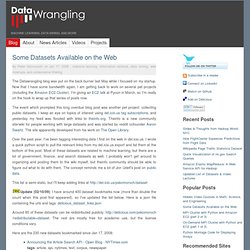 Some Datasets Available on the Web
Some Datasets Available on the Web » Data Wrangling Blog
Web Search and Data Mining
Event: WSDM
Following to my previous post titled "Data Mining Trends (2004-2010): By Country, City and Language", I am eager to know what are the latest worldwide interests for data mining in 2010. Using Google Insights for Search, we can figured out Top 10 searches and what are the rising searches for data mining terms in 2010. Well, as expected top search term for data mining is "data mining techniques" with top three web pages in Google search engine listed as below: Meanwhile, top rising searches for data mining is "IEEE papers" with 120% rising percentage. With the current popularity of Facebook social networking site, it happened that "Facebook data mining" is also gaining top three rising searches for data mining terms. By the way, if you are interested, there is one Facebook group focusing in data mining on the first page of Google search.
My Data Mining Weblog » Web Search Interest of Data Mining in 2010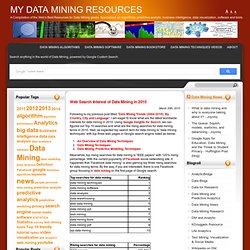 If you're new here, you may want to subscribe to my RSS feed.
Data Mining Research - www.dataminingblog.com | Data Mining Blogs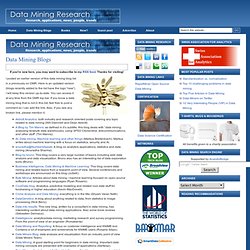 An Introduction to Data Mining-online book « DECISION STATS
Tags: Analytics, Australia, bi, book, Chart, conference, consulting, data, data mining, data visualization, editor, Free, Hospital, images, interview, KNIME, learning, media, Microsoft, mining, nature, network, online, open, open source, Paper, Pie chart, Professor S. Sayad, R, RapidMiner, social media, social media analytics, software, Solution, source, Stacked, text mining, tutorial, uk, University of Toronto, visualization, weka, White paper
Data Mining and Predictive Analytics