Bien etre au travail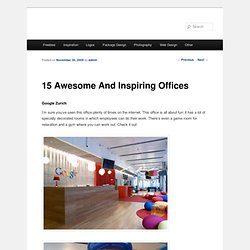 I'm sure you've seen this office plenty of times on the internet. This office is all about fun: it has a lot of specially decorated rooms in which employees can do their work. There's even a game room for relaxation and a gym where you can work out. Check it out:
Guide_pratique_travail_ecran.pdf (Objet application/pdf)
Ergonomie bureau, aménagement des postes de travail tertiaire et l'espace de travail
L'ergonomie des bureaux et des postes tertiaires. Normes ergonomiques pour les bureaux. Le choix du matériel (fauteuil, chaise, clavier, écran, etc.) et l'aménagement des bureaux doivent tenir compte d'un ensemble de règles et de normes en ergonomie afin d'éviter l'apparition de sensations d'inconfort ou de douleurs au cours de la journée de travail. Les règles d'aménagement sont accessibles sur l'excellent site de l' INRS où vous trouverez gratuitement de nombreux documents sur le sujet notamment la fiche pratique ED 23. Le site de l' AFNOR permet d'accèder aux normes françaises et internationnales. L'essentiel sur la bonne position de travail au bureau.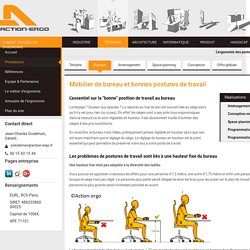 MC14.pdf (Objet application/pdf)
Capitalrh - juin-juillet 07 - RH pratique.pdf (Objet application/pdf)