Peace First...
Carnegie Endowment for International Peace. Welcome to SIPRI — www.sipri.org. IMAGINE PEACE. Programs & Projects » NationalPeaceAcademy.us. The National Peace Academy offers a variety of programs supporting the full development of the peacebuilder – inner and outer, personal and professional.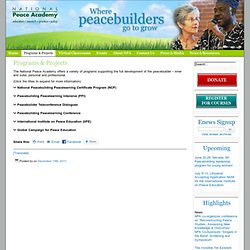 (Click the titles to expand for more information) National Peacebuilding Peacelearning Certificate Program (NCP) The National Peacebuilding Peacelearning Certificate Program (NCP) provides opportunities for gaining breadth & depth in peacebuilding and peace education or for just testing the waters. Students can take one course, sample a few, or pursue a personalized learning journey toward earning a certificate in Peacebuilding and Peacelearning. Certificate Program courses are available online or as short, in-person intensives and are conducted in partnership with leading educators, universities, and peacebuilding organizations around the country. NationalPeaceAcademy.us. Interfaith & Peace Initiatives... Society: Issues: Peace: Peace Studies.
Stop the War Coalition. Peace Corps. Peace Corps Journals. National Peace Corps Association. Peace Tactics... THE FOOD NOT BOMBS MOVEMENT.
---