Best pics
1232240361BuE88FB.jpg 700×467 píxeles. May-11-2012-21-01-30-fdvdfbv.jpeg 700×1047 píxeles. The Funniest Animal Photos. Part 1  "Animals have these advantages over man: they never hear the clock strike, they die without any idea of death, they have no theologians to instruct them, their last moments are not disturbed by unwelcome and unpleasant ceremonies, their funerals cost them nothing, and no one starts lawsuits over their wills.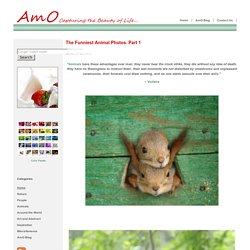 " ~ Voltaire Cisco CCIE Pre-Qualification Test for 1z0-051 can easily be achieved with quality materials that are available at Testking at lower cost. 642-999 updated mp3 guide is available to you at affordable cost that could enables you to achieve higher score in actual exam. Heaven On Earth (8 Pics) Snail.jpg 1,100×734 píxeles. Baby dinosaur by mehmet karaca. Historical Photo Archive :: Set a Spell: 1939. Animals Illuminated by the Sun.
3717583_700b.jpg 630×473 píxeles. Black-panther_1576289i.jpg 620×552 píxeles. O.png 1258×880 píxeles. 1283831318233_f.jpg 375×500 píxeles. Wichita Wildlife instagram. Luna's bed instagram. Snake_River_Grand_Teton-National_Park_Wyoming_021.jpg 1600×1200 píxeles.
25 Most Beautiful Animals Photography on StumbleUpon. H5C4DD.jpg 960×600 píxeles. Nature 29. Solitude by Helminadia Ranford. Far away from the shop by acrux/Kowalkowski Rafal. Summer Rain by Paulo Dias. Ll Mediterranean by auster. Seagulls by itan14. Untitled by Rafal Norek. Pier Pressure by John Parminter. Line... by Krzysztof Browko. Silent World by Michael Kenna. Silence by Ivo Sisevic - Sisko. Underneath the Veil by Mary Kay. Kung Fu Master by Lina Gunawan. Spring delights by Tamas Wachsler. 712.jpg 1600×1200 píxeles.
Animals' Eyes Up Close. Husky Suren Manvelyan, is a bit of a jack of all trades.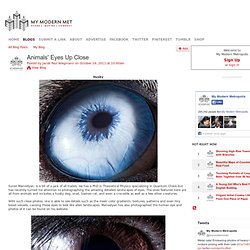 He has a PhD in Theoretical Physics specializing in Quantum Chaos but has recently turned his attention to photographing the amazing detailed landscapes of eyes. The ones featured here are all from animals and includes a husky dog, snail, Siames cat, and even a crocodile as well as a few other creatures. With such close photos, one is able to see details such as the irises' color gradients, textures, patterns and even tiny blood vessels, causing these eyes to look like alien landscapes. Manvelyan has also photographed the human eye and photos of it can be found on his website. n02_sean-heavey.jpg 990×567 píxeles. Colorful-chameleon.jpg 960×669 píxeles.
Resl08_warm_spots.jpg 511×424 píxeles. 4365489343_012a666186_b.jpg 1024×683 píxeles. That Same Other World.jpg (JPEG Image, 1200x800 pixels) - Scaled (72%) Siesta by Istvan Lichner. Animal pictures of the week: 13 January 2012. The smallest vertebrate on Earth - a frog just a quarter of an inch long - has been discovered by scientists.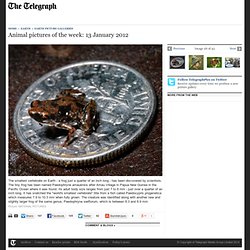 The tiny frog has been named Paedophryne amauensis after Amau Village in Papua New Guinea in the Pacific Ocean where it was found. Its adult body size ranges from just 7 to 8 mm - just over a quarter of an inch long. Fairytale by Alex Saberi. Unreal-Sunset-Reflection-Wallpaper-441842.jpeg 960×540 píxeles. Landscape-green-landscape-mountain-nature-tree-water.jpg (JPEG Image, 1920 × 1080 pixels) - Scaled (56%) 54817_0_1008x803.jpg (JPEG Image, 1008 × 803 pixels) - Scaled (72%) yPVq0.jpg (JPEG Image, 1200 × 806 pixels) 20-Striking-Natural-Disasters.jpg (JPEG Image, 900 × 630 pixels)
8191.jpg (JPEG Image, 1920 × 1080 pixels) - Scaled (65. 20110616Storm.jpg (JPEG Image, 887 × 591 pixels) 0415wallpaperys-6_1600.jpg (JPEG Image, 1600x1200 pixels) - Scaled (53%) The 40 Best Selected Wallpapers from National Geographic Magazine. No doubt National Geographic features unbelievable photography.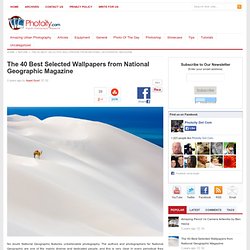 The authors and photographers for National Geographic are one of the mainly diverse and dedicated people, and this is very clear in every periodical they discharge. From city to country areas, from the cultured to the most foreign to the most deserted of locations, from happy proceedings to catastrophic ones, from home to the expert life, and spiritual and beyond, these people cover almost every bit of in sequence of every feature of this world.
The photographic as well as journalistic excellence of National Geographic is truly undeniable. 40 photos. 1%20(64) Thirst. That Same Other World.jpg (JPEG Image, 1200x800 pixels) - Scaled (72%) Mai474big.jpg from nikdaum.com - StumbleUpon. Captain Torchepot by gwichin. Wtf! by alex thompson - pixdaus. Astonishing Collection of Artistic Underwater Photos. Water is the universal solvent, it can dissolve almost anything in itself, including beauty, passion and art.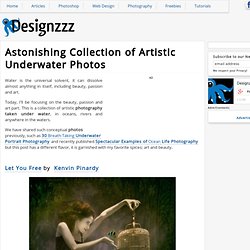 Today, I'll be focusing on the beauty, passion and art part. This is a collection of artistic photography taken under water, in oceans, rivers and anywhere in the waters. We have shared such conceptual photos previously, such as 30 Breath-Taking Underwater Portrait Photography and recently published Spectacular Examples of Ocean Life Photography but this post has a different flavor, it is garnished with my favorite spices; art and beauty. Let You Free by Kenvin Pinardy. On White: Canal Scene - Amsterdam by Different Light Photography [different-light.com] The-Same-Place3.png 400×563 píxeles.
30 Breath Taking (i mean it) Underwater Portrait Photography. 30 Breath Taking (i mean it) Underwater Portrait Photography 30 Breath Taking Underwater Portrait Photography Amazing Underwater Portraits gathered around DeviantArt.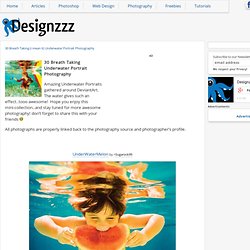 The water gives such an effect..tooo awesome! Hope you enjoy this mini-collection..and stay tuned for more awesome photography! Don't forget to share this with your friends. 53112.jpg 1200×843 píxeles. Rainbow Wave by David Orias.
---