Productivity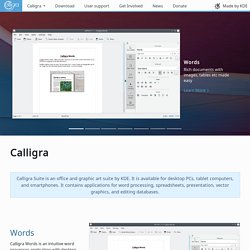 The Calligra team has released version 2.5.2, the second bugfix release of the Calligra Suite, and Calligra Active. This release contains a number of important bug fixes to 2.5.1 and we recommend everybody to update as soon as possible. Bugfixes … Continue reading The Calligra team is proud and pleased to announce the alpha release of version 2.6 of the Calligra Suite. This version is a preview of what will come in the final version of Calligra 2.6 that will be announced in … Continue reading
Calligra Suite | The integrated work applications suite
This page contains scripts from third party contributors. They are not maintained as part of zim itself. Firefox plugin by: Michael Mulqueen, updated November 2010 Firefox plugin that allows selections of webpages to be dumped using the "Quick Note" zim plugin. Nice way to collect snippets with source URLs in a zim notebook.
Zim Desktop Wiki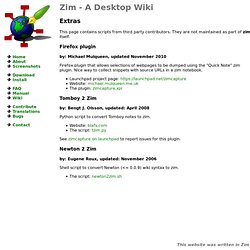 Zimbra Desktop provides a rich and consistent user experience offline. The free Zimbra Desktop client delivers a consistent user experience offline, so email, voice, social, calendar, contacts, files and documents are synchronized and locally accessible when on the road. Zimbra Desktop aggregates information across accounts (Zimbra, Yahoo! Mail, Gmail, Hotmail, etc.) and social networks (Facebook, Digg, Twitter, etc.) to help make communicating and sharing information easier than ever. Work Online or Offline Zimbra Desktop enables IT to easily support today's more flexible work environments with users who travel or work remotely.
Desktop
AZZ Cardfile software: free form Personal Info Manager for Windows OS
Zimbra Desktop
Scribus is an Open Source program that brings professional page layout to Linux, BSD UNIX, Solaris, OpenIndiana, GNU/Hurd, Mac OS X, OS/2 Warp 4, eComStation, Haiku and Windows desktops with a combination of press-ready output and new approaches to page design. Underneath a modern and user-friendly interface, Scribus supports professional publishing features, such as color separations, CMYK and spot colors, ICC color management, and versatile PDF creation.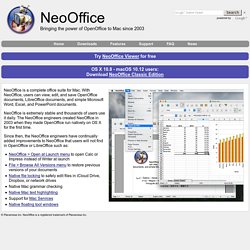 NeoOffice is a complete set of office applications for Mac OS X. With NeoOffice, users can create and edit spreadsheets, text documents, and presentations. NeoOffice can also import most Excel, Word, and PowerPoint documents. NeoOffice is based on the OpenOffice office productivity software. Since 2003, the NeoOffice engineers - Patrick Luby and Ed Peterlin - have taken the OpenOffice code and have continually added improvements to NeoOffice that users will not find in OpenOffice or LibreOffice such as:
OpenOffice.org repository for Extensions
GridIron Software is now FileTrek . Click here to learn more . Monitor Your Sensitive Data FileTrek's Worklog Data Collectors capture and analyze your unstructured data in motion. Get Started Be Prepared For Your Next Attack Our unique approach to addressing file-based threats is like a security camera with a motion detector.
Flow 2.0: Free Project Management and Collaboration Software | Gridiron Software