Being Vegan
watermelon vs. pear
Have you ever wanted to attend Jay and Linda Kordich's juicing and healthy foods seminar? With the Live Foods Live Bodies Program you can do just that without ever having to leave your home. This comprehensive nutrition education multimedia package includes 5 audio CDs, 2 DVDs and the book that brings it all together, Live Foods Live Bodies.
Jay Kordich Blog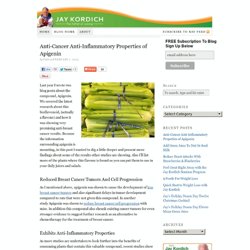 Fresh Raw Fruit Juice Recipes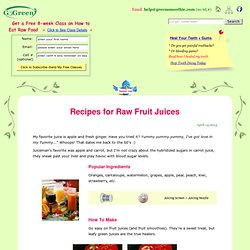 April 14, 2014 My favorite juice is apple and fresh ginger. Have you tried it? Yummy yummy yummy, I've got love in my Tummy..." Whoops!
Planet Green : Sustainable Living, Energy Conservation, Earth Day
Going Green, Fuel Efficiency, Organic Food, and Green Living
Vegan Blogger Reading List | Glue and Glitter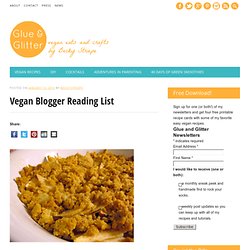 Yesterday evening when I posted the Cupcake Punk – Jes posts amazing recipes alongside lovely stories. Lots of her recipes are gluten free.Cute and Delicious – the name says it all!Healthy, Happy Life – Looking for heathy eats and some vegan food porn? Kathy has you covered.Invisible Voices – This one's heavy on the animal rights and cute animal photos.Manifest Vegan – More food porn! Also, I want to make every single one of her recipes.Raspberry Swirl – Leigh and her husband Ken own Cosmo's Vegan Shoppe here in Atlanta.
Vegan & Vegetarian Blog Tracker
veganza | ★ conscious living | smarter loving ♥
Every pizza enthusiast has their own way of throwing together pizzas, their own topping preferences. My basic method: I like a good marinara sauce on the bottom with some onion and garlic, a HUGE amount of chopped greens on top of that (makes the pizza taste "fresher"!), a light sprinkle of cheese to hold those together, and a thick covering of my favourite seasonal and perennial fruit and veg on top, followed by another sprinkling of cheese. Other people go lighter on toppings, some people like diced toppings and others like big old chunky chunks.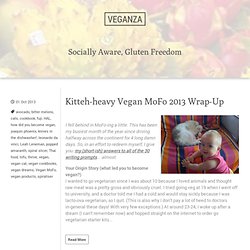 The Green Majority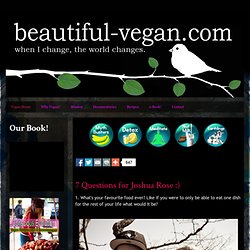 Well I have taken every single thing out of my tent and cleaned, and there appears to be no more bullet ants, so I'm moving back in. I'll try filling the holes better this time. Last night I went out dancing at Maracatu's "ladies night' (not nearly as creepy as that sounds), and the DJ was killing it- (awesome). Found out the owner is vegan and that's why they serve mostly vegan and vegetarian food What else happened yesterday?
beautiful vegan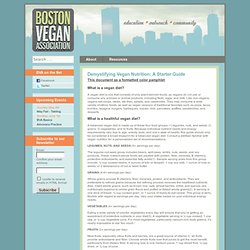 Demystifying Vegan Nutrition: A Starter Guide | Boston Vegan Association
This document as a formatted color pamphlet What is a vegan diet? A vegan diet is one that consists of only plant-derived foods, as vegans do not use or consume any animals or animal products, including flesh, eggs, and milk. Like non-vegans, vegans eat soups, stews, stir-fries, salads, and casseroles.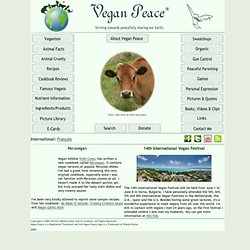 Vegan Peace
14th International Vegan Festival The 14th International Vegan Festival will be held from June 1 to June 8 in Varna, Bulgaria. I have personally attended the 5th, 6th, 7th and 8th International Vegan Festivals in the Netherlands, the U.K., Spain and the U.S. Besides having some great lectures, it's a wonderful experience to meet vegans from all over the world. I'm still in contact with vegans I met 24 years ago, at the first festival I attended (where I also met my husband). You can get more information at this link.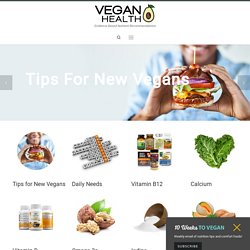 Maintained by Jack Norris, Registered Dietitian, President of Vegan Outreach | Contact | Bio Click here to support VeganHealth.org! Staying Healthy on Plant-Based Diets Introduction Nutrients that Need Attention in Vegan and Vegetarian Diets Nutrients that Need Attention in Vegan Diets
Vegan Health Home Page
Welcome, becomethevoice "BTV" was created to broaden personal awareness while choosing to be a voice for animal welfare, health and environmental issues. Our food and everyday products are effecting our health and the planet, the more knowledge we have about our choices, the more successful we will be in our ability to survive, avoid suffering, illness and disease. The best way to do this is by developing healthier food production and choices, become better consumers and broaden our overall knowledge. What appeals to me about a plant based diet is the pure fact that it isn't just a diet, I feel it is a lifestyle choice: more of a way of life, a life based on a philosophy and purposeful principle.
Become the Voice
Miss Representation April 19th, 2012 Permit me a moment's foray into another relevant realm within the social justice world.
Me: Vegan
The Kind Life
Wellness Workshop Series: Christina PirelloApril 7th, 2014If you're the Philly area, check out my friend Christina Pirello's wellness workshop series!Read more... Restaurant Review: Planet RawApril 4th, 2014If you are in the LA area, Planet Raw is a must!Read more...
Liberation BC
Vegetarian & Vegan Recipes: VegKitchen with Nava Atlas
Nutty Chocolate Protein Bars with Chia Seeds Are You Using Real Cinnamon? Contributed by Cristina West, of An Organic Wife. Is your cinnamon fake? There's a good chance that yes, it is.
Top 10 Best Countries to be Vegetarian
Vegetarians will have a hard time traveling to certain countries, as meat is in the culture and can be included in everything. However, certain countries have large vegetarian populations and customs. 10. Canada:
nutrients and all those good things