Nails
45 Cute Nail Designs You Will Definitely Love. There is nothing like cute nail designs to brighten up your day and mood.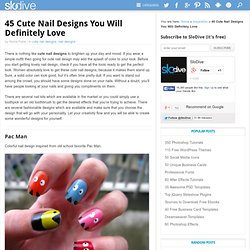 If you wear a simple outfit then going for cute nail design may add the splash of color to your look. Before you start getting lovely nail design, check if you have all the tools ready to get the perfect look. It's because I think too much: Galactic Manicure. I loved how my glittery gradient mani turned out so much that I decided to do a variation on it, using the night sky as my inspiration!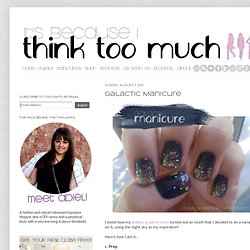 Here's how I did it: 1. Prep I grabbed deep navy, silver glitter, and gold glitter polish along with my favorite top coat. I also grabbed an orange stick and some nail art rhinestones. Mermaid Nails. Share this image Share It Pin It For our trip to Costa Rica, I wanted fun nails that had an almost tropical vibe.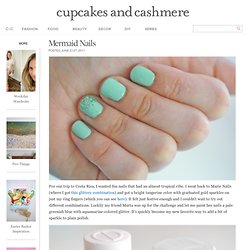 I went back to Marie Nails (where I got this glittery combination) and got a bright tangerine color with graduated gold sparkles on just my ring fingers (which you can see here). Secrets to Super White Nails and Teeth | Hybrid Mom. Get Yo' Nails Did. Okay, so we're only three weeks in to this whole thing and I'm already showing you a tame look after I totally promised some of you that I'd do a newsprint nail tutorial this week.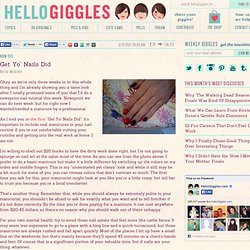 Newsprint we can do next week, but for right now I wanted/needed a manicure by a professional. As I told you in the first "Get Yo' Nails Did", it's important to include real manicures in your nail routine if you're not comfortable cutting your cuticles and getting into the real work at home. I am not. I'm willing to shell out $20 bucks to have the dirty work done right, but I'm not going to splurge on nail art at the salon most of the time. As you can see from the photo above, I prefer to do a basic manicure but make it a little different by switching up the colors on my index and middle fingers.
Water Marble Tutorial. Supplies: orange stick or... Water Marble Tutorial.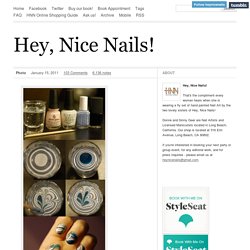 Supplies: orange stick or toothpick, shot glass or cup (the smaller the circumference, the less polish you end up wasting), room temp. water, nail polish, tape (optional, but it helps with the clean up) I like to begin by prepping my nails with base coat and one coat of polish. Here I used China Glaze Innocence for a nice neutral base.
---