Scrubs
DIY: Tea Tree and Lemon Face and Body Scrub | Nerds and Nomsense. It's here, Nerdship.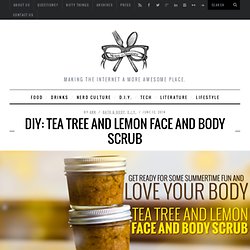 Summer. Hot. Sunny. Sugar Scrubs Recipes. *December 13, 2012 Update: I have had many of you wanting the labels to download…Great News!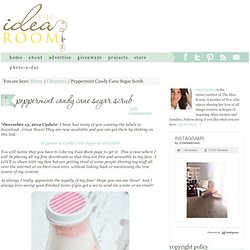 They are now available and you can get them by clicking on this link: Peppermint Candy Cane Sugar Scrub Labels You will notice that you have to Like my Face Book page to get it. Diy: summer scrub. Above is a fresh batch of scrub that I mixed together in less than a few minutes today!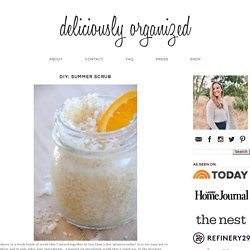 It is too easy not to share and it only takes four ingredients. I wanted an energizing scrub that I could use in the morning, rather than the lavender scrub that I like to use in the evening. The scent of orange is always energizing and mixed with the coconut oil it makes for a delicious scent and leaves the skin with a healthy glow. This mixture is also nice after multiple days in the sun when the skin needs a little exfoliation. Add ingredients in order on label below with the largest portion being sea salt, then top it off with coconut oil. Homemade Body Scrub. Supplies - 3 cups of sugar3/4 cup of olive oilJuice from one lemonZest from two lemons2 tablespoons of vanilla extractJar(s)TwineTags (I used a shipping tag like these, which I always keep handy) So as a quick disclaimer, this is about the easiest thing you're ever going to do.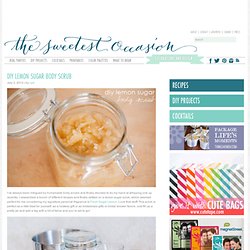 Lemon Sugar Scrub. Lemon is invigorating any time of year, but something about winter makes me crave that freshness of citrus.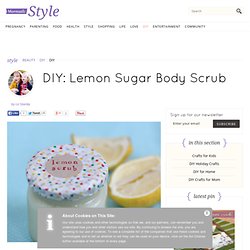 This lemon sugar scrub is a great gift and a fun project to make with girlfriends. You can use it as exfoliating body wash, hand scrub or even counter cleaning if you omit the oil… 2 lemons 1 cup of sugar A small jar 2 T cooking oil 2 T of Liquid soap (unscented) Squeeze the lemons into a small bowl. Yummy Body Scrubs. Thanks to ElleandBlair.com member AUDREY LYNN for asking this great question, which inspired this post: "Hey girls!
I'm just wondering what are some good body exfoliators? " Get your legs ready to shine for summer (and those 4th of July parties) with these easy DIY (Do It Yourself) body scrubs that you can make with a few simple ingredients straight from your kitchen. So pick one, mix it up, and scrub your legs to gorgeousness! Super Sweet Sugar Scrub 1 cup brown sugar 1/2 cup mashed avocado (optional) 1 cup of olive oil "Wake you up! " Bath Bombs. Hawaiian Coffee Scrub. It's almost sandal season...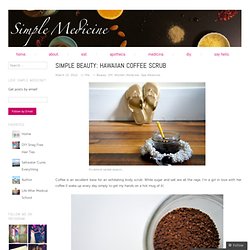 Coffee is an excellent base for an exfoliating body scrub. While sugar and salt are all the rage, I'm a girl in love with her coffee [I wake up every day simply to get my hands on a hot mug of it]. Butter Sugar Scrub Cube. Solid Sugar Scrub Cubes have become the new trend and are now taking the place of traditional sugar scrubs.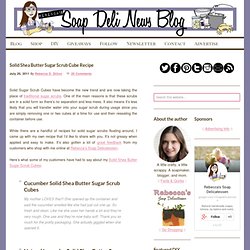 One of the main reasons is that these scrubs are in a solid form so there's no separation and less mess. It also means it's less likely that you will transfer water into your sugar scrub during usage since you are simply removing one or two cubes at a time for use and then resealing the container before use. While there are a handful of recipes for solid sugar scrubs floating around, I came up with my own recipe that I'd like to share with you. It's not greasy when applied and easy to make. It's also gotten a lot of great feedback from my customers who shop with me online at Rebecca's Soap Delicatessen.
Citrus Salt Scrub. It's that time of year.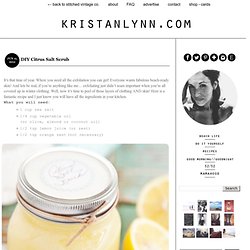 Where you need all the exfoliation you can get! Everyone wants fabulous beach-ready skin! And lets be real, if you're anything like me… exfoliating just didn't seam important when you're all covered up in winter clothing. Well, now it's time to peel of those layers of clothing AND skin! Homemade Sugar Scrub. Winter skin has been an issue for me, for as long as I can remember.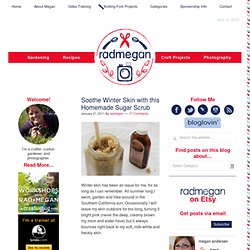 All summer long I swim, garden and hike around in the Southern California sun. Occasionally I will leave my skin outdoors for too long, turning it bright pink (never the deep, creamy brown my mom and sister have) but it always bounces right back to my soft, milk-white and freckly skin. In the winter months however, my skin completely dries out on me. Winter is when my skin should love me!
I'm indoors a lot more during the colder months, and pay more attention to diet, lotions, and even the temperature of my showers… and yet without fail, every year my arms get itchy and dry patches that resemble the lower half of Daryl Hanna in Splash. Delicious Scrub. Grapefruit Sugar Scrub. This is decidedly the best scrub I have ever made and it's just three ingredients needed.
It's the perfect thing to cosset your skin with after the harshness of winter. The citrus scent will raise your spirits and have you in a spring state of mind in no time. Ingredients 1cup fine sugar- to exfoliate and as a natural humectant3/4 cup Macadamia Nut Oil - comparable to natural oil produced by your skin, great moisturizer1/2 cup dried course ground grapefruit peel - to exfoliate and aromatherapy calming & invigorating.
Sugar Scrub. I enjoy making gifts for those dear to me. When contemplating what to give one of my friends for her birthday, I knew that I wanted to give her something natural. After all, we often talk about taking a step back and looking at products we use and the things we consume and considering chemicals, artificial flavors, etc. Years ago, a friend got me into making my own bath products. I immediately recalled the scent-rosemary mint! It's so invigorating for winter!
---