CBT & ballbusting devices - online shops
M
E Stim Vyper - Electro Sex Cock & Ball - Electro Sex. Have you felt the sting of the E-Stim Vyper yet?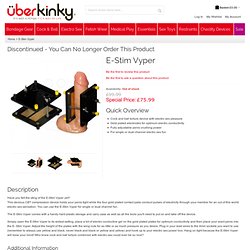 This devious CBT compression device holds your penis tight while the four gold plated contact pads conduct pulses of electricity through your member for an out of this world electro sex sensation. You can use the E-Stim Vyper for single or dual channel fun. The E-Stim Vyper comes with a handy hard plastic storage and carry case as well as all the tools you'll need to put on and take off the device. Simply open the E-Stim Vyper to its widest setting, place a bit of electro conductive gel on the gold plated plates for optimum conductivity and then place your erect penis into the E- Stim Vyper. Adjust the height of the plates with the wing nuts for as little or as much pressure as you desire.
The Humbler - Cock and Ball Torture. " I'd like to start by saying how amazing this device is, and that its added something completely different into the bedroom fun however they are a few small issues...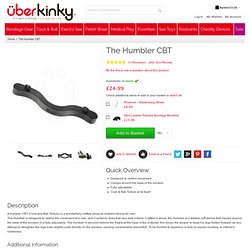 This humbler works by using 2 plastic butterfly nuts to hand tighten and lock the 2 pieces of wood to trap the balls. The problem is that the bolt rotates while turning the butterfly nut and it doesn't tighten, you'd have to use a screwdriver on the bolt and hand turn the butterfly nut for it to work, which I'm sure you agree is not very sexy. I have customised the humbler to work in a more affective way, this is what i did: Step 1: Get yourself some super glue and glue the bolt into one side of the wood, so its fixed and does not rotate. Dr Sado Cock and Ball Crusher. Fancy a little CBT?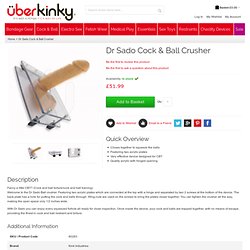 (Cock and ball torture/cock and ball training) Welcome to the Dr Sado Ball crusher. Steel Ball Crusher. Mandax Ultimate Ballstretching System. " Now here's a bit of kit to take your balls to new levels of low.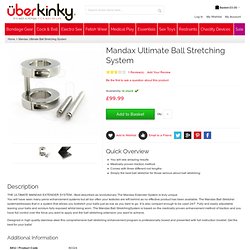 What you get; This is the ultimate system so you get two weights (64mm diameter, 34mm internal, 14-15mm tall). 3 sets of adjustable bars. Instructions. A small carry bag (its rather cheap, but nice for travel). Allen key for the weights. The Ball Bruiser Ball Stretcher. Whether you're the Pain giver or the pain lover... the Ball Bruiser spiked ball stretcher is just what you're looking for.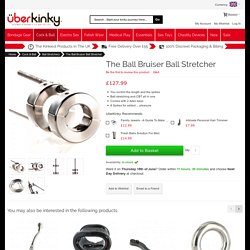 This weighted ball stretcher is handcrafted and made from polished stainless steel. Place the soon to be tortured balls into the rings and use the adjustment wheel to go as low as you dare.