Banking and Money
a better tomorrow!
Tätä kautta pääset luomaan oman projektisi Mesenaatti.me is the first Finnish crowdfunding platform that is open for everyone. You no longer need to be a billionaire to be a patron of culture and business. With only five euros, you can join and have an impact. Ystäväkirja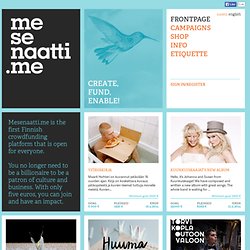 Accueil Particuliers - Crédit du Nord
Dear G20, It's confusing. Should you tax bankers' bonuses, or limit their pay? Should you nationalize banks, or let public-private partnerships bid for bad assets?
The Finance 2.0 Manifesto - Umair Haque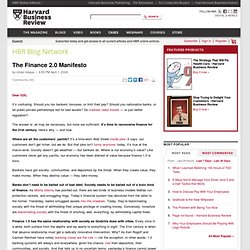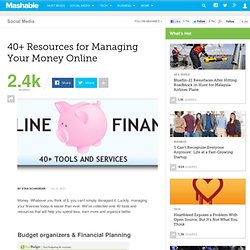 Money. Whatever you think of it, you can't simply disregard it. Luckily, managing your finances today is easier than ever. We've collected over 40 tools and resources that will help you spend less, earn more and organize better. Budget organizers & Financial Planning
40+ Resources for Managing Your Money Online
Version 5.0.5 iCompta is an application that lets you manage your accounts with ease. Keep track of your income and expense, schedule your bills, stay in line with your budget and finally know where all your money goes thanks to beautiful charts. iCompta 5 on Mac runs on OS X 10.8 and is fully compatible with the latest system version OS X 10.9. If you don't have OS X 10.8 you can install a previous version. Version 3.0.5 - Available on iPhone & iPad
iCompta : personal finance application for Mac OS X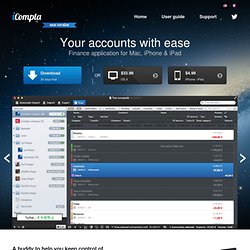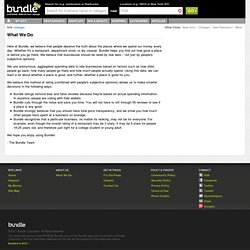 Here at Bundle, we believe that people deserve the truth about the places where we spend our money every day. Whether it's a restaurant, department store, or dry cleaner, Bundle helps you find out how good a place is before you go there. We believe that businesses should be rated by real data -- not just by people's subjective opinions. We use anonymous, aggregated spending data to rate businesses based on factors such as how often people go back, how many people go there and how much people actually spend. Using this data, we can learn a lot about whether a place is good, and further, whether a place is good for you. We believe this method of rating (combined with people's subjective opinions) allows us to make smarter decisions in the following ways:
The No. 1 Source for How People Spend and Save Money -- Personal Finance Data, Money Advice, Trends, News and Community
Mozilla Firefox