Cupcakes
Cupcake Push Pops With Peeps. A few weeks ago I stumbled across Cupkate's Event Designs blog and her darling Push Pop Cupcakes.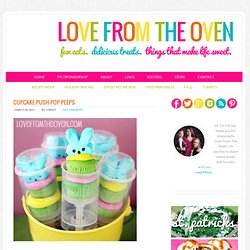 I didn't even have to think twice, I put my order in for the push pop containers immediately from her Etsy store. I mean hello, these are ADORABLE. Cupcake shooters, push pop cupcakes, cupcake push pops, push cakes, cake shooter, cupcake shots, whatever you want to call them – I had to make them. Cupcake Recipes - Easy Cupcake Recipes to make perfect cupcakes everytime. Home › Cupcake Recipes Cupcake Recipes for perfect cupcakes everytime - just follow these quick, easy recipes suitable for any occasion.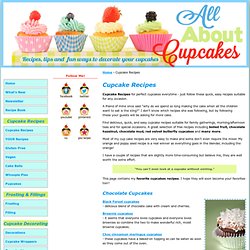 A friend of mine once said "why do we spend so long making the cake when all the children want to eat is the icing? " I don't know which recipes she was following, but by following these your guests will be asking for more cake. Find delicious, quick, and easy cupcake recipes suitable for family gatherings, morning/afternoon teas and for special occasions. A great selection of free recipes including boiled fruit, chocolate hazelnut, chocolate mud, red velvet butterfly cupcakes and many more. Peanut Butter Cup Cupcakes & Food Blogger Bake Sale. Peanut Butter Cup Cupcakes This past weekend, we had our Central Florida Food Blogger Bake Sale as part of the National Food Blogger Bake Sale to benefit Share Our Strength.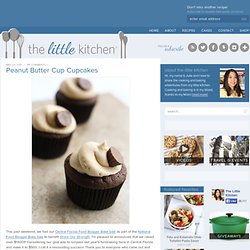 I'm pleased to announced that we raised over $1300!!! Nutella Cupcakes Recipe. Today is World Nutella Day, so you knew there was no way I'd forgo posting something that utilizes this delicious Chocolate Hazlenut spread.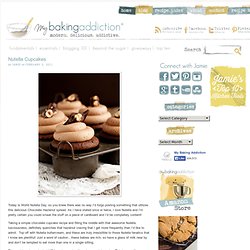 As I have stated once or twice, I love Nutella and I'm pretty certain you could smear the stuff on a piece of cardboard and I'd be completely content! Taking a simple chocolate cupcake recipe and filling the middle with that awesome Nutella lusciousness, definitely quenches that hazelnut craving that I get more frequently than I'd like to admit. Things_Z.jpg (525×700) Death By Oreo Cupcakes. They are probably the best Oreo cakes I have ever tried.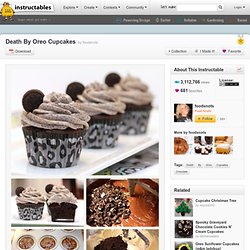 A lot of cake's that I have experimented with before are like a vanilla cake with bits of Oreo in them, which didn't really give them enough Oreo flavor. But these were a lot better. I used a dark chocolate fudge cake mix instead of just a regular chocolate cake mix, which went really well with the cookies and gave the cakes just a little more flavor. So, in this recipe there is Oreo's in the cake, in the frosting, and at the bottom is a Oreo surprise.
---