Bacon
America's Test Kitchen DIY Bacon. Bacon Wrapped Jalapeno Popper Stuffed Chicken. The other day when I made the slow cooker bacon wrapped apple BBQ chicken it reminded me of another bacon wrapped chicken dish that I wanted to make, bacon wrapped jalapeno popper stuffed chicken.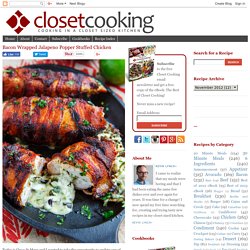 The basic idea was to stuff the chicken with all of the flavours of jalapeno poppers and then to wrap them in bacon and grill or bake them. Jalapeno poppers are commonly filled with cream cheese and or cheddar cheese and they are either coated in bread crumbs and fried until crispy or wrapped in bacon and grilled or baked until cooked. Although I liked the sound of a crispy coating on the chicken the bacon wrapping was calling my name and I could not resist going with that option! For the filling I went with a simple mixture of cream cheese, cheddar and diced jalapeno peppers. Bacon n' Beer Griddle Cakes. We're almost into our new apartment!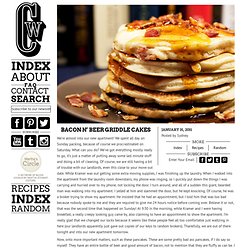 We spent all day on Sunday packing, because of course we procrastinated on Saturday. What can you do? Making A Bacon Candle. TurBaconEpic Thanksgiving - Epic Meal Time. Bacon and Cheese Egg McMuffin Cups… It's Thursday!!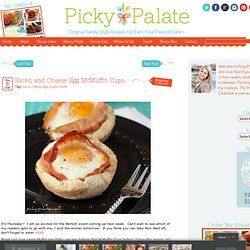 I am so excited for the Bertolli event coming up next week. Can't wait to see which of my readers gets to go with me, I pick the winner tomorrow! Bacon, Egg and Cheese Cups | Recipes for Kids. Appetizer Recipe: Bacon-Wrapped Potato Bites with Spicy Sour Cream Dipping Sauce | Apartment Therapy The Kitchn. If you can find tiny new potatoes, those would be even more aesthetically precious.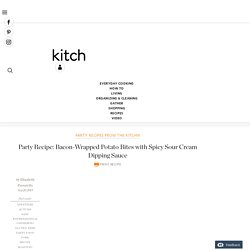 But chunks work fine, too. Just be sure to dice the potatoes smaller than you might think. Baked Eggs in Bacon Baskets. This is such a nice idea for breakfast/brunch for a crowd.It is so simple, makes 12 at a time and the baskets stays warm, unlike scrambled eggs which always seem to get cold when left on the plate.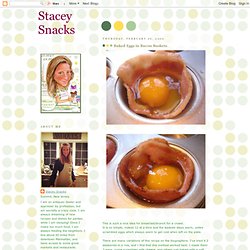 There are many variations of this recipe on the blogosphere. I've tried it 2 weekends in a row, and I find that this method worked best. I made them 2 ways, some scrambled with cheese, and others just baked with a soft center.We couldn't decide which way we liked them best. Spray a 12 cup muffin tin with PAM spray. Lightly cook 12 strips of bacon (or how ever many baskets you are making).Do NOT cook the bacon till crisp, but just enough to get rid of some of the grease. Bacon-wrapped Jalapeno Chicken Bites.
610K+Add bacon to anything and it will fly off the table.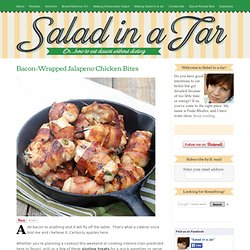 That's what a caterer once told me and I believe it. Certainly applies here. Whether you're planning a cookout this weekend or cooking indoors (rain predicted here in Texas), grill up a few of these sizzling treats for a quick appetizer or serve as an entree. I can't think of a better way to celebrate the Fourth of July than with a big plate of these spicy and cheesy, smoky and crispy chicken nuggets.
If you don't like hot, leave out the jalapenos or skimp a bit. Rainy day gal » day 6: bacon cinnamon rolls.
---