Tutorials/Guides/Articles/Etc | backbone.js
Gaslight Software Blog, Backbone.js Views Done the Right Way
As soon as you build an interesting application in backbone, one of the challenges you are likely to encounter is wanting to have composite views, or views that are contained within a larger view. I've solved this problem several ways in different projects and I thought it would be fun to walk through the progression and how I've arrived at what I currently see as a preferred solution.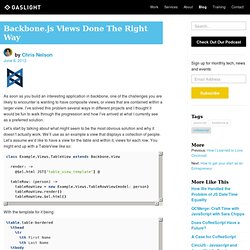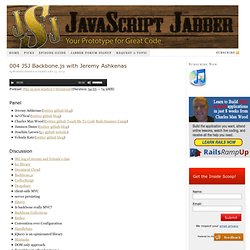 Podcast: Play in new window | Download (Duration: 54:33 — 74.9MB) Panel Discussion
004 JSJ Backbone.js with Jeremy Ashkenas
Sample App with Backbone.js and Twitter Bootstrap
Backbone.js is a lightweight JavaScript framework that provides the basic infrastructure (Model, Collection, View, and Router classes) to bring structure to your Web applications.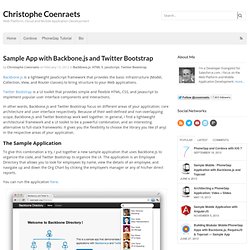 Sample App with Backbone.js and Twitter Bootstrap
Introduction to Backbone.js
Backbone: Dealing with stateful applications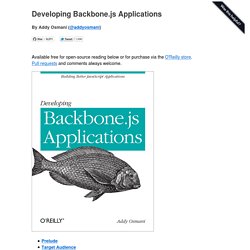 By Addy Osmani (@addyosmani) Available free for open-source reading below or for purchase via the O'Reilly store. Pull requests and comments always welcome.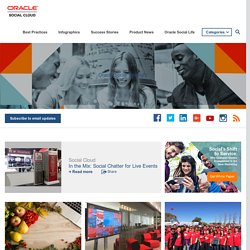 No doubt 2014 will be filled with tech innovations that alter our landscape, just as 2013 has been. But how will social media's role, be it as part of or as a driver of these innovations play out?
Optimizing the views list creation with document fragment | | BackboneFU, Resources for the Backbone.js developerBackboneFU, Resources for the Backbone.js developer
Before using backbone when working with a list of html nodes I always made it my duty to append them only in one big chunk of text. Manipulating the dom is slow, it triggers a reflow of the page, this is costly even on small lists, specially on mobile.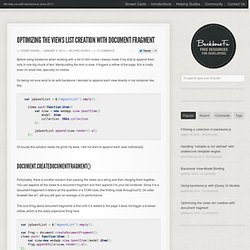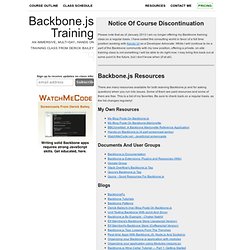 Notice Of Course Discontinuation Please note that as of January 2013 I am no longer offering my Backbone training class on a regular basis. I have exited the consulting world in favor of a full time position working with Kendo UI as a Developer Advocate.
Backbone.js Training - A Multi-Day, Hands-On, Training Class
If you have spent any time looking at Backbone.js, like many others, you are probably amazed by how lightweight, flexible and elegant it is.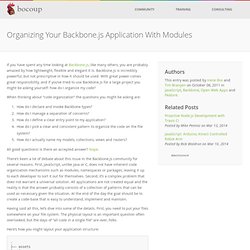 thomasdavis/backbonetutorials - GitHub