Michael J. Fox
Michael J. Fox , OC (born Michael Andrew Fox ; June 9, 1961) [ 1 ] is a Canadian American actor , author , producer , activist and voice-over artist . With a film and television career spanning from the late 1970s, Fox's roles have included Marty McFly from the Back to the Future trilogy (1985–1990); Alex P. Keaton from Family Ties (1982–1989) for which he won three Emmy Awards and a Golden Globe Award ; Mike Flaherty from Spin City (1996–2000), for which he won an Emmy, three Golden Globes, and two Screen Actors Guild Awards ; and Private Max Eriksson in the Brian DePalma film Casualties of War .
Michael J. Fox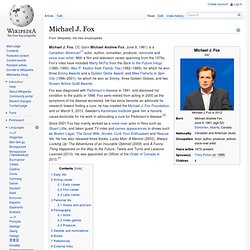 The Michael J. Fox Foundation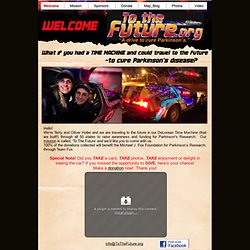 To The Future
Hello! We're Terry and Oliver Holler and we are traveling to the future in our DeLorean Time Machine (that we built!) through all 50 states to raise awareness and funding for Parkinson's Research. Our mission is called, 'To The Future' and we'd like you to come with us. 100% of the donations collected will benefit the Michael J.
Michael J. Fox
Michael J. Fox - iCurrent
iCurrent is a free personalized news aggregator. Topics you choose, Sources you trust. Key Topics +Michael J. Fox -Jennifer Lopez -Super Bowl -St. Louis Cardinals -Two and a Half Men -Charlie Sheen -Vivica A. Fox -Sarah Palin -Republican party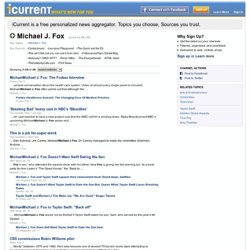 Michael J. Fox