Insight/helpful information
Mark Hyman, MD: How to Rid Your Body of Mercury and Other Heavy Metals: A 3-Step Plan to Recover Your Health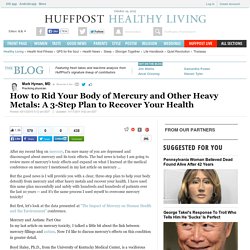 After my recent blog on mercury , I'm sure many of you are depressed and discouraged about mercury and its toxic effects. The bad news is today I am going to review more of mercury's toxic effects and expand on what I learned at the medical conference on mercury I mentioned in my last article on mercury ...
Making Sense of Autism
How does my autism affect me? What does it do to me? Well, firstly, it makes me more of a loner than most people would be.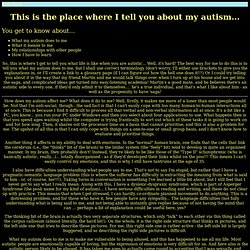 This is the place where I tell you about my autism...
Internet Resources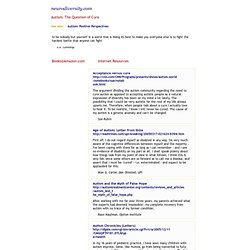 the question of cure
The New York Times > Health > How About Not 'Curing' Us, Some Autistics Are Pleading
Independence and Supports | Neurodiversity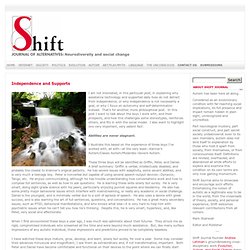 Independence and Supports
Hope For Autism & Asperger's Syndrome: My Story
Some days it seems the only predictable thing about it is the unpredictability. The only consistent attribute -- the inconsistency There is little argument on any level but that autism is baffling, even to those who spend their lives around it. The child who lives with autism may look "normal" but his behavior can be perplexing and downright difficult.
Autism Spectrum Autism Spectrum Newsletter > Features > Author Information > Author Article