Insight/helpful information
Mark Hyman, MD: How to Rid Your Body of Mercury and Other Heavy Metals: A 3-Step Plan to Recover Your Health. After my recent blog on mercury , I'm sure many of you are depressed and discouraged about mercury and its toxic effects.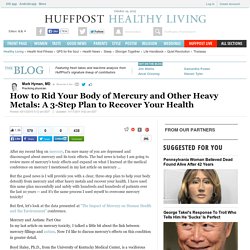 The bad news is today I am going to review more of mercury's toxic effects and expand on what I learned at the medical conference on mercury I mentioned in my last article on mercury ... But the good news is I will provide you with a clear, three-step plan to help your body detoxify from mercury and other heavy metals and recover your health. I have used this same plan successfully and safely with hundreds and hundreds of patients over the last 10 years -- and it's the same process I used myself to overcome mercury toxicity! Making Sense of Autism. This is the place where I tell you about my autism... How does my autism affect me?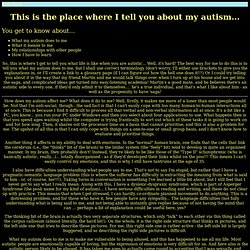 What does it do to me? Well, firstly, it makes me more of a loner than most people would be. The question of cure. Internet Resources The argument dividing the autism community regarding the need to cure autism as opposed to accepting autistic people as a natural expression of diversity has been on my mind a lot lately.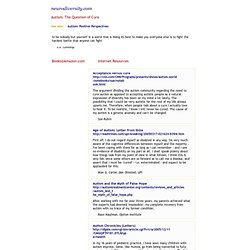 The possibility that I could be very autistic for the rest of my life always upsets me. Therefore, when people talk about a cure I actually love to hear it. To be realistic, I know I will never be cured. The New York Times > Health > How About Not 'Curing' Us, Some Autistics Are Pleading. Independence and Supports | Neurodiversity. Independence and Supports I am not interested, in this particular post, in explaining why assistance technology and supported daily lives do not detract from independence, or why independence is not necessarily a goal, or why I focus on autonomy and self-determination instead.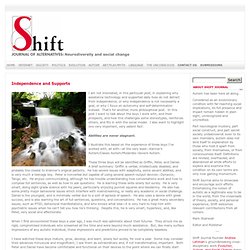 That's for another, more philosophical post. In this post I want to talk about the boys I work with, and their prospects, and how this challenges some stereotypes, reinforces others, and fits in with the social model. Hope For Autism & Asperger's Syndrome: My Story. Autism Spectrum Autism Spectrum Newsletter > Features > Author Information > Author Article. Some days it seems the only predictable thing about it is the unpredictability.
The only consistent attribute -- the inconsistency There is little argument on any level but that autism is baffling, even to those who spend their lives around it. The child who lives with autism may look "normal" but his behavior can be perplexing and downright difficult.
---