Auteurs BD interactive
Pour présenter correctement chaque nouvel auteur, n'oubliez-pas de créer auparavant un pearltrees à son nom, puis d'y intégrer ensuite les ressources consacrées à celui-ci. Cela facilitera ainsi la collecte et la mise en commun. Merci. marsattac May 1
Posted: 5/8/2011 Square Enix, Inc., the publisher of SQUARE ENIX interactive entertainment products in the Americas, announced today that Imaginary Range, a new type of entertainment app that lets users play games as they read through a digital comic, is now available for download on the iPhone, iPod touch, and iPad platforms. Imaginary Range is a full-color comic that includes a selection of mini-games inserted within the flow of the plot, immersing gamers alongside the cast as they proceed through the story. The project was overseen by Motomu Toriyama, director of FINAL FANTASY XIII, with Souki Tsukishima, author of the novel Emeth: Ningyo-tsukai no Shima, who wrote the story. The art was handled by Toshiyuki Itahana, character designer for the FINAL FANTASY CRYSTAL CHRONICLES series.
Industry Happening: Square Releases Interactive Comic On iTunes - Game Industry News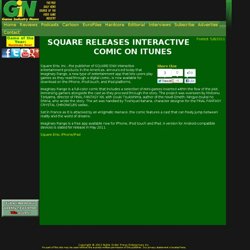 :: Sarab :: the interactive web comic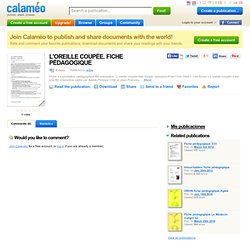 Create a free accountJoin Calaméo to publish and share documents with the world! Rate and comment your favorite publications, download documents and share your readings with your friends. 6 pagesPublished byaribe Fiche d'exploitation pédagogique BD interactive : L'oreille coupée http://lisgar. net/zamor/Fran11/oc. html 1.
L'OREILLE COUPÉE. FICHE PÉDAGOGIQUE