Aulida Valery
Site Suspended - This site has stepped out for a bit. Happiness Women Worldwide | Supporting Women in the World. Aulida Valery. Www.multicoaching.ca.
My TED choices
Happiness Phenomenal Group. My Youtube Choices. Bienvenue sur le site de la Faculté des Sciences. Amis de la Faculté des Sciences-UEH. Profil de Aulida Valery. Stanford Who's Who - Aulida Valery Profile - Consulting, Training, Coaching. About Aulida Valery I graduated in electrical engineering at Faculty of Sciences of UEH in 1994, over the years I have gained many experiences in engineering, telecommunications and workplace training professional, strong background in computers and network.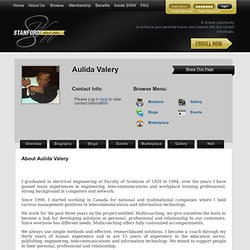 Since 1998, I started working in Canada for national and multinational companies where I held various management positions in telecommunications and information technology. We work for the past three years on the project entitled: Multicoaching, we give ourselves the tools to become a hub for developing solutions in personal, professional and relationship to our customers.
---