AR videos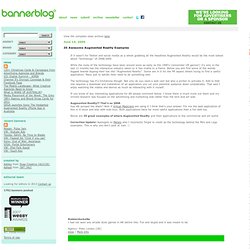 35 Awesome Augmented Reality Examples on BannerBlog News
If it wasn't for Twitter and social media as a whole grabbing all the headlines Augmented Reality would be the most talked about "technology" of 2008/2009. While the roots of the technology have been around since as early as the 1990's (remember VR games!) it's only in the last 12 months has the interactive industry taken to it like moths to a flame. Below you will find some of the worlds biggest brands dipping their toe into "Augmented Reality". Some are in it for the PR aspect others trying to find a useful application. Many just to satisfy their need to do something new.
The Artvertiser: Augmented Billboards. on Vimeo
AR Business Card on Vimeo
Augmented Reality video round-up : Kzero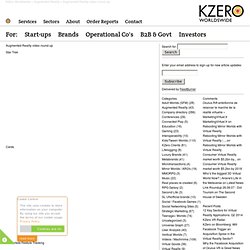 Cookie Control This site uses cookies to store information on your computer. By using our site you accept the terms of our cookie usage. Privacy Policy. Some cookies on this site are essential, and the site will not work as expected without them. These cookies are set when you submit a form, login or interact with the site by doing something that goes beyond clicking on simple links.
Augmented reality is a very cool technology. It is the star wars holograms that we always want, it is playing a game that maps out the physical world mixed with virtual assets, it is straight up cool. The FLARToolKit is doing some of this cool in Flash. This little toolkit is pretty sweet mapping points and sets of points to patterns, colors or other visual queues that technology can latch onto. Combine this with a webcam and you have some pretty cool AR.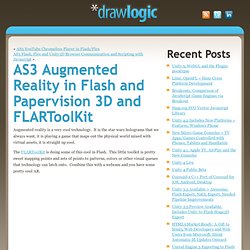 *drawlogic » AS3 Augmented Reality in Flash and Papervision 3D a
AR Portal (AR Video-in-Video effects part II)