Musik suchen / Audio Portale
Welcome to Shazam. TuneGlue° | Relationship Explorer. Music to use » Search. The Rock Hard Times. Freedb.org > Home. Musipedia: Musipedia Melody Search Engine. Musicovery. Musicovery. Musicovery bietet eine tolle Möglichkeit, Ihre Musik in iTunes einmal auf einem etwas anderen Weg zusammenzustellen.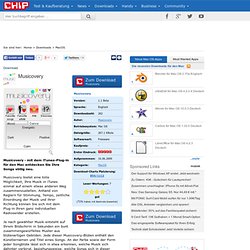 Anhand von Reglern für Stimmung, Tempo, zeitliche Einordnung der Musik und ihrer Richtung können Sie sich mit dem Plug-in Ihren ganz individuellen Radiosender erstellen. Je nach gewählter Musik entsteht auf Ihrem Bildschirm in Sekunden ein bunt zusammengewürfeltes Muster aus blütenartigen Gebilden. Jede dieser Musicovery-Blüten enthält den Künstlernamen und Titel eines Songs.
Musicovery.com - Musik-Suchmaschine für ähnliche Musik. Musicovery ist auch eine sehr innovative Musik-Suchmaschine.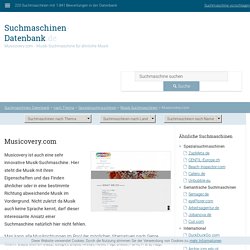 Hier steht die Musik mit ihren Eigenschaften und das Finden ähnlicher oder in eine bestimmte Richtung abweichende Musik im Vordergrund. Nicht zuletzt da Musik auch keine Sprache kennt, darf dieser interessante Ansatz einer Suchmaschine natürlich hier nicht fehlen. Man kann alle Musikrichtungen im Pool der möglichen Alternativen nach Genre filtern. Dazu stehen Jazz, Gospel, Blues, Metal, Rock, Pop, Disco, Funk, R & B, Rap, Electro, Latino, Klassik, Sountrack, World, Reggae udn Soul filtern. Ansonsten lassen sich Tempo und Dance verändern. AllMusic. Lyrics, albums, songs, artists and more music | LetsSingIt.
Music-Map - The tourist map of music. Music-Map - Die Landkarte der Musik. Harmonic Mixing Database.
Audio Samples Search. Audio Web Apps.
---