Attempt at curation
Healthcare Social Media Consultants Healthcare social media isn't a buzzword, and it's not a trend. It's a global shift in how patients and the healthcare industry connects. Want to be at the front of the pack? To help you get there, we're proud to present some of the best minds and talents from around the globe, and are making them available to you.
Healthcare Social Media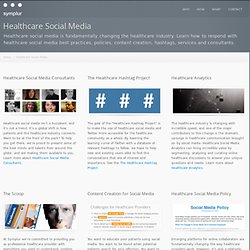 Social Media has become a double edged sword. It gives businesses easy access to their customers and aids in communicating with them, but at the same time it gives employees a forum to waste time and possibly to do harm to the brand. A well thought out social media policy is a must for businesses large and small. For any company, it is very tempting to opt for a social media free zone at work. Keep employees off the time sucking sites and keep them focused on the task at hand, right? If your company depends on a workforce consisting of employees under the age of 35, maybe not.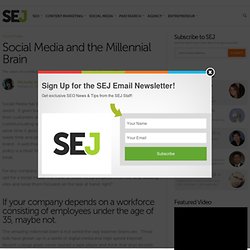 Social Media and the Millennial Brain
Thesys Group The Data Mining Company
Emerging platforms for online collaboration are fundamentally changing the way healthcare providers work, offering new ways to engage with patients and colleagues. It's a new rapidly growing model for interaction which will help people to build stronger, more successful patient relationships. And it's a way for clinicians and staff to take part in conversations related to the services medical practices, hospitals and clinics are providing and the things they care about. Physicians and Office Managers should encourage their coworkers to engage in social media, but not without guidance from a healthcare social media policy. However, it's also a relatively new technology with a new set of rules, opportunities and risks. Physicians and office managers should encourage their coworkers to engage in social media, but not without a healthcare social media policy.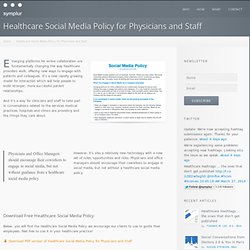 Healthcare Social Media Policy for Physicians and Staff
Symplur - Connecting the dots in healthcare social media
TweetClient
Connecting Healthcare + Social Media #HCSMny · HealthcareWen
The resource pantry | Spork Media
social-media-marketing.pdf (application/pdf Object)
GetYarny | Organize and write your novel in the cloud
We have email, we have message boards, we have IM, but if they aren't integrated with one another, our collaborative communications often fall short. Andy McLoughlin, cofounder of Huddle, recently discussed the limitations of email as a collaboration tool. Virtual teams are finding email streams hard to track and harder to scale. IM conversations, while great in the moment, often disappear into the ether, not archived for future reference. And message boards are barely a step up from the Usenet Newsgroups of the early Internet.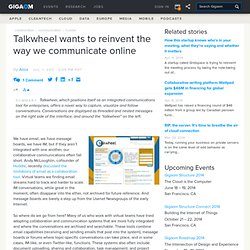 Talkwheel
Visualizing a medical Twitter hashtag: MDChat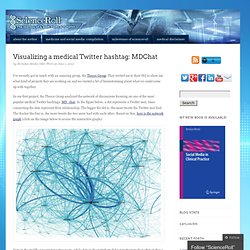 I've recently got in touch with an amazing group, the Thesys Group. They invited me to their HQ to show me what kind of projects they are working on and we started a bit of brainstorming about what we could come up with together. In our first project, the Thesys Group analyzed the network of discussions focusing on one of the most popular medical Twitter hashtags, MD_chat. In the figure below, a dot represents a Twitter user, lines connecting the dots represent their relationship. The bigger the dot is, the more tweets the Twitter user had.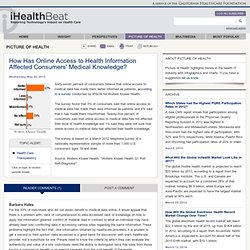 Sixty-seven percent of consumers believe that online access to medical data has made them better informed as patients, according to a survey conducted by IPSOS for Wolters Kluwer Health. The survey found that 3% of consumers said that online access to medical data has made them less informed as patients and 4% said that it has made them misinformed. Twenty-five percent of consumers said that online access to medical data has not affected their level of health knowledge and 1% said they were not sure how online access to medical data has affected their health knowledge. The survey is based on a March 2012 telephone survey of a nationally representative sample of more than 1,000 U.S. consumers ages 18 and older. Source: Wolters Kluwer Health, "Wolters Kluwer Health Q1 Poll: Self-Diagnosis"
How Has Online Access to Health Information Affected Consumers' Medical Knowledge? - Data Points
#hcsmca - Healthcare Social Media Transcript and Analytics
#HCSM Twitter Leaderboard
Connecting Healthcare + Social Media #HCSMny · HealthcareWen
14 ways social media may change doctors' visits
In 2006, Pew Research Forum discovered that 80 percent of American adults used the Internet to research medical information. By 2011, data (separately) compiled by Frost and Sullivan and QuantiaMD showed between 87 to 90 percent of physicians used at least one social media site for personal reasons, with 67 to 75 percent opting for more professional postings. LinkedIn, Facebook, YouTube, Twitter, blogging, and similar social media stand poised to change the face of health care in the exact same manner they did for most other industries. Medical professionals—not just doctors—have discovered some creative (and not-so-creative) ways to apply the technology to many different aspects of their field, meaning savvy, Internet-literate patients should stay on the lookout for what might lay ahead. Better information and support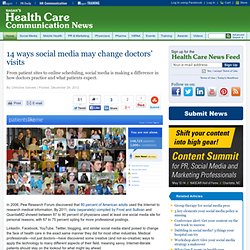 On April 18, The General Medical Council, which regulates medical practice in the UK, opened up its draft guidance on doctors' use of social media for consultation. Comments can be made until June 13, and the results will be published by the end of the year. The guidance emphasises the need to maintain patient confidentiality, provide accurate information, treat colleagues with respect, avoid anonymity online if writing in a professional capacity, be aware of how content is shared, review privacy settings and online presence, declare conflicts of interest, and maintain separate personal and professional profiles. Much is said about the dangers of social media. Care about posting in a public space is, of course, needed.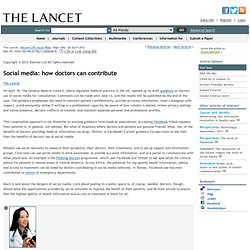 Social media: how doctors can contribute
Network World - Doctors are being cautioned by hospitals they work with to avoid interacting with patients on social media, and that they reject any overtures by patients to interact on the likes of Facebook and Twitter. Stanford University School of Medicine student Matt Goldstein, who graduates in June and has accepted a position at Brigham & Women's Hospital in Boston, says the hospital specifically stated in a letter to him that it would like him to refrain from using social media with patients. Goldstein also says the letter he got told him he should change his privacy settings on Facebook, if he used it at all, to optimize privacy. MORE: Hospital system pursues identity management Holy Grail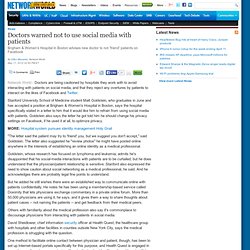 Doctors warned not to use social media with patients
Connecting healthcare and social media empowers doctors and patients: #HCSMNY conference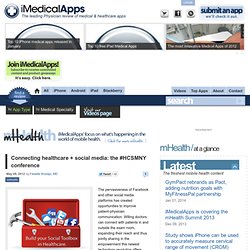 The pervasiveness of Facebook and other social media platforms has created opportunities to improve patient-physician communication. Willing doctors can connect with patients in and outside the exam room, expanding their reach and thus jointly sharing in the empowerment this newest technology revolution offers. Orthopedic surgeon Howard Luks summarizes the power of social media for physicians this way: "My social presence enables me to humanize my practice and share my knowledge beyond the 4 walls of my office in ways never available previously"
Doctors 2.0™ & You
Will the Future Need Doctors? – 2012 Health Foo Ignite
The following is an Ignite talk delivered at Tim O'Reilly's 2012 Health Foo – Microsoft Research Center, Cambridge, Massachusetts. As I see technology advancing around me, I think about what's going to become of the physician. Where are we going to fit in? Will we become obsolete? Are we headed for a medical singularity? The good news for me is that despite the health 2.0 movement I'm still more trusted than a social media consultant.
6 reasons physicians need to be on social media
Live tweeting, ukulele playing and numerous discussions swirling around social media and healthcare were to had throughout the Connecting Healthcare + Social Media Conference, produced by NYC Health Business Leaders, this past week in New York. During the latter half of the day Thursday, Mike Sevilla, M.D., family physician and blogger at Family Medicine Rocks, took the stage to present not only his own social media story, but to convince other physicians why they, too, need to be on social media. "I'm in a group of four family docs and a practitioner, and yes, I do social media," said Sevilla. "What do I write about, and what's my point? What I wanted to do was bring the reader into the exam room with me … I wanted to let the reader know how difficult it is to take care of patients in this broken healthcare system.
As payment delivery models evolve towards pay-for-outcomes, it is more critical than ever to have the tools you need to facilitate care collaboration. Interested in Accountable Care and Collaborative Care? Click here to see what you need to know. Ready to take the next step?
Healthcare | Community Connectivity Products
Social Media in Healthcare Infographic | EMR Thoughts
I must admit that I'm pretty much a sucker for an infographic. Add in terms like "social media" and "healthcare" and then I can't resist even I tried. PowerDMS might have known this when they sent me this Social Media in Healthcare infographic (embedded below). (Yes, I got this in January, but I'm just getting around to posting about it now.) Some of the numbers that popped out to me were 1,229 hospitals using social media. I know I've seen a lot of hospitals doing really interesting things with social media.
Kodak
They talk about curation!
Scoop.it - Selected Curators
"Real Curators" meeting 7.27.11
Digital Aggregation and Archiving
Articles News Issues on Co.Cu.
Pro-"Curation" Articles & Sites
Welcome to curation times?
Let's Talk About the Advantages of Content Curation
Why Curation Is Important to the Future of Journalism | Mfarhanonline