Attempt at curation
Healthcare Social Media Consultants
Healthcare Social Media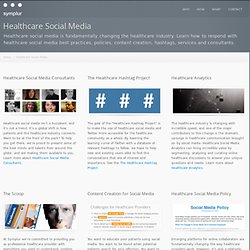 inShare131 Social Media has become a double edged sword.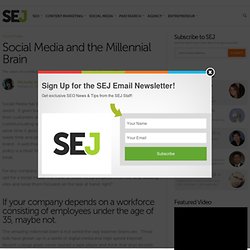 Social Media and the Millennial Brain
Thesys Group The Data Mining Company
Emerging platforms for online collaboration are fundamentally changing the way healthcare providers work, offering new ways to engage with patients and colleagues. It's a new rapidly growing model for interaction which will help people to build stronger, more successful patient relationships.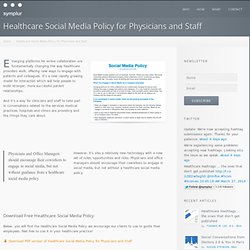 Healthcare Social Media Policy for Physicians and Staff
Symplur - Connecting the dots in healthcare social media
TweetClient
Connecting Healthcare + Social Media #HCSMny · HealthcareWen
The resource pantry | Spork Media
social-media-marketing.pdf (application/pdf Object)
GetYarny | Organize and write your novel in the cloud
We have email, we have message boards, we have IM, but if they aren't integrated with one another, our collaborative communications often fall short.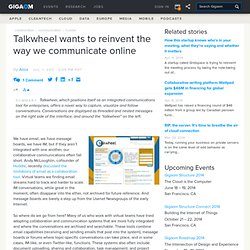 Talkwheel
Visualizing a medical Twitter hashtag: MDChat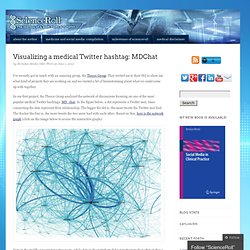 I've recently got in touch with an amazing group, the Thesys Group.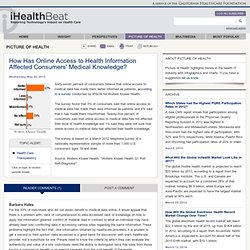 Sixty-seven percent of consumers believe that online access to medical data has made them better informed as patients, according to a survey conducted by IPSOS for Wolters Kluwer Health.
How Has Online Access to Health Information Affected Consumers' Medical Knowledge? - Data Points
#hcsmca - Healthcare Social Media Transcript and Analytics
#HCSM Twitter Leaderboard
Connecting Healthcare + Social Media #HCSMny · HealthcareWen
14 ways social media may change doctors' visits
In 2006, Pew Research Forum discovered that 80 percent of American adults used the Internet to research medical information.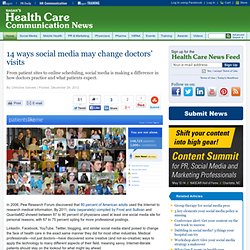 On April 18, The General Medical Council, which regulates medical practice in the UK, opened up its draft guidance on doctors' use of social media for consultation.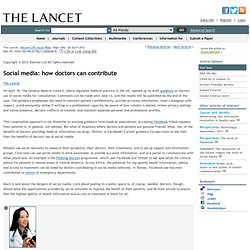 Social media: how doctors can contribute
Network World - Doctors are being cautioned by hospitals they work with to avoid interacting with patients on social media, and that they reject any overtures by patients to interact on the likes of Facebook and Twitter.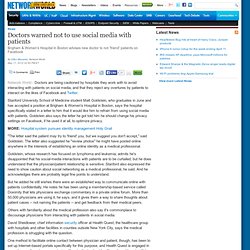 Doctors warned not to use social media with patients
Connecting healthcare and social media empowers doctors and patients: #HCSMNY conference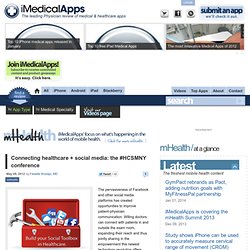 The pervasiveness of Facebook and other social media platforms has created opportunities to improve patient-physician communication. Willing doctors can connect with patients in and outside the exam room, expanding their reach and thus jointly sharing in the empowerment this newest technology revolution offers. Orthopedic surgeon Howard Luks summarizes the power of social media for physicians this way: "My social presence enables me to humanize my practice and share my knowledge beyond the 4 walls of my office in ways never available previously"
Doctors 2.0™ & You
Will the Future Need Doctors? – 2012 Health Foo Ignite
The following is an Ignite talk delivered at Tim O'Reilly's 2012 Health Foo – Microsoft Research Center, Cambridge, Massachusetts. As I see technology advancing around me, I think about what's going to become of the physician.
6 reasons physicians need to be on social media
Live tweeting, ukulele playing and numerous discussions swirling around social media and healthcare were to had throughout the Connecting Healthcare + Social Media Conference, produced by NYC Health Business Leaders, this past week in New York.
As payment delivery models evolve towards pay-for-outcomes, it is more critical than ever to have the tools you need to facilitate care collaboration.
Healthcare | Community Connectivity Products
Social Media in Healthcare Infographic | EMR Thoughts
I must admit that I'm pretty much a sucker for an infographic. Add in terms like "social media" and "healthcare" and then I can't resist even I tried.
They talk about curation!
Scoop.it - Selected Curators
"Real Curators" meeting 7.27.11
Digital Aggregation and Archiving
Articles News Issues on Co.Cu.
Pro-"Curation" Articles & Sites
Welcome to curation times?
Let's Talk About the Advantages of Content Curation
inShare6 On the first post in this series, we talked about how to get started on the road to curating content.
Why Curation Is Important to the Future of Journalism | Mfarhanonline