Weltbilder Community
GLOTTER - Die Welt. Dein Spielplatz.
MapOfStrange.com - Strange things in Google Maps
I started working on the mapofstrange in 2006. It seems like a lifetime ago. I don't know the exact date. I can't believe how successful it was. It was just running on some free hosting for the first couple of years, and that was a bad idea.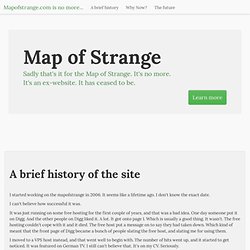 Panorama Explorer
Discover Your Inner Photographer The underlying theme of TrekEarth is learning more about the world through photography. TrekEarth fosters this by allowing photographers to display their work grouped by regions in a supportive and orderly environment. This is accomplished by an easy-to-use system which encourages people to critique each other's work. Integrated with this system are forums designed to encourage discussion about specific photos, countries, and general topics.