Others
The 25 Most Influential Living Atheists
Go back a few hundred years, and atheism was very much a minority position.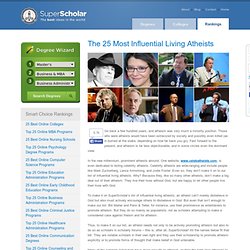 Posted by Daniele Bolelli on December 30, 2011 [ Site editor's note: The following is an excerpt from the new Disinformation title 50 Things You're Not Supposed To Know: Religion , authored by Daniele Bolelli. ]
The Filthy Little Atheist … Founding Father
The Actor's Studio: Ricky Gervais on atheism.
Penn Jillette on Atheism. [Adam Carolla Podcast 7.29.11]
PAT CONDELL'S GODLESS COMEDY
Ricky Gervais... Obviously.