Ateliers ecriture
2011 commence bien avec le lancement de la collection COMPRENDRE LE LIVRE NUMERIQUE aux éditions NumérikLivres de Jean-François Gayrard et Gwen Catalá. Cette collection a pour ambition de tenter de comprendre et d'analyser les enjeux et les perspectives de l'édition numérique. Elle s'adresse à tous les acteurs de l'interprofession du livre, au sens large (auteurs, documentalistes, enseignants, etc., sont aussi concernés), mais, également, à tous, lectrices et lecteurs qui veulent tout simplement essayer de comprendre les impacts et les enjeux du passage de l'édition imprimée à l'édition numérique.
Comprendre le Livre Numérique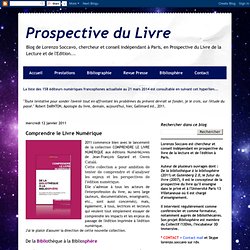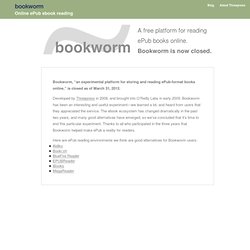 A free platform for reading ePub books online. Bookworm is now closed. Bookworm, "an experimental platform for storing and reading ePub-format books online," is closed as of March 31, 2012. Developed by Threepress in 2008, and brought into O'Reilly Labs in early 2009, Bookworm has been an interesting and useful experiment—we learned a lot, and heard from users that they appreciated the service. The ebook ecosystem has changed dramatically in the past two years, and many good alternatives have emerged, so we've concluded that it's time to end this particular experiment.
Défrichage numérique « Keff que tu racontes ?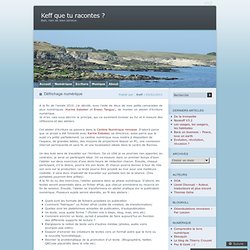 A la fin de l'année 2010, j'ai décidé, avec l'aide de deux de mes petits camarades de jeux numériques (Karine Sabatier et Erwan Tanguy), de monter un atelier d'écriture numérique. Je m'en vais vous décrire le principe, qui va surement évoluer au fur et à mesure des réflexions et des ateliers. Cet atelier d'écriture se passera dans la Cantine Numérique rennaise. D'abord parce que ce projet a été fomenté avec Karine Sabatier, sa directrice, aussi parce que le sujet s'y prête parfaitement.