Events
Transtheistic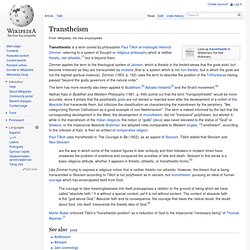 Transtheistic is a term coined by philosopher Paul Tillich or Indologist Heinrich Zimmer, referring to a system of thought or religious philosophy which is neither theistic, nor atheistic,[1] but is beyond them.
Gods in the Triumph of Civilization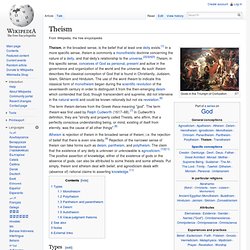 Theism
Pantheism is the belief that the universe (or nature as the totality of everything) is identical with divinity,[1] or that everything composes an all-encompassing, immanent God.[2] Pantheists thus do not believe in a distinct personal or anthropomorphic god.[3] Some religions have highlighted the importance of pantheism, most notably Hinduism and Taoism. Definitions[edit] Pantheism is derived from the Greek roots pan (meaning "all") and theos (meaning "God").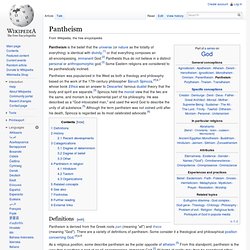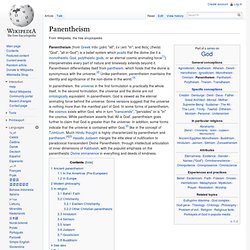 Panentheism
Panentheism (from Greek πᾶν (pân) "all"; ἐν (en) "in"; and θεός (theós) "God"; "all-in-God") is a belief system which posits that the divine (be it a monotheistic God, polytheistic gods, or an eternal cosmic animating force[1]) interpenetrates every part of nature and timelessly extends beyond it.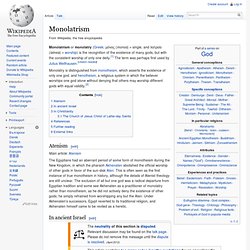 Monolatrism or monolatry (Greek: μόνος (monos) = single, and λατρεία (latreia) = worship) is the recognition of the existence of many gods, but with the consistent worship of only one deity.[1] The term was perhaps first used by Julius Wellhausen.[citation needed] Monolatry is distinguished from monotheism, which asserts the existence of only one god, and henotheism, a religious system in which the believer worships one god alone without denying that others may worship different gods with equal validity.[2]
Monolatrism
Henotheism (Greek εἷς θεός heis theos "one god") is the belief in and worship of a single God while accepting the existence or possible existence of other deities that may also be worshipped.
Henotheism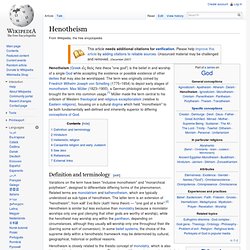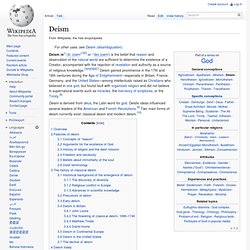 Deism ( i/ˈdiː.ɪzəm/[1][2] or /ˈdeɪ.ɪzəm/) is the belief that reason and observation of the natural world are sufficient to determine the existence of a Creator, accompanied with the rejection of revelation and authority as a source of religious knowledge.[3][4][5][6][7] Deism gained prominence in the 17th and 18th centuries during the Age of Enlightenment—especially in Britain, France, Germany, and the United States—among intellectuals raised as Christians who believed in one god, but found fault with organized religion and did not believe in supernatural events such as miracles, the inerrancy of scriptures, or the Trinity.[8] Deism is derived from deus, the Latin word for god.
Atheism is, in a broad sense, the rejection of belief in the existence of deities.[1][2] In a narrower sense, atheism is specifically the position that there are no deities.[3][4][5] Most inclusively, atheism is simply the absence of belief that any deities exist.[4][5][6][7] Atheism is contrasted with theism,[8][9] which in its most general form is the belief that at least one deity exists.[9][10]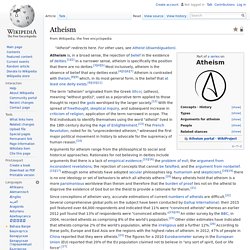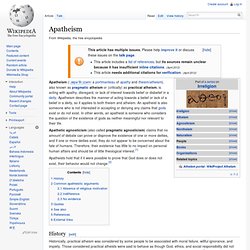 Apatheism (/ˌæpəˈθiːɪzəm/ a portmanteau of apathy and theism/atheism), also known as pragmatic atheism or (critically) as practical atheism, is acting with apathy, disregard, or lack of interest towards belief or disbelief in a deity.
Apatheism
Agnosticism is the belief that the truth values of certain claims—especially claims about the existence or non-existence of any deity, as well as other religious and metaphysical claims—are unknown.[1][2][3] Agnosticism sometimes indicates doubt or a skeptical approach to questions. In the popular sense, an agnostic is someone who neither believes nor disbelieves in the existence of a deity or deities, whereas a theist and an atheist believe and disbelieve, respectively.[2] Philosopher William L.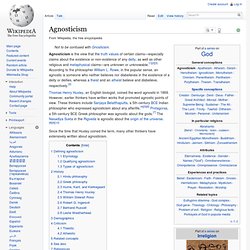 Monotheism
Origin and development[edit]
Polytheism is a religious construct and a type of theism. Within theism, it contrasts with monotheism, the belief in a singular God. Polytheists do not always worship all the gods equally, but can be henotheists, specializing in the worship of one particular deity.
Polytheism