Events
Transtheistic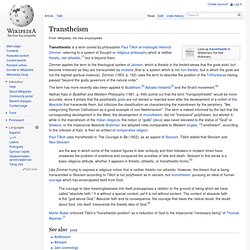 Transtheistic is a term coined by philosopher Paul Tillich or Indologist Heinrich Zimmer , referring to a system of thought or religious philosophy which is neither theistic , nor atheistic , [ 1 ] but is beyond them.
Gods in the Triumph of Civilization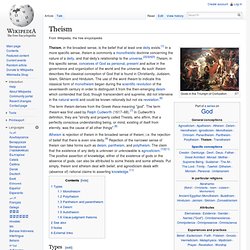 Theism
Pantheism is the belief that everything composes an all-encompassing, immanent God, [ 1 ] or that the universe (or nature ) is identical with divinity . [ 2 ] Pantheists thus do not believe in a personal or anthropomorphic god. Pantheism was popularized in the modern era as both a theology and philosophy based on the work of the 17th century philosopher Baruch Spinoza , [ 3 ] :p.7 whose Ethics was an answer to Descartes ' famous dualist theory that the body and spirit are separate. [ 4 ] Spinoza held the monist view that the two are the same, and monism is a fundamental part of his philosophy. He was described as a "God-intoxicated man," and used the word God to describe the unity of all substance. [ 4 ] Although the term pantheism was not coined until after his death, Spinoza is regarded as its most celebrated advocate. [ 5 ]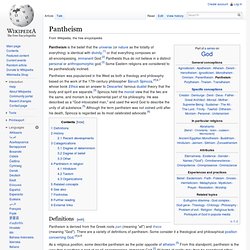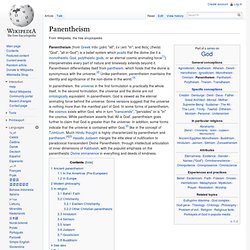 Panentheism
Panentheism (from Greek πᾶν (pân) "all"; ἐν (en) "in"; and θεός (theós) "God"; "all-in-God") is a belief system which posits that the divine (be it a monotheistic God , polytheistic gods , or an eternal cosmic animating force), interpenetrates every part of nature and timelessly extends beyond it.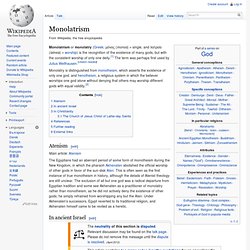 Monolatrism or monolatry ( Greek : μόνος ( monos ) = single, and λατρεία ( latreia ) = worship ) is the recognition of the existence of many gods, but with the consistent worship of only one deity. [ 1 ] The term was perhaps first used by Julius Wellhausen . [ citation needed ] Monolatry is distinguished from monotheism , which asserts the existence of only one god, and henotheism , a religious system in which the believer worships one god alone without denying that others may worship different gods with equal validity. [ 2 ] [ edit ] In ancient Israel
Monolatrism
Henotheism ( Greek εἷς θεός heis theos "one god") is the belief and worship of a single god while accepting the existence or possible existence of other deities that may also be worshipped.
Henotheism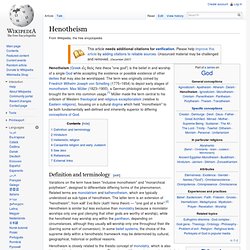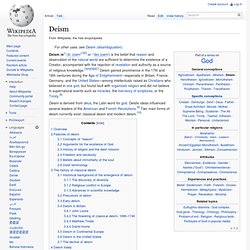 Deism ( i / ˈ d iː . ɪ z əm / [ 1 ] [ 2 ] or / ˈ d eɪ . ɪ z əm / ) is the belief that reason and observation of the natural world are sufficient to determine the existence of God, accompanied with the rejection of revelation and authority as a source of religious knowledge. [ 3 ] [ 4 ] [ 5 ] [ 6 ] [ 7 ] Deism gained prominence in the 17th and 18th centuries during the Age of Enlightenment —especially in Britain, France, Germany and America—among intellectuals raised as Christians who believed in one god , but found fault with organized religion and could not believe in supernatural events such as miracles , the inerrancy of scriptures , or the Trinity . [ 8 ] Deism is derived from deus , the Latin word for god .
Atheism is, in a broad sense, the rejection of belief in the existence of deities . [ 1 ] [ 2 ] In a narrower sense, atheism is specifically the position that there are no deities. [ 3 ] [ 4 ] [ 5 ] Most inclusively, atheism is simply the absence of belief that any deities exist. [ 4 ] [ 5 ] [ 6 ] [ 7 ] Atheism is contrasted with theism , [ 8 ] [ 9 ] which in its most general form is the belief that at least one deity exists . [ 9 ] [ 10 ]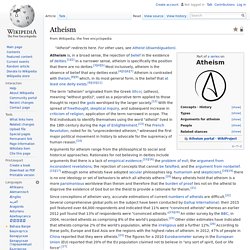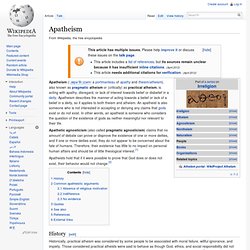 Apatheism ( / ˌ æ p ə ˈ θ iː ɪ z əm / a portmanteau of apathy and theism / atheism ), also known as pragmatic atheism or (critically) as practical atheism , is acting with apathy, disregard, or lack of interest towards belief or disbelief in a deity .
Apatheism
Agnosticism is the view that the existence or non-existence of any deity is unknown and possibly unknowable. More specifically, agnosticism is the view that the truth values of certain claims—especially claims about the existence or non-existence of any deity , as well as other religious and metaphysical claims—are unknown and (so far as can be judged) unknowable. [ 1 ] [ 2 ] [ 3 ] Agnosticism can be defined in various ways, and is sometimes used to indicate doubt or a skeptical approach to questions.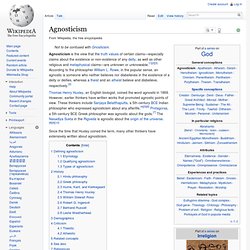 Monotheism
Monotheism is defined by the Encyclopædia Britannica as belief in the existence of one god or in the oneness of God. [ 1 ] The Oxford Dictionary of the Christian Church gives a more restricted definition: "belief in one personal and transcendent God", as opposed to polytheism and pantheism . [ 2 ] A distinction may be made between exclusive monotheism, exemplified by Judaism , Christianity and Islam , and both inclusive monotheism and pluriform monotheism which, while recognising many distinct gods, postulate some underlying unity. [ 3 ] Atenism , Bahá'í Faith , Cao Dai , Christianity , deism , Eckankar , Hinduism , Islam , Judaism , Ravidassia , Sikhism , Tenrikyo and Zoroastrianism are all monotheistic religions. [ 4 ]
Polytheism is the worship or belief in multiple deities usually assembled into a pantheon of gods and goddesses , along with their own religions and rituals . Polytheism is a religious construct and a type of theism . Within theism, it contrasts with monotheism , the belief in a singular God .
Polytheism