Podcasts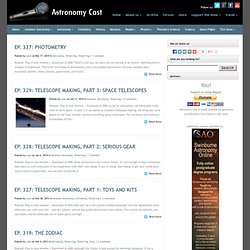 Ep. 241: Astrophotography, Part 3: Image Processing Posted by admin on Dec 1, 2011 in Observing | 6 comments Podcast: Play in new window | Download (0.0KB) Time for part 3 of our tour through the hobby of astrophotography. You've set up your gear, taken some clear images. Now we're going to help you turn that raw data into the kind of amazing photographs you see in books and on the web. Ep....
Astronomy Cast - Amateur Astronomy
Astronomy Cast - Ep. 12: Where Do Baby Stars Come From?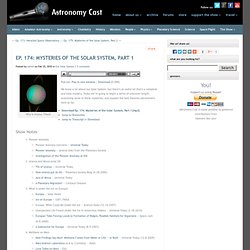 1. Pioneer Anomaly 2. Uranus and Venus axial tilt 3. What is under the ice on Europa?
Astronomy Cast - Ep. 174: Mysteries of the Solar System, Part 1