Astronomy
Click-drag green circle to pan around the whole image. The Ultra Deep Field obtained by the Hubble Space Telescope is the deepest view into the sky by humankind to date. This image combines 800 frames with a total exposure time of 1 million seconds. The 10.000 galaxies that are visible have distances out to times where the universe was just 800 million years old, one seventeenth of its current age. For more info check the UDF press release at spacetelescope.org .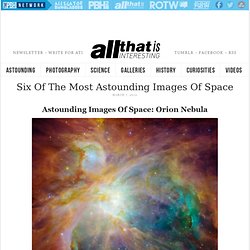 The Most Astounding Images Of Space
Orion Nebula In 2006, the Hubble Space Telescope captured this incredibly intricate image of the Orion Nebula. This nebula is a celestial wonder just south of Orion's Belt and holds the title of the most photographed feature of the night sky. What's more, the Orion Nebula is visible to the naked eye.