Assessment
Get flash to fully experience Pearltrees
Email Share March 29, 2012 - by Guest Author 7 Email Share By Kathy Cassidy
**Stopping by from Pinterest? This is my most popular pin. I would like to invite you to look around at my other posts and at the blogs I follow. You can also check out my followers. Most of them are also education bloggers and have Ah-Ma-Zing ideas and ADORBS projects on their blogs.
This is a back-to-basics article about the undervalued and little-discussed multiple choice question. It's not as exciting as discussing 3D virtual learning environments, but it might be just as important. If you need to use tests, then you want to reduce the errors that occur from poorly written items. The rules covered here make tests more accurate, so the questions are interpreted as intended and the answer options are clear and without hints. Just in case you're not familiar with multiple choice terminology, it's explained in the visual below. Here are the ten rules.
The Project has compiled the following assessment materials, which we use in our professional development services . Please free feel to download, distribute and use most of the assessment materials in your work. However, you will note that the Spelling Assessments require that you log in to your account in order to access these materials.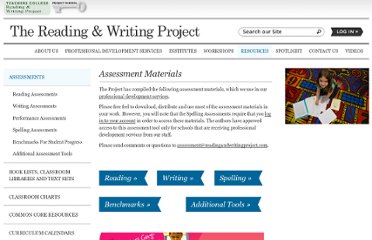 We've recently made it even simpler to share your stored quizzes and import the thousands of quizzes designed by the Socrative Learning Community. If you're not a believer in sharing, there are always a few in the bunch, maybe Snoop Dogg and the Dalai Lama can convince you with some pearls of wisdom. "It ain't no fun if the homies can't have none" and "Share your knowledge, it is a way to achieve immortality". Every time you design a quiz, a SOC number will be automatically generated.
A collection of rubrics for assessing portfolios, cooperative learning, research process/ report, PowerPoint, podcast, oral presentation, web page, blog, wiki, and other web 2.0 projects. Quick Links to Rubrics Web 2.O Rubrics
Testmoz is a test generator that sports 4 question types, automatic grading, a really simple interface and detailed reports. Testmoz is free , and does not require you (or your students) to register. You can build a fully functional test in about a minute, so why don't you give it a try and generate a test ? I forgot my test password. Can you retrieve it for me, please? No.