Aspects transmedia
Game of Thrones: mode hors du temps | Le boulevardier | Blog L'Express Styles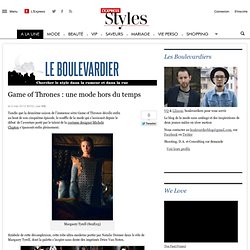 Tandis que la deuxième saison de l'immense série Game of Thrones décolle enfin au bout de son cinquième épisode, le souffle de la mode qui s'insinuait depuis le début de l'aventure porté par le talent de la costume designer Michele Clapton s'épanouit enfin pleinement. Margaery Tyrell (S02E05) Symbole de cette décomplexion, cette robe ultra-moderne portée par Natalie Dormer dans le rôle de Margaery Tyrell, dont la palette s'inspire sans doute des imprimés Dries Van Noten. Dries Van Noten 2011 Reste à comprendre la co-influence exercée entre la direction artistique pointue et exigeante de la série et l'univers habituel de la crétion.
Game of Thrones is Transmedia Gold «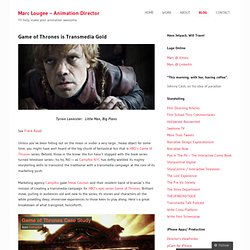 Tyrion Lannister is a Man with a Plan (via Frank Rose ) Unless you've been hiding out on the moon or under a very large , heavy object for some time, you might have well heard of the big chunk of fantastical fun that is HBO's Game of Thrones series. Behold, those in the know: the fun hasn't stopped with the book series turned television series– ho ho, NO — as Campfire NYC has deftly wielded its mighty storytelling skills to transcend the traditional with a transmedia campaign at the core of its marketing push. Marketing agency Campfire gave Steve Coulson and their resident band of brainiac's the mission of creating a transmedia campaign for HBO's epic series Game of Thrones . Brilliant move, pulling in audiences old and new to the series, its stories and characters all the while providing deep, immersive experiences to those keen to play along.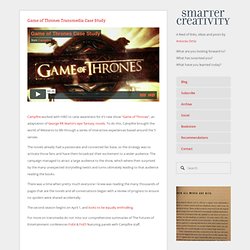 Campfire worked with HBO to raise awareness for it's new show " Game of Thrones ", an adaptation of George RR Martin's epic fantasy novels . To do this, Campfire brought the world of Westeros to life through a series of interactive experiences based around the 5 senses. The novels already had a passionate and connected fan base, so the strategy was to activate those fans and have them broadcast their excitement to a wider audience. The campaign managed to atract a large audience to the show, which where then surprised by the many unexpected storytelling twists and turns ultimately leading to that audience reading the books.
Game of Thrones Transmedia Case Study ? Smarter Creativity
Create Your Own 'Game of Thrones' Coat of Arms With HBO Tool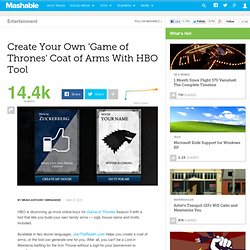 HBO is drumming up more online buzz for Game of Thrones season three with a tool that lets you build your own family arms — sigil, house name and motto included. Available in two dozen languages, JoinTheRealm.com helps you create a coat of arms, or the tool can generate one for you. After all, you can't be a Lord in Westeros battling for the Iron Throne without a sigil for your bannermen to proudly wear. To feed your GOT addiction further, you can join Mashable 's Game of Thrones meme contest in which winners will receive show-themed prize packs. Or you can download the free "A World of Ice and Fire" Android and iOS app, which will help you keep track of characters, places and timelines from the George R.
When HBO's " Game of Thrones " premiered last year, it was unclear if this drama would appeal beyond the Comic-Con crowd and lovers of the fantasy novels. By the end of season one, everyone was talking about their obsessions with the Starks (one of the main families) and the outstanding performance by Peter Dinklage who went on to win an Emmy and Golden Globe for his role as Tyrion Lannister, of the opposing family. The proof of this popularity is the show's massive following on the social web.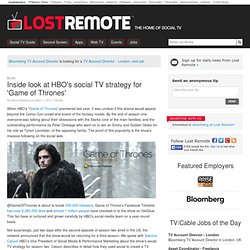 Inside look at HBO's social TV strategy for 'Game of Thrones'
Reflexions #crossmedia_mc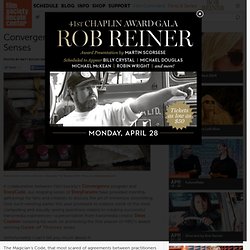 CONVERGENCE: Seven Kingdoms, Five Senses
Materials from Campfire's alternate reality game "The Maester's Path." Photo via winteriscoming.net . A collaboration between Film Society's Convergence program and StoryCode , our ongoing series of StoryForums have provided monthly gatherings for fans and creators to discuss the art of immersive storytelling. One such meeting earlier this year promised to explore some of the most compelling and equally vexing questions related to creating successful transmedia experiences—a presentation from transmedia creator Steve Coulson covering his work on promoting the first season of HBO's award winning Game of Thrones series. Unfortunately I can't tell you much about it.
Game of Thrones" en BD
La version comics du Trône de Fer arrive en France
TFI Interactive: 'Game of Thrones' - An Interactive Case Study
One of the most anticipated spotlights at TFI Interactive was the Game of Thrones case study. Presented by Steve Coulson , the creative director of marketing agency Campfire , he highlights the visceral, multi-sensory interactive marketing campaign he and his company did for the first season of the hit HBO series. From understanding the fan base to the creation of "world building" and campaigns that let you literally smell, hear and taste the story and its characters, Coulson does an excellent job in outlining what Campfire did and how even though we live in an era of fast-paced media that old storytelling techniques still prevail. TFI Interactive - Game of Thrones: An Interactive Case Study from Tribeca Film Institute on Vimeo . TFI Interactive is the all-day event our New Media Fund headed with leadership support from the Ford Foundation during the Tribeca Film Festival that's dedicated to inspire content creators.
Game of Thrones Transmedia Case Study - Blog - Smarter Creativity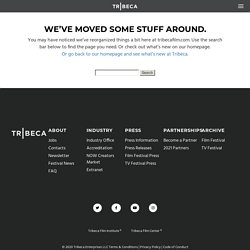 One For Me / One For Them A closer look at film-world players who balance commercial and creative work brilliantly. Side Swipes Extra scenes from Side By Side that didn't make the final edit - but are too good not to share. Working Actor They're in the movies, but never in the tabloids.
Game Of Thrones: Always Support The Bottom
Game of Thrones | HBO « Steve Coulson – Creative Director
This multilayered transmedia campaign – with narrative components for both new audiences and hardcore fans – introduced an epic series to the pop culture landscape. Date: February 2011 Agency: Campfire Art Direction: Tom Sherman Writer: Andrea Phillips Development team: Luxurious Animals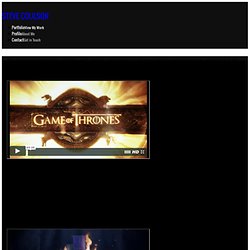 Game of Thrones, saison 2 : la carte de Westeros débarque en appli iPhone
Game of Thrones, saison 2 : la carte de Westeros en appli iPhone Il faudra encore patienter quelques mois avant de découvrir la suite de Game of Thrones . Les épisodes de la saison 2 n''arriveront qu''en avril prochain, mais les fans absolus de la série peuvent se réjouir : ils peuvent désormais emmener partout avec eux le monde de Westeros. En effet, une nouvelle appli Game of Thrones vient de sortir sur iPhone et autres smartphones. Il s''agit d''une carte de Westeros et Essos, les continents de l''univers créé par George R.R.
Facebook and Twitter profiles are, to a degree, reflections of who you are -- from the friends you choose to the topics you follow. Likewise, what you watch on TV represents personal choices: Are you a Dexter fanatic? Maybe more of a cerebral The Wire person? Regardless of the show that defines you, there's usually a gap between your level of passion about a show or character and your ability to express that passion through social media habits. Currently, the best you can do is talk your partner's ear off or "like" a show.
HBO Finds Its Own Way With Social Networking | Co.Design
Game of Thrones va être adaptée en comics
Écrit par Tyr Mercredi, 29 Juin 2011 14:50 La célèbre saga d'heroic-fantasy de George R. R. Martin , A Song of Ice and Fire ( le Trône de Fer ), adaptée récemment par HBO en série TV sous le nom de Game of Thrones , va connaître une nouvelle adaptation mais cette fois sous forme de comics.
Welcome to Transmedia Talk, a podcast covering all things Story. Transmedia Talk is co-hosted by Nick Braccia, Dee Cook, and Haley Moore and looks to shed light on the topic of transmedia storytelling with commentary, interviews and tips on how storytelling is moving into the 21st century. Download | Subscribe with RSS | Subscribe with iTunes Steve Coulson of Campfire talks with us about The Maester's Path , a sensory storytelling campaign for the HBO series Game of Thrones .
Transmedia Talk 28 – Game of Thrones and the Maester's Path
Game of Thrones on HBO is among the popular series' such as True Blood and Treme on the channel to helm the new, uber- social media site that was launched yesterday. The channel is looking to get more interactive with its viewers which they are doing via a new site called HBO Connect . What it will do is "connect" people across the world with not only their love of their favorite show like Game of Thrones , but also get folks a bit closer to those who work on the shows themselves.
'Game of Thrones' among others on new HBO Connect social media site - National game of thrones
Game of Thrones
Game of Thrones
Publisher Hayakawa is putting out Japanese editions of George R.R. Martin's A Song Of Ice and Fire book series...with gorgeous covers by a team of artists and designers that includes Ken Sugawara, Noriko Meguro, and Yasushi Suzuki. If you ever wondered how the characters from HBO's A Game of Thrones would appear like in a manga style, take a look at this: A Game Of Thrones , art by Ken Sugawara A Clash of Kings , art by Noriko Meguro
Check It Out: Game Of Thrones Goes Manga In New Japanese Cover Art! » MTV Geek
Game of Thrones meets Monopoly: Check out our New Board Game! - io9
le trone de fer : en pdf
The Darkroom creates motion graphics for massive Game of Thrones projection
Game of Thrones Asks Fans to Play Mouth-Watering Metagame | Magazine 
OCTGN 2 : jouer en ligne au Trône de Fer JCE - Page 23
ROIS DE L'ORAGE
A Walk Through Westeros: Retracing "The Maester's Path"
Magic ATP - Jeu Le Trône de Fer JCE - Le Trône de Fer JCE
A Song of Ice and Fire - Animated Timeline Map
Interview with the Dabel Brothers
A Game of Thrones LCG
A Game of Thrones NWN2 PW - A Neverwinter Nights 2 Persistent World for A Song of Ice and Fire
A Game of Thrones -- Neverwinter Nights 2 Vault
Claire Deslandes : Graphics, c'est Milady en images
A Game Of Thrones: Toys & Games
Game of Thrones Board Game
All Sorts of Weird Stuff: News - Game of Thrones Gaming News
Game of Thrones Companion - Android Market
The Maester's Path (Deus Ex Machinatio)
Winter Is Coming. (A Transmedia Fiction Experience with J.C.) | J.C. Hutchins: New Fiction And Author Updates
Achieving Authenticity: Unboxing (the Unboxing of) Game of Thrones' Maester's Path
Game of Thrones – Digital Ice Wall Projection « The Future Digital Life
HBO's Game Of Thrones Olfactory Alchemy Kit Unboxing
GAME OF THRONES suite | Blogomadaire
GAME OF THRONES | Blogomadaire
Game of Thrones: Viewer's Guide
this is great! Grazie!: Winter Is Coming. (A Transmedia Fiction Experience with J.C. Hutchins) « Transmedia Camp 101