AOP - Aspect Oriented Programming
Schwammy Says...
Aspect-Oriented Programming - A Microsoft Guide
Matthew Deiters ThoughtWorks September 2005 Applies to: Microsoft Visual Studio Microsoft Visual Basic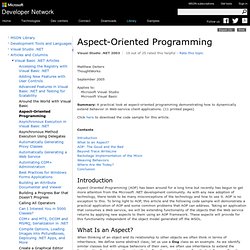 PostSharp - A Framework and Development Tool
.NET Aspect-oriented Approaches (Eric Bodden, Ph.D.)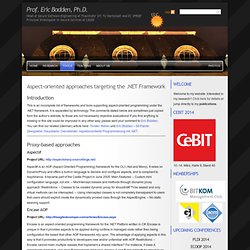 Introduction
Aspect Oriented Programming or AOP is an interesting concept that can be applied to many of the programming problems we solve everyday.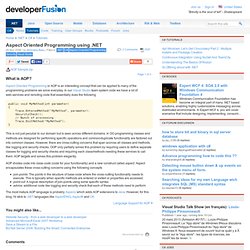 AOP in C# - Aspect Oriented Programming using .NET - C
AspectF offers you separation of concern, without the bells and whistles. You can put Aspects into your code without using any third party framework, or DynamicProxy or ContextBoundObject or any other mumbo jumbo. It's plain simple C# code, clever use of Delegate in a fluent manner. Here's an example of AspectF usage: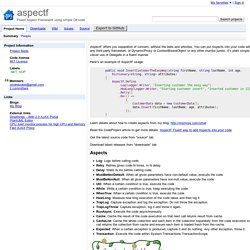 Aspect F - Fluent Aspect Framework
If you look at canonical terms of AOP you can recognize standard ones such as Aspect, JointPoint, PointCut , but if you look at castle infrastructure you could not find any of these. This does not mean that castle does not support AOP, but is a clue that Castle handles AOP with different point of view respect to other frameworks. AOP is based on the concept of Weaving, and castle does this with Castle DynamicProxy , that is used by Castle Windsor to manage crosscutting concerns with the concept of Interceptors and the interface IInterceptor . The basic is the ability to create a component that is able to intercept every call to methods and or properties of an interface, and deciding with Windsor configuration where to apply this interceptor. At the most basic level, let's consider this simple interface and its implementation.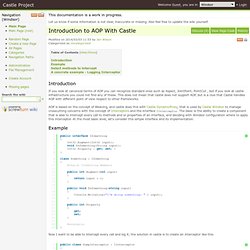 Introduction to AOP With Castle - Castle Project
Aspect Oriented Programming in C#.NET: Part I
Introduction A lot has been written about AOP (Aspect Oriented Programming) on the Web, but none of the articles cover how to implement it practically in C#. Let's start with a small definition on AOP first: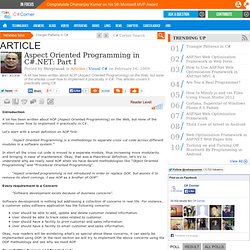 See comments in "Aspect Oriented Programming in C#.NET: Part 2 by nickcamporillo Mar 21
Aspect Oriented Programming in C#.NET: Part II
Attributed Programming OK guys, I have never written any article spanning in parts. But the subject demand has forced me to split it into parts. If you are coming to this page directly it is better to first get the AOP basics clear by reading Part I of this article. We will continue with the same problem of the Customer Sales application discussed in Part I. We saw in the previous article, tangling code originated from cross cut concerns.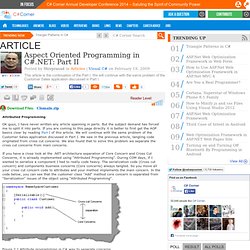 The problem is that in order to create the Aspects, the EOS compiler is already outdated and no longer being maintained - look at list of tar files from download site (http://www.cs.iastate.edu/~eos/download/downloadpage.shtml) and you will see latest release was June 6). Caveat emptor. by nickcamporillo Mar 21
AvalonFramework - Excalibur Wiki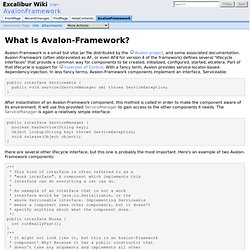 Avalon-Framework is a small but vital jar file distributed by the Avalon project , and some associated documentation. Avalon-Framework (often abbreviated as AF, or even AF4 for version 4 of the framework) defines several "lifecycle interfaces" that provide a common way for components to be created, initialized, configured, started, etcetera. Part of that lifecycle is support for Inversion of Control .
I want my AOP!, Part 1
Separate software concerns with aspect-oriented programming By Ramnivas Laddad, JavaWorld.com, 01/18/02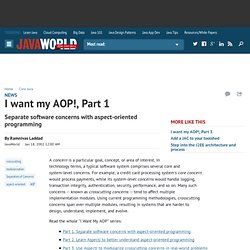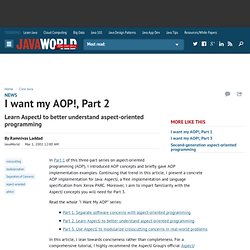 I want my AOP!, Part 2
Learn AspectJ to better understand aspect-oriented programming By Ramnivas Laddad, JavaWorld.com, 03/01/02 In Part 1 of this three-part series on aspect-oriented programming (AOP), I introduced AOP concepts and briefly gave AOP implementation examples. Continuing that trend in this article, I present a concrete AOP implementation for Java: AspectJ, a free implementation and language specification from Xerox PARC. Moreover, I aim to impart familiarity with the AspectJ concepts you will need for Part 3.
Use AspectJ to modularize crosscutting concerns in real-world problems By Ramnivas Laddad, JavaWorld.com, 04/12/02 A spect-oriented programming (AOP) -- a new programming paradigm -- allows modular implementation of crosscutting concerns.
I want my AOP!, Part 3