Caching
caching - How can I force clients to refresh JavaScript files
http - What requests do browsers' "F5" and "Ctrl + F5" refreshes generate
Static resource caching and cache-busting with ASP.NET MVC and AppHarbor | Eli Thompson's Blog
Serving static content (javascript, css, images) with headers specifying long cache expirations is easy. However, cache-busting those is hard. In this post, I'll show how to deliver static content with cache-busting URLs.
ASP.NET (MVC) Serving images
HTTP ETag
An ETag or entity tag, is part of HTTP, the protocol for the World Wide Web. It is one of several mechanisms that HTTP provides for web cache validation, and which allows a client to make conditional requests.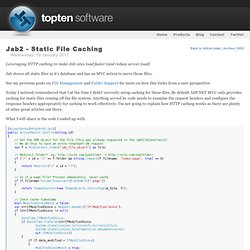 Jab2 - Static File Caching -Topten Software
Jab stores all static files in it's database and has an MVC action to serve those files.
Friday, March 28, 2008 3:12 AM Kazi Manzur Rashid Caching plays a major role in developing highly scalable web applications.
Implementing Caching and Compression Action Filter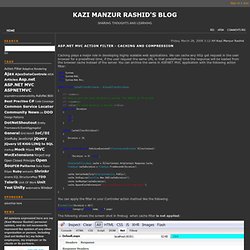 c# - How do I route images using ASP.Net MVC routing