Asia
Armenia
Kyrgyzstan. North Korea. Cambodia. Bangladesh. Afghanistan. Pakistan. Japan. India. Thailand. Asian Institute of Management. Asian news hub providing the latest news and analysis from Asia. Asian Development Bank - ADB. Afro-Asian Rural Development Organization.
Asian Human Rights Commission - Human Rights SOLIDARITY. Saarclaw. South Asian Association For Regional Co-operation in Law, SAARCLAW, is an association of the legal communities of the SAARC countries comprising judges, lawyers, academicians, law teachers, public officers and a host of other law-related persons, duly registered with the SAARC Secretariat at Kathmandu and awarded the status of a Regional Apex Body Of SAARC.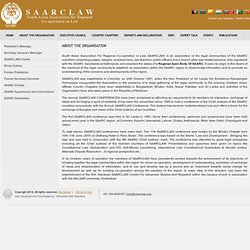 It owes its origin to the desire of the members of the legal community to establish an association within the SAARC region to disseminate information and to promote an understanding of the concerns and developments of the region. SAARCLAW was established in Colombo on 24th October 1991, when the then President of Sri Lanka His Excellency Ranasinghe Premadasa inaugurated the Association in the presence of a large gathering of the legal community. Asian Forum for Human Rights and Development. Q1 2012 S'pore Business Formation Trends Released.
GuideMeSingapore.com has just released its latest Singapore Business Formation Statistics Report for the first quarter of 2012.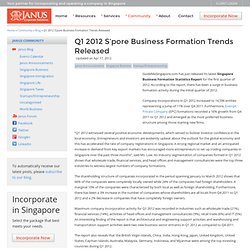 According to the report, there has been a surge in business formation activity during the initial quarter of 2012. Company incorporations in Q1 2012 increased to 14,596 entities representing a jump of 11% over Q4 2011. KICAC. The Korea Independent Commission Against Corruption (KICAC) was established on January 25th, 2002 pursuant to the Anti-Corruption Act, which was enacted in July 2001.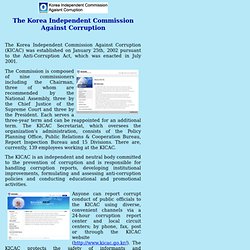 The Commission is composed of nine commissioners including the Chairman, three of whom are recommended by the National Assembly, three by the Chief Justice of the Supreme Court and three by the President. Each serves a three-year term and can be reappointed for an additional term. The KICAC Secretariat, which oversees the organization's administration, consists of the Policy Planning Office, Public Relations & Cooperation Bureau, Report Inspection Bureau and 15 Divisions. Key Indicators for Asia and the Pacific. The Key Indicators for Asia and the Pacific is the flagship annual statistical data book of the Asian Development Bank (ADB).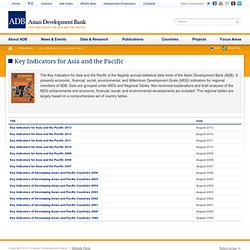 It presents economic, financial, social, environmental, and Millennium Development Goals (MDG) indicators for regional members of ADB. Data are grouped under MDG and Regional Tables. Non-technical explanations and brief analyses of the MDG achievements and economic, financial, social, and environmental developments are included. South Asia Forum for Human Rights (SAFHR) Society for Participatory Research in Asia - PRIA. SCWO | Singapore Council of Women's Organisations.
Indonesia. Georgia - Ministry of Foreign Affairs. Iran. Iraq. China. Vietnam. Philippines. Timor Leste. Asia Pacific.
---