China Bank's
中国邮政储蓄银行
China Merchants Bank -- home
English_index
Agricultural Bank of China
Home
中国银行全球门户网站
| Corporate Banking | Personal Banking | Bank Cards | Information | About Us | Investor Relations | 简体中文 | 繁体中文 | ENGLISH Online Banking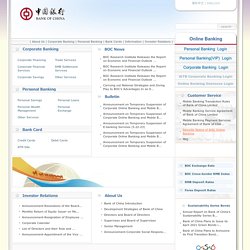 BANK OF CHINA GLOBAL WEB SITE
Bank of China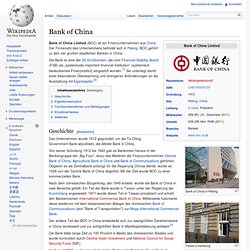 Bank of China in Peking Filiale in Hamburg Bank of China Limited (BOC) ist ein Finanzunternehmen aus China. Der Firmensitz des Unternehmens befindet sich in Peking.
China: Bank of China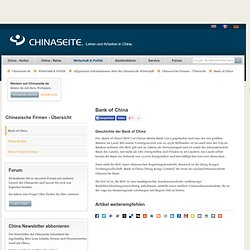 Überblick über die chinesische Wirtschaft Das Wachstum der chinesischen Wirtschaft in den letzten Jahrzehnten seit der ökonomischen Reform von 1979 war eines der Wunder der modernen wirtschaftlichen Entwicklung. China erlebte in den letzten 30 Jahren ein nie vorher dagewesenes Wachstum.
ICBC China-ICBC China
Welcome to the HSBC Global Site | HSBC Holdings plc
欢迎访问中国建设银行网站-个人客户