En volume
Home Polyhedra are beautiful 3-D geometrical figures that have fascinated philosophers, mathematicians and artists for millennia. On this site are a few hundred paper models available for free.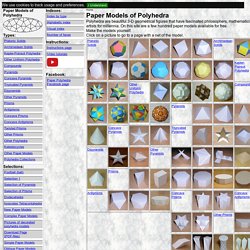 Pas à Pas Papier
CHRONOS ( Plastikouture-Sculpture ) : un album sur Flickr
1ère étape Réaliser un dessin au crayon sur une feuille de 20 cm x 20 cm ( assez fine, style photocopieuse ou même grammage)Par le dessin, ne pas chercher à montrer le volume ( pas de clair-obscur) mais uniquement chercher à placer les formes et les grandeurs en visant la qualité de l'équilibre du tout. Le sujet peut être abstrait ou figuratif. Mais un sujet figuratif rencontrera plus de succès et sera plus facile à traiter avec la peinture. Dans les réalisations ci-dessous : "La musique", " Temple", "Poissons"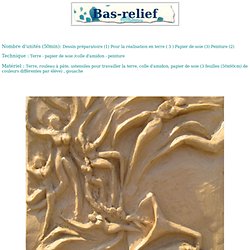 NICOLAS RUFFIEUX ONNENS PEINTRE PROFESSEUR L