Historial
The Lively Morgue. June 3, 1933: A drydock inspection of one of the S.S.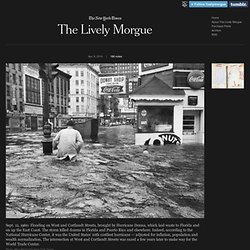 Manhattan's propellers in Brooklyn, claimed by the caption to drive the ship two feet forward with every revolution, which could bring it to speeds of 21 knots "with only five boilers in use." An article published Aug. 13, 1932, reported that the Manhattan carried three stowaways — "Arnold Ronner, 19, of Hartford, and Steve Bohnensteuger, 22, of Manheim, Germany …, and Charles Lake, 21, of Clinton, Iowa, farmer boy, in the first class hold" — and that there was a "thé-dansant on the veranda deck" that afternoon. Photo: The New York Times. Irving Penn.
Jan Saudek & Sára Saudková. Edward Weston.
---