Artistas
Flickr: El CURIOT's Photostream
posted by the scholar on February 14th, 2008filed under: art, let's chat!, paintings look at these abstract paintings from canadian artist james fowler. the obsessive compositions are intricately crafted and orderly and are softened by the vibrant color palettes. unlike piet mondrian, the king of neo-plasticism, these pieces are less rigid with their looser lines, and break from the traditional exclusive use of primary colors. however, similar to others in the cubist-inspired movement, they tell graphic horizontal and vertical stories, which in turn create mazes in my mind. as my eye traces those details that twist and wind around, a gateway to mysterious stories opens that i could spend hours trying to unravel. let's have a chat with james and find out a bit more!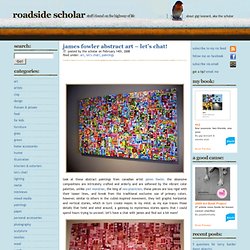 james fowler abstract art – let's chat! on roadside scholar
Gennem skyggen ind i lyset - Bogudgivelse 2012 © Louise Sass. Redaktion: Louise Sass & Jeanne Betak Cleemann Essay: Kunsten at spinde en irregulær tråd 2012 © Ditte Vilstrup Holm Oversættelse Dan Marmorstein Grafisk tilrettelægning Jeanne Betak Cleemann Fotografer: Mads Madsen, Anders Sune Berg, Planet foto, Dorte Krog, Roberto Fortuna. Tryk Narayana Press 80 sider Pris: Dkr 200,- Dkr. Forsendelse i Danmark: 50 kr. Forsendelse i Europa: 100 kr.
Louise Sass: Current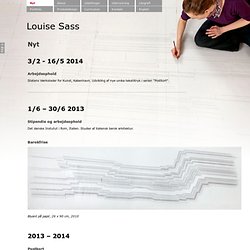 krisd.net
Alfons Mucha
Think Faest! » By Artists,For Artists.About & LinksSend UsYour News!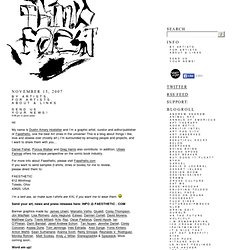 Hi! My name is Dustin Amery Hostetler and I'm a graphic artist, curator and editor/publisher of Faesthetic, one the best Art zines in the universe! This is a blog about things I like, love and obsess over (mostly art.) I'm surrounded by amazing people and projects, and I want to share them with you… Daniel Fishel, Porous Walker and Greg Harris also contribute. In addition, Ulises Farinas offers his unique perspective on the comic book industry.
Xavier Hufkens, Brussels - Artists
8th Havana Biennial, 2003: Ariel Guzik
Banksy
Good Grief, Banksy! Charlie Brown in Los Angeles (pt 2/2)
Unique Hanging Mobiles on The Abstract Home - Flensted Mobiles, Calder Style, and Others
Girona Art Contemporani | Arte Contemporáneo | Art Contemporain | Contemporary Art | Zeitgenössische Kunst | iGAC
PETER HORVATH
8th Havana Biennial, 2003: Ariel Guzik
陈文令 - 陈文令工作室
Nudes
Still Life
Paul Henry Ramirez - Works
Escher and the Droste effect - Universiteit Leiden
The Official M.C. Escher Website