Research & Projects
Russian brains behind closest ever AI attempt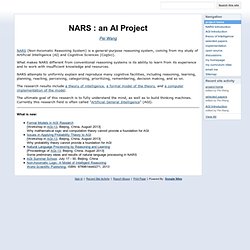 What makes NARS different from conventional reasoning systems is its ability to learn from its experience and to work with insufficient knowledge and resources.
narswang
Artificial Brains - The quest to build sentient machines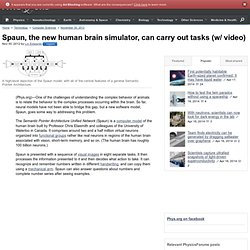 Spaun, the new human brain simulator, can carry out tasks (w/ video)
A high-level depiction of the Spaun model, with all of the central features of a general Semantic Pointer Architecture. (Phys.org)—One of the challenges of understanding the complex behavior of animals is to relate the behavior to the complex processes occurring within the brain. So far, neural models have not been able to bridge this gap, but a new software model, Spaun, goes some way to addressing this problem.
BRAIN POWER: From Neurons to Networks
The detection of intermediate-level emergent structures and patterns
Stanford Artificial Intelligence Laboratory
Watson Is Now Commercially Available, Set To Help Doctors Treat Cancer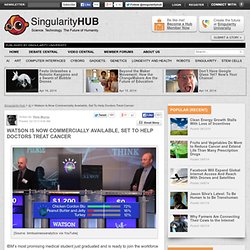 [Source: ibmbusinessanalytics via YouTube] IBM's most promising medical student just graduated and is ready to join the workforce and help people – in the fight against cancer, to be specific. IBM has just released a commercially available Watson whose cognitive computing could help doctors make better diagnoses and smarter treatment choices. IBM has partnered with WellPoint, Inc. and Memorial Sloan-Kettering Cancer Center to train Watson in oncology and utilization management. A team of clinicians and technicians spent thousands of hours "teaching" Watson how to process, analyze, and interpret complex clinical information through natural language processing. The hope is that Watson can help raise the quality of healthcare and make it more efficient.
Inside the Mind of Watson: Cognitive Computing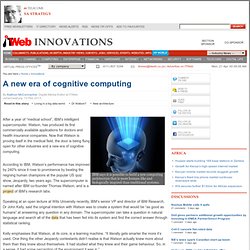 IBM says it is possible to build a new computing architecture that is more human-like and biologically inspired than traditional systems. After a year of "medical school", IBM's intelligent supercomputer, Watson, has produced its first commercially available applications for doctors and health insurance companies. Now that Watson is proving itself in the medical field, the door is being flung open for other industries and a new era of cognitive computing.
A new era of cognitive computing
University CS 221 Introduction to Artificial Intelligence
Time/location: Lectures: Tue/Thu 9-10:15am in NVIDIA Auditorium Sections: will happen based on need; see calendar Office hours: see calendar
IIIA - CSIC - Web Page | IIIA
OpenAi - - Creating the standard for Artificial Intelligence
(ISNS) -- A single equation grounded in basic physics principles could describe intelligence and stimulate new insights in fields as diverse as finance and robotics, according to new research. Alexander Wissner-Gross, a physicist at Harvard University and the Massachusetts Institute of Technology, and Cameron Freer, a mathematician at the University of Hawaii at Manoa, developed an equation that they say describes many intelligent or cognitive behaviors, such as upright walking and tool use. The researchers suggest that intelligent behavior stems from the impulse to seize control of future events in the environment. This is the exact opposite of the classic science-fiction scenario in which computers or robots become intelligent, then set their sights on taking over the world.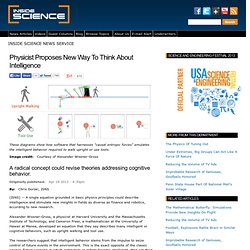 Physicist Proposes New Way To Think About Intelligence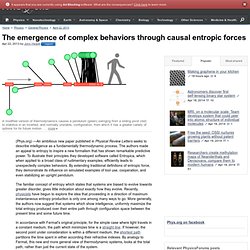 The emergence of complex behaviors through causal entropic forces
(Phys.org) —An ambitious new paper published in Physical Review Letters seeks to describe intelligence as a fundamentally thermodynamic process. The authors made an appeal to entropy to inspire a new formalism that has shown remarkable predictive power. To illustrate their principles they developed software called Entropica, which when applied to a broad class of rudimentary examples, efficiently leads to unexpectedly complex behaviors.
Entropica
Artificial Intelligence authors/titles recent submissions
SciContrib34.pdf
Quantum computing took a giant leap forward on the world stage today as NASA and Google, in partnership with a consortium of universities, launched an initiative to investigate how the technology might lead to breakthroughs in artificial intelligence. The new Quantum Artificial Intelligence Lab will employ what may be the most advanced commercially available quantum computer, the D-Wave Two , which a recent study confirmed was much faster than conventional machines at defeating specific problems (see " D-Wave's Quantum Computer Goes to the Races, Wins "). The machine will be installed at the NASA Advanced Supercomputing Facility at the Ames Research Center in Silicon Valley and is expected to be available for government, industrial, and university research later this year. Google believes quantum computing might help it improve its Web search and speech recognition technology.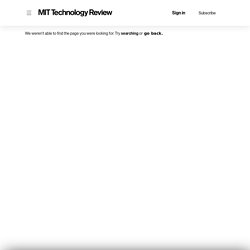 Google and NASA Launch Quantum Computing AI Lab
DARPA Looks To New Form Of Computation That Mimics The Human Brain
Artificial Intelligence Center @ SRI
RoboEarth [Artificial Intelligence]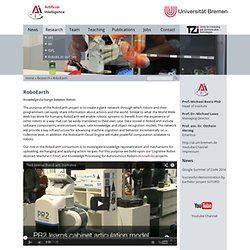 Knowledge-exchange between robots The RoboEarth project targets at building a "World Wide Web for Robots" where robots with their programmers can collectively build "action recipes". These libraries of action recipes that are shared between robots will drastically reduce the efforts for building new robot applications. Within the RoboEarth project, our group investigates the knowledge representation and processing mechanisms for uploading, exchanging, downloading and applying action recipes.
Rethinking artificial intelligence
The field of artificial-intelligence research (AI), founded more than 50 years ago, seems to many researchers to have spent much of that time wandering in the wilderness, swapping hugely ambitious goals for a relatively modest set of actual accomplishments. Now, some of the pioneers of the field, joined by later generations of thinkers, are gearing up for a massive "do-over" of the whole idea. This time, they are determined to get it right — and, with the advantages of hindsight, experience, the rapid growth of new technologies and insights from the new field of computational neuroscience, they think they have a good shot at it.
I² Home page
Computerized brain made of GPUs could be the future of artificial intelligence
For decades computer scientists have been struggling to design an artificial intelligence sophisticated enough that it could pass for a living being. The fruits of that labor so far are snarky chatbots and systems that can crunch large amounts of data and spit out factoids . Google began working on a new method of replicating neural networks using 1,000 computers tied together.
Ray Kurzweil Plans to Create a Mind at Google—and Have It Serve You
Hal from 2001: A Space Odyessy . Famed AI researcher and incorrigible singularity forecaster Ray Kurzweil recently shed some more light on what his new job at Google will entail. It seems that he does, indeed, plan to build a prodigious artificial intelligence, which he hopes will understand the world to a much more sophisticated degree than anything built before–or at least that will act as if it does. Kurzweil's AI will be designed to analyze the vast quantities of information Google collects and to then serve as a super-intelligent personal assistant.
Ray Kurzweil's next book — How to Create a Mind: The Secret of Human Thought Revealed * — will be published Nov. 13, Viking announced today. It can now be pre-ordered. In the book, Kurzweil explores the most important science project since the human genome: reverse-engineering the brain to understand precisely how it works, then applying that knowledge to create vastly intelligent machines. Drawing on the most recent neuroscience research, compelling thought experiments, and his own research and inventions in artificial intelligence, he describes his new theory of how the neocortex (the thinking part of the brain) works: as a self-organizing hierarchical system of pattern recognizers.
Ray Kurzweil's How to Create a Mind to be published Nov. 13
How to Create a Mind
How to Create a Mind: The Secret of Human Thought Revealed is a non-fiction book about brains , both human and artificial, by inventor and futurist Ray Kurzweil . First published in hardcover on November 13, 2012 by Viking Press [ 1 ] it became a New York Times Best Seller. [ 2 ] It has received attention from The Washington Post , The New York Times and The New Yorker . Kurzweil describes a series of thought experiments which suggest to him that the brain contains a hierarchy of pattern recognizers. Based on this he introduces his Pattern Recognition Theory of Mind. He says the neocortex contains 300 million very general pattern recognition circuits and argues that they are responsible for most aspects of human thought . Kurzweil then explains that a computer version of this design could be used to create an artificial intelligence more capable than the human brain.
How to Create a Mind - Homepage
Mind uploading
Computer learns language by playing games
Open Mind Common Sense : Welcome
ConceptNet | Common Sense Computing Initiative
Mind Children: The Future of Robot and Human Intelligence - Hans Moravec - Google Books
Open Mind
Open Mind Common Sense
Progress in artificial intelligence
Ethical Issues In Advanced Artificial Intelligence
Association for the Advancement of Artificial Intelligence
Computational humor
I.B.M. Announces Brainy Computer Chip
neurodudes
Artificial Superintelligence: A Futuristic Approach
Facebook Building Major Artificial Intelligence System To Understand Who We Are
Chemical computer that mimics neurons to be created
IBM's "neurosynaptic" chips are the closest thing to a synthetic brain yet
AI Horizon: Computer Science and Artificial Intelligence Programming Resources
Category:Artificial intelligence publications
Category:Artificial intelligence researchers
List of artificial intelligence projects
GPAI Project - GPAI
JAIR
Computer Vision
Google's Ray Kurzweil revs up search focus with AI vision
Mechanisation of Thought Processes: Artificial Intelligence in the 21st Century
Vision par ordinateur
Scientists See Advances in Deep Learning, a Part of Artificial Intelligence