Designer
10 Awesome Websites That Help You Discover the Best Web Apps. If you're watching the blogosphere close enough, you can observe a new trend coming along pretty quick – the application blog, whether is focused on iPhone apps, Mac apps, Air apps, web apps, or all of them.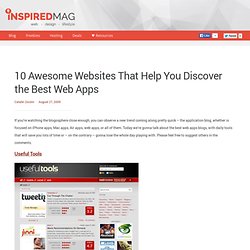 Today we're gonna talk about the best web apps blogs, with daily tools that will save you lots of time or – on the contrary – gonna lose the whole day playing with. Please feel free to suggest others in the comments. Useful Tools A web magazine for people who love web tools and apps. 5 Branding Basics Every Logo Designer Should Know. While many articles try to dissect the process of designing a logo itself, I will attempt to share tips from my experiences with branding-focused logo design for the real world.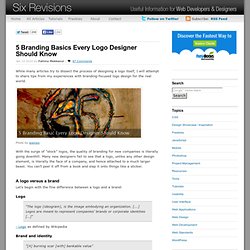 Photo by lpwines With the surge of "stock" logos, the quality of branding for new companies is literally going downhill. Many new designers fail to see that a logo, unlike any other design element, is literally the face of a company, and hence attached to a much larger beast. You can't peel it off from a book and slap it onto things like a sticker. A logo versus a brand. How to Setup a Dedicated Web Server for Free - Nettuts+ All great websites have a great server behind them.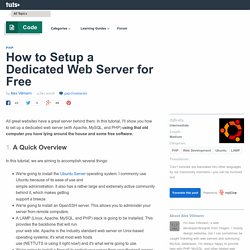 In this tutorial, I'll show you how to set up a dedicated web server (with Apache, MySQL, and PHP) using that old computer you have lying around the house and some free software. 1. 10 Web Apps To Build The Next Big Thing Without Writing Any Code. Ever wished that someone would overlay some data that fascinates you on a Google Map?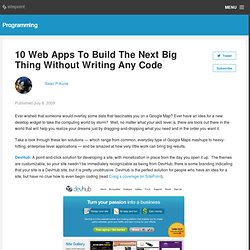 Ever have an idea for a new desktop widget to take the computing world by storm? Well, no matter what your skill level is, there are tools out there in the world that will help you realize your dreams just by dragging-and-dropping what you need and in the order you want it. Take a look through these ten solutions — which range from common, everyday type of Google Maps mashups to heavy-hitting, enterprise-level applications — and be amazed at how very little work can bring big results. DevHub: A point-and-click solution for developing a site, with monetization in place from the day you open it up. 30 Minimal Logo Designs that Say More with Less. A logo is the visual cornerstone of one's branding.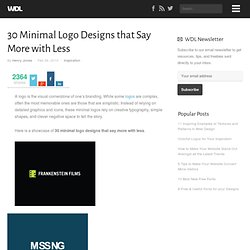 While some logos are complex, often the most memorable ones are those that are simplistic. Instead of relying on detailed graphics and icons, these minimal logos rely on creative typography, simple shapes, and clever negative space to tell the story. Here is a showcase of 30 minimal logo designs that say more with less. About the Author Henry Jones is a web developer, designer, and entrepreneur with over 14 years of experience. 10 Tips on how to think like a designer. Most people do not really think about design and designers, let alone think of themselves as designers.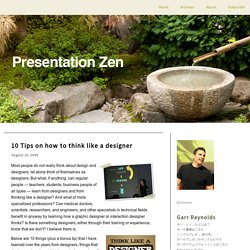 But what, if anything, can regular people — teachers, students, business people of all types — learn from designers and from thinking like a designer? And what of more specialized professions? Can medical doctors, scientists, researchers, and engineers, and other specialists in technical fields benefit in anyway by learning how a graphic designer or interaction designer thinks?
---