Monétisation des données ouvertes
Get flash to fully experience Pearltrees
Open data releases (part 1) In part 1 of this story significant data releases occurred in 2010 via data.gov.uk and the London datastore and a huge number of new web sites and apps have been set up to leverage open data. However, typically these data sets have been the 'low hanging fruit' of static reports, maps and statistics. Only a few of the 'high value' data sets have been released that contain 'actionable information' e.g.
A thought provoking article, at O'Reilly's Radar blog is set to change the general view about how we look at APIs and the data that they expose. Data or content is getting more valuable and the need to get access to data being held by the API publisher is more or likely going to undergo severe pressure thereby unlocking the true value of data. In The Black Market of Data Jud Valeski clearly lays the ground for why the market came to be. APIs have largely been the driving force behind thousands of mashups and innovative applications created over the past few years.
This guest post comes from Pete Soderling, founder and CEO of Stratus Security Technologies and founder and CEO of mechanikal , a software development agency.
The following guest post is from Hjalmar Gislason, an open data activist, member of the Open Knowledge Foundation's Working Group on EU Open Data , and founder of structured data start-up, DataMarket .
Jo Walsh, who works as a project manager at EDINA and sits on the Open Knowledge Foundation board, writes: These thoughts on sustaining open data business were provoked by ORCID , a not-for-profit business set up by a group of large academic publishers and a few leading universities. Its aim is to provide a central directory of researchers, with profiles describing them.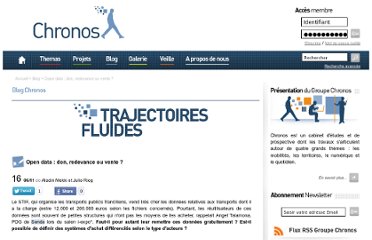 Le STIF, qui organise les transports publics franciliens, vend très cher les données relatives aux transports dont il a la charge (entre 12.000 et 200.000 euros selon les fichiers concernés). Pourtant, les réutilisateurs de ces données sont souvent de petites structures qui n'ont pas les moyens de les acheter, rappelait Angel Talamona, PDG de Senda lors du salon i-expo*. Faut-il pour autant leur remettre ces données gratuitement ? Est-il possible de définir des systèmes d'achat différenciés selon le type d'acteurs ?