News 2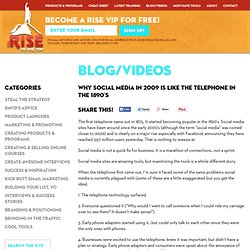 Why Social Media In 2009 Is Like The Telephone In The 1890's « T
The first telephone came out in 1875. It started becoming popular in the 1890's. Social media sites have been around since the early 2000's (although the term "social media" was coined closer to 2006) and is clearly on a major rise especially with Facebook announcing they have reached 350 million users yesterday. That is nothing to sneeze at. Social media is not a quick fix for business. It is a marathon of connections…not a sprint.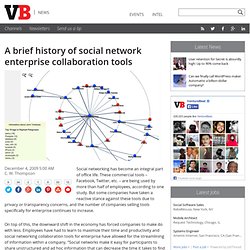 Social networking has become an integral part of office life. These commercial tools – Facebook, Twitter, etc. – are being used by more than half of employees, according to one study. But some companies have taken a reactive stance against these tools due to privacy or transparency concerns, and the number of companies selling tools specifically for enterprise continues to increase. On top of this, the downward shift in the economy has forced companies to make do with less.
A brief history of social network enterprise collaboration tools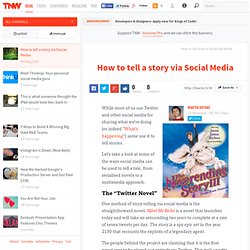 While most of us use Twitter and other social media for sharing what we're doing (or indeed "What's happening") some use it to tell stories. Let's take a look at some of the ways social media can be used to tell a tale, from serialised novels to a multimedia approach. The "Twitter Novel"
How to tell a story via Social Media
9 Digital Trends For 2010: Branding Strategy Insider - Flock
1: Facebook replaces personal email Question: Google has it, Hoover has it (in the UK anyway), TiVo had it, lost it and has somewhat got it back. Xerox had it, but nobody really cares anymore. So what is it?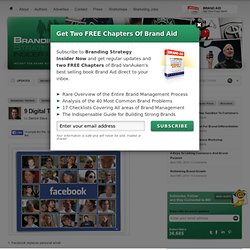 After recently updating some visuals to my Flickr collection, it occurred to me how much of my precious time has gone into producing these artifacts only to "give" them away (specifically for use of blogging and presentations—I ask for attribution, a link is always appreciated). I've had hundreds of people come up to me and tell me they've used my content to further their business more or less. People have benefited off me. But I've benefited off them as well, as I've enjoyed stimulating career opportunities and even received some help when we needed it. This is a value exchange—a sort of currency that fuels an ever increasing networked economy. It's not a perfect system by any means.
Give Before You Get - Flock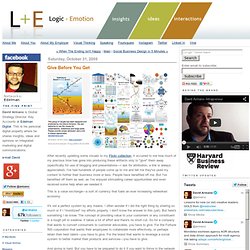 Social Currency 101 | The Relationship Economy...... - Flock
Here is a very great video by Scott Stratten explaining social currency. It is short, it is basic, and it states what should be obvious to everyone. It also states what many of us should repeat to ourselves every single day.
Social Media Force Fields | The Relationship Economy...... - Flo
Use of social media will continue to cause problems for businesses. The initial problem is trying to control it. Then the next problem is not understanding how to leverage it. All problem situations, regardless of the specific kind of problem, have the same general structure. The three elements of this structure are: 1. the problem state 2. the solved state, and 3. the solution path.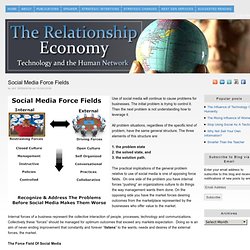 Seven Things to Consider Prior to Launching Your Business Blog -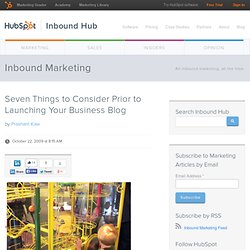 s In many ways building a business blog is like designing a rolling ball sculpture. Rolling ball sculptures also known as kinetic sculptures are so engaging because of the visual and aural spectacle -- following intricate roller coaster paths, clinging and clanging along the way. But the basic element is they are designed for perpetual motion. The same goes for your business blog and the basic key to success is to plan for it to be a perpetual outlet for remarkable content.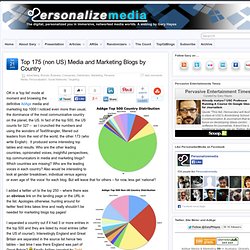 Top 175 (non US) Media and Marketing Blogs by Country | PERSONAL
OK in a 'top list' mode at moment and browsing the definitive AdAge media and marketing top 1000 I noticed even more than usual, the dominance of the most communicative country on the planet, the US. In fact of the top 500, the US counts for 327 – so I crunched the numbers and using the wonders of TextWrangler, filtered out leaders from the rest of the world, the other 173 (who write English) . It produced some interesting top tables and results. Who are the other leading countries, opinionated voices, insightful perspectives, top communicators in media and marketing blogs?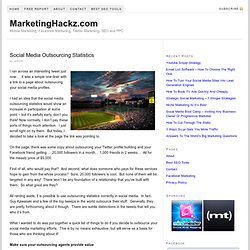 I ran across an interesting tweet just now… It was a simple one-liner with a link to a page about outsourcing your social media profiles. I had an idea that the social media outsourcing statistics would show an increase in participation at some point – but it's awfully early, don't you think! Now normally, I don't pay these sorts of things much attention. I just scroll right on by them.
Is It Possible To Outsource Social Media? | MarketingHackz - Flo
10 Things You Need To Stop Tweeting About - Flock
When comparing social media traffic to other forms of traffic, such as search engine, the numbers typically are going to look rather bleak. While you'll hopefully see a spike in number of visitors and pageviews, that will often be accompanied by higher bounce rates, lower pageviews per visitor, and a lower average time on the site. With stats like this many bloggers wonder if social media traffic is even worth the time and effort. Despite the tendency of many social media visitors to quickly exit your site and move on to the next one, there are still some very convincing reasons why you should care about social media and why it is worth your time. 1. It's Free
13 Reasons Why Social Media Marketing is Worth Your Time - Flock
This series is supported by Grasshopper, the Virtual Phone System designed for entrepreneurs. Learn more about Grasshopper at Grasshopper.com. Whether your company is just starting out, just starting to turn a profit or already on the verge of an acquisition, as an entrepreneur you'll be constantly evaluating the tools that will help get your business to the next stage.
10 of the Best Social Media Tools for Entrepreneurs - Flock
8 great digg-like social networks for designers in 2008 | Dustin
Best and Worst Practices Social Media Marketing - Online Marketi
Social media is hot, just take a look at Google Trends to see the comparison between topics like "search marketing" being eclipsed by "social media" in terms of search volume and news references – at least according to Google. Along with all that "hotness", there's good and bad when it comes to the way companies are beginning to engage social media channels. On Twitter, the difference between mentions of "search marketing" and "social media" are even more pronounced.
How to Change the World Using Social Media | Copyblogger - Flock
15 Popular Online Marketing Tools and Resources | LimeExchange B
This is a guest post from Pierre Far, who recently launched a very cool program called Social Alerter which notifies you as soon as your website has a solid chance of hitting the Digg or del.icio.us frontpage. We have all engaged in debates over the past few years about social media. Is it new? If so, how? Even a recent thread on Cre8asite Forums discussed this, kicking off by someone stating they find social media very intimidating. Then and Now
Is Social Media the Final Frontier of Marketing? » Techipedia |
Social Media Marketing Roundup | Chris Garrett on New Media - Fl
Social Media Optimization — Merging of Traditional Media, SEM an