News 1
The Social Media Vacuum | The Relationship Economy...... - Flock. The social web is the strongest vacuum on the planet sucking everyone into being on-line for everything.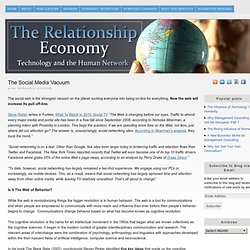 Now the web will increase its pull off-line. Steve Rubel, writes in Forbes: What To Watch In 2010: Social TV "The Web is changing before our eyes. 11 bullet points that will lead your brand into the future of so. We're fed up with boring old school advertising.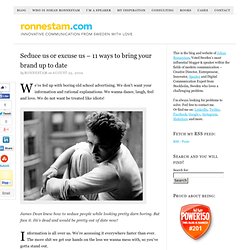 We don't want your information and rational explanations. We wanna dance, laugh, feel and love. We do not want be treated like idiots! James Dean knew how to seduce people while looking pretty darn boring. But face it. Top 5 Professional Networking Site. If it works for social bees, it should work for professionals?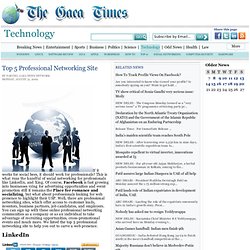 This is what runs the hundful of social networking for professionals like LinkedIn, and Xing. Of course, Facebook is fast growing into businesses vying for advertising opportunities and event promotion still it remains the Place for romance and socializing, but what about professionals looking for web presence to highlight their USP. Well, there are professional networking sites, which offer access to customer leads, investors, business partners, job candidates, and employers. You can sign up with these online professional networking communities as a company or as an individual to take advantage of recruiting opportunities, cross-promotional events and much more. How to Define a Personal Brand. Study Shows Small Businesses That Blog Get 55% More Website Visi. If you blog, you know that it's good for your business.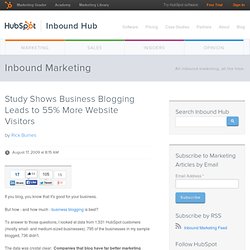 But how - and how much - business blogging is best? To answer to those questions, I looked at data from 1,531 HubSpot customers (mostly small- and medium-sized businesses). 795 of the businesses in my sample blogged, 736 didn't. The data was crystal clear: Companies that blog have far better marketing results. Specifically, the average company that blogs has: Take a look for yourself in the graphs below: Personal Branding 101: How to Discover and Create Your Brand - F. Dan Schawbel is the author of Me 2.0: Build a Powerful Brand to Achieve Career Success, and owner of the award winning Personal Branding Blog.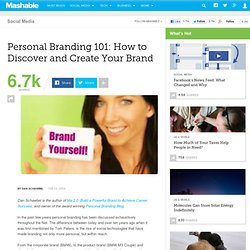 In the past few years personal branding has been discussed exhaustively throughout the Net. The difference between today and over ten years ago when it was first mentioned by Tom Peters, is the rise of social technologies that have made branding not only more personal, but within reach. From the corporate brand (BMW), to the product brand (BMW M3 Coupe) and down to the personal brand (car salesman), branding is a critical component to a customer's purchasing decision.
These days, customer complaints and opinions are online and viewable through a simple search, on either Google or through social networks. 100 Personal Branding Tactics Using Social Media. You are not special.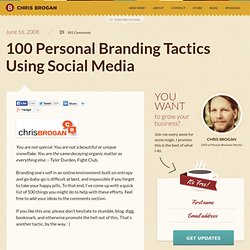 You are not a beautiful or unique snowflake. You are the same decaying organic matter as everything else. – Tyler Durden, Fight Club. How to Become a Brand Manager. Social Media Today | V.2 Which Social Media Channels Should You. About 2 weeks ago I posted a matrix designed to help companies decide what social media channels they should be using.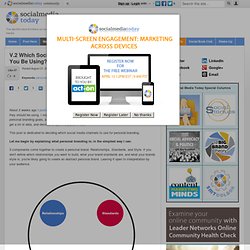 I originally intended to outline which channels are best to achieve certain personal branding goals, but as I talked with people who are leaders in personal branding; I started to get a lot of data, and decided to split the posts in two. This post is dedicated to deciding which social media channels to use for personal branding. Let me begin by explaining what personal branding is; in the simplest way I can. 3 components come together to create a personal brand: Relationships, Standards, and Style. If you don't define which relationships you want to build, what your brand standards are, and what your brands style is; you're likely going to create an abstract personal brand. Hot Topics in eLearning for 2009 » eLearning Learning - Flock. 18 Essential Tools for Every Word-of-Mouth Marketer - Flock. By now, most consumer marketers know they could be using Facebook, Twitter, blogs, and other social media platforms to boost brand recognition, engage customers, and drive sales.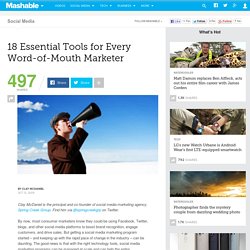 But getting a social media marketing program started – and keeping up with the rapid pace of change in the industry – can be daunting. The good news is that with the right technology tools, social media marketing programs can be managed at scale and can help the entire organization (not just the marketers!) Find out what customers are saying, sharing, even feeling about your brand or business. How To: Build Your Online Personal Branding | Penn Olson - Flock. "It takes only three to five seconds to make a first impression, but it can take a whole career to undo it."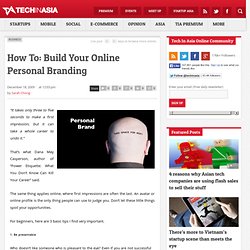 That's what Dana May Casperson, author of "Power Etiquette: What You Don't Know Can Kill Your Career" said. The same thing applies online, where first impressions are often the last. An avatar or online profile is the only thing people can use to judge you. 46 Free Social Media Monitoring Tools | DreamGrow Digital. If you want to know what's happening in the social web you need social media monitoring tools.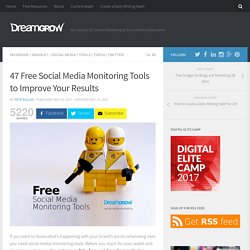 Before you reach for your wallet and start to spend money try out some of the free social media monitoring services. This way you will get an understanding of what is available and if you need any paid services. This time we have collected 69 Free social media monitoring tools. In the Group A are the services that I use regularly or seem interesting to check out immediately.
The Group B is an alphabetical list of tools for you to play with. Cloud computing: Clash of the clouds | The Economist - Flock. Robb Clarke's Ten Commandments of Social Media - Flock. Study: Social-media junkies use e-mail more | Webware - CNET - F. Although social networking may be seen as a personal-communications alternative to e-mail, those that find themselves on several social-media sites throughout the day generally spend more time reading and writing e-mail messages than those that don't engage in as much social networking, according to a study released on Monday by Nielsen. After considering the impact social networks have on Web surfers' activities online, Nielsen tested its assumption that "consumption of social media decreases e-mail use" to determine how social networking has impacted e-mail. To do so, the research firm broke its test population into four groups based on the amount of time they spend consuming social media.
The first three groups were labeled low, medium, and high consumers of social media, respectively. The fourth group featured people who didn't use social sites. Measure Online Video Advertising | Visible Measures. Is Social Media Impacting How Much We Email? | Nielsen Wire - Fl. Jon Gibs, VP, Media Analytics In the past, we discussed ways that social media has transformed the internet, having been so bold to say that social networks fundamentally changed the way we consume online media. So, if social media and social networks are these all-powerful game changers, shouldn't they eventually make a newsworthy impact on email, the internet's original "killer app?
" We decided to churn some quick data to test our hypothesis that "Consumption of social media decreases email use." First, we broke the online population into four groups. The first three are terciles of social media consumption in minutes. How Social Media is Changing Travel - Articles - Travel + Leisur. Funniest thing I've seen on the road lately? I was in Barcelona, in the lobby of the Hotel Arts. Everyone around me was on a laptop, taking advantage of the free Wi-Fi: Google Mapping itineraries, consulting TripAdvisor for shopping recs, posting Flickr photos of lunch at Cal Pep. A couple from Chicago were using Skype to video chat with their children back home when, as if on cue, LL Cool J strode into the lobby. Why Making Meaning is More Important Than Making Money | Under30. Ask yourself why you decided to become an entrepreneur. Really ask yourself (that was not rhetorical).
Was it a strong desire for money, riches and fame? Was it that you had distaste for the corporate lifestyle and their rigidly bureaucratic ways? Maybe it was that you wanted to change the world for the better. No matter what the initial reason was that pushed you towards your entrepreneurial leap; to be a truly successful entrepreneur, your end goal must be to help make the world a better place. Social Networking Wars | Have you joined The… | Bit Rebels - Flo. There is a war going on. A war that everyone using social media is a part of yet still don't know they are participating in. We are all the soldiers and being puppeteered by the lords of social media networking. We have no chance of getting out of it unless we stop using any kind of social media networking service. You decide what side you are on by just being a user and let me tell you, it's a fierce war. The kind that costs millions and millions for the warlords.
Gaming Social Media Is Counterproductive - The Conversation - Ha.
---