News 1
Top 25 Social Media Platforms - Flock
The social web is the strongest vacuum on the planet sucking everyone into being on-line for everything. Now the web will increase its pull off-line. Steve Rubel , writes in Forbes: What To Watch In 2010: Social TV " The Web is changing before our eyes.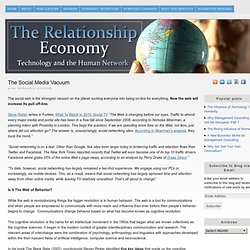 The Social Media Vacuum | The Relationship Economy...... - Flock
11 bullet points that will lead your brand into the future of so
If it works for social bees, it should work for professionals?
Top 5 Professional Networking Site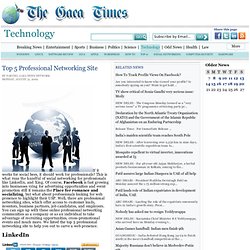 How to Define a Personal Brand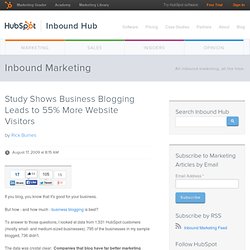 If you blog, you know that it's good for your business. But how - and how much - business blogging is best?
Study Shows Small Businesses That Blog Get 55% More Website Visi
Dan Schawbel is the author of Me 2.0: Build a Powerful Brand to Achieve Career Success , and owner of the award winning Personal Branding Blog .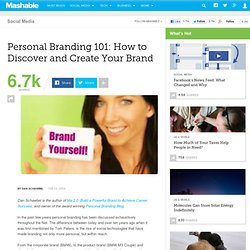 Personal Branding 101: How to Discover and Create Your Brand - F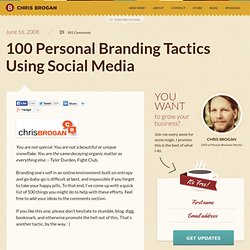 You are not special. You are not a beautiful or unique snowflake. You are the same decaying organic matter as everything else. – Tyler Durden, Fight Club.
How to Become a Brand Manager
About 2 weeks ago I posted a matrix designed to help companies decide what social media channels they should be using. I originally intended to outline which channels are best to achieve certain personal branding goals, but as I talked with people who are leaders in personal branding; I started to get a lot of data, and decided to split the posts in two. This post is dedicated to deciding which social media channels to use for personal branding.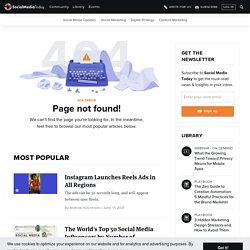 Social Media Today | V.2 Which Social Media Channels Should You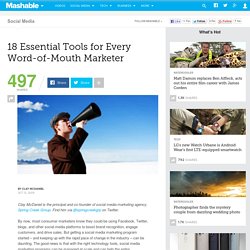 By now, most consumer marketers know they could be using Facebook, Twitter, blogs, and other social media platforms to boost brand recognition, engage customers, and drive sales.
How To: Build Your Online Personal Branding | Penn Olson - Flock
"It takes only three to five seconds to make a first impression, but it can take a whole career to undo it."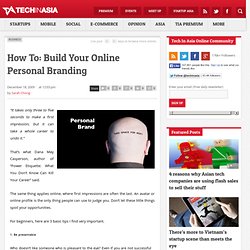 If you want to know what's happening in the social web you need social media monitoring tools. Before you reach for your wallet and start to spend money try out some of the free social media monitoring services . This way you will get an understanding of what is available and if you need any paid services.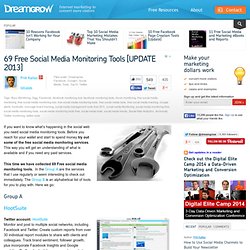 Cloud computing: Clash of the clouds | The Economist - Flock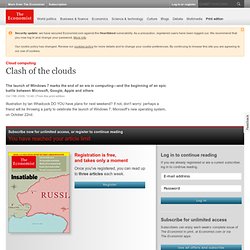 Illustration by Ian Whadcock DO YOU have plans for next weekend? If not, don't worry: perhaps a friend will be throwing a party to celebrate the launch of Windows 7, Microsoft's new operating system, on October 22nd.
Presenters: Crystal Schimpf, Public Computer Center Trainer, Colorado State Library Erin Kirchoefer, Public Computer Center Supervisor, High Plains Library District Description: One-on-one technology assistance and public computer classes have become essential instructional services in libraries, but it takes the right skills and knowledge to provide a true learning experience.
Robb Clarke's Ten Commandments of Social Media - Flock
Blog Lecom » O Admirável Mundo Novo das Redes Sociais
Esta semana começamos aqui no Blog da Lecom uma série de posts sobre o tema das Redes Sociais .
First-time visitors drive most of your website traffic (Blog Wor
Most of your website visitors are there for the first time: What will you do about that? Many organizations make the mistake of assuming their website visitors come often and stay long. That's not the case.
Although social networking may be seen as a personal-communications alternative to e-mail, those that find themselves on several social-media sites throughout the day generally spend more time reading and writing e-mail messages than those that don't engage in as much social networking, according to a study released on Monday by Nielsen.
Study: Social-media junkies use e-mail more | Webware - CNET - F
Is Social Media Impacting How Much We Email? | Nielsen Wire - Fl
Jon Gibs, VP, Media Analytics In the past, we discussed ways that social media has transformed the internet, having been so bold to say that social networks fundamentally changed the way we consume online media.
How Social Media is Changing Travel - Articles - Travel + Leisur
Why Making Meaning is More Important Than Making Money | Under30
Social Networking Wars | Have you joined The… | Bit Rebels - Flo
Gaming Social Media Is Counterproductive - The Conversation - Ha