Art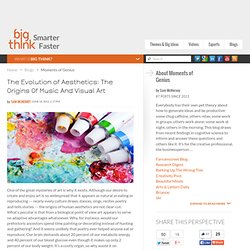 The Evolution of Aesthetics: The Origins Of Music And Visual Art | Moments of Genius
One of the great mysteries of art is why it exists. Although our desire to create and enjoy art is so widespread that it appears as natural as eating or reproducing -– nearly every culture draws, dances, sings, recites poetry and tells stories -– the origins of human aesthetics are not clear-cut. What's peculiar is that from a biological point of view art appears to serve no adaptive advantages whatsoever.
Surreal architectural projection
The Rx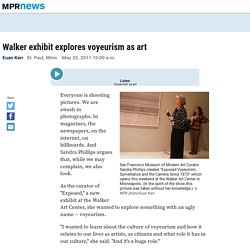 Walker exhibit explores voyeurism as art
by Euan Kerr , Minnesota Public Radio May 20, 2011 Copy and paste the HTML below to embed this audio onto your web page.
In my opinion, museums do not get enough coverage in newspapers and magazines, so if a lot of it comes at once, in the annual New York Times section on museums, well, fine by me. That section should arrive in your paper tomorrow. I have three stories in it this year, and I will have more to say about each of the subjects in the coming days.
Real Clear Arts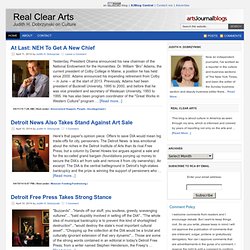 Roy Lichtenstein painted several version of cuddling couples, but Kiss V from 1964 is our favorite. A refined interpretation of a comic book illustration, the painting stylizes the figures in a pop art vocabulary, while enlarging the emotional embrace to the point of iconic impact. It's uncertain whether the couple is being reunited or painfully saying good-bye, but what is evident from the kiss is that they are very much in love.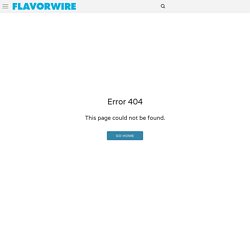 flavorwire
The Earliest Portrait In History? An Egyptian family sit proudly for the artist - I nearly wrote, for the camera. But the lifelike portrayal of the Dwarf Seneb and his Family, one of the most captivating things in the Egyptian Museum in Cairo, right at the heart of the revolution on Tahrir Square, was carved and painted at least 4,000 years before the invention of photography. It is one of the earliest works of art in history to which it seems fitting to give the title "portrait." The Guardian (UK) 02/10/11
Daily Arts News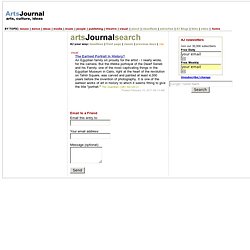 Consumer Innovation as New Economic Pattern
When he was finished, Mr. Reetz, now 29 and working at Disney Research's laboratories, put his 79-step how-to guide on a Web site . Since the post went up nearly two years ago, about 1,000 people have joined Mr.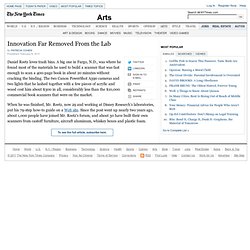 Roland Penrose - 'Cryptic Coincidence II' | Flickr : partage de photos !
Banksy's True Identity Listed on eBay, Subsequently Pulled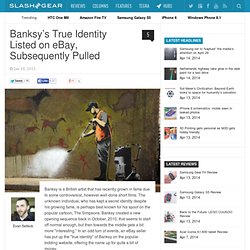 Banksy is a British artist that has recently grown in fame due to some controversial, however well-done short films. The unknown individual, who has kept a secret identity despite his growing fame, is perhaps best known for his spoof on the popular cartoon, The Simpsons. Banksy created a new opening sequence back in October, 2010, that seems to start off normal enough, but then towards the middle gets a bit more "interesting."
As Marc Campbell pointed out on DM last month, when a b&w Coke bottle by Andy Warhol sold for $35, "some things are recession proof." Now, a painting of Lucian Freud by Francis Bacon has turned up after being kept in a private collection and not exhibited anywhere since 1965. This triptych goes on sale next month at Sotheby's, in London, and according to the Daily Telegraph its $10m-$14m estimate "does not seem unreasonable." Not unreasonable if you think of art as just a money-making exercise, like Warhol once said, "Making money is art and working is art and good business is the best art." Three Studies for a Portrait of Lucian Freud is a powerfully rendered triptych of small, 14in x 12in portraits, and is a testament to one of the most significant artistic relationships of the 20th century. Bacon and Freud met in 1945 through the artist Graham Sutherland and became close if competitive friends, painting each other on several occasions.
Francis Bacon's lost painting of Lucian Freud turns up after 45 years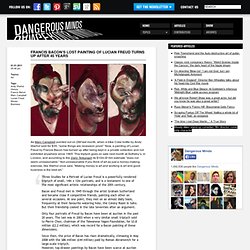 Visual science in the art of Chuck Close
I've just found this amazing article on the work of artist Chuck Close from a 2008 edition of the Archives of Ophthalmology . It examines the visual science behind his pixelated style and how a stroke left the artist paralysed – after which he has produced some of his finest work. Chuck Close (1940- ) is one of the most famous American artists working today. His distinctive paintings are huge canvases that depict faces, often his own. He works in a nontraditional manner by combining many small geometric forms, usually squares or rectangles, to create a portrait.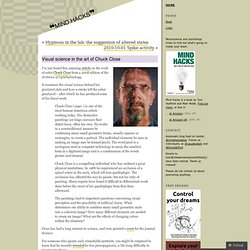 John Cage & Morton Feldman in Conversation (WBAI, 1967)
Feldman: "Rothko Chapel"
Feldman: "Rothko Chapel"
Artists are doing a little bit of everything these days: Vik Muniz and Julian Schnabel make movies, Jutta Koether and Tony Conrad play in a band, and Will Cotton bakes Escoffier-worthy French pastries. It turns out that many artists also make — or hire people to make — great Web sites. ARTINFO , which visits some of these pages on a frighteningly regular basis, presents its following 10 favorites. 10. Jeff Koons , jeffkoons.com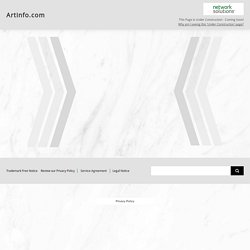 The Top 10 Artist Web Sites
Macoto Murayama cultivates inorganic flora. First, he chooses the plant and finds the real flower, for example the exquisite Lathyrus odoratus L. Second, he dissects the flower cutting the petal and ovary with scalpel and observes it with magnifying glass. Third, he makes sketches and photographs the parts of dissected flower. Forth, he models its form and structure using 3ds Max (3DCG software).
gallery | Macoto Murayama
The way you express yourself with words is a crucial extension of your creative identity. Professional designers are usually busy focusing on the visual aspects of their craft, but visual arts and literary arts collide and coincide regularly. The two fields meet not just in typography, but also in press releases, social networking communication, slogans, promotional materials, 'About Me' pages, marketing strategies, and every single pitch, contract, and email you've ever sent to a client. What might happen if you injected some of those materials with a healthy dose of poetry, humor, or bravado? Obviously, doing so will not be appropriate in some forums, but when it is, this may be a good way to express yourself and differentiate your brand from the crowd. Some of the most electrifying examples of writing about art and design come in the form of the manifesto.
Art Manifestos and Their Applications in Contemporary Design - S
Dada ( pron.: / ˈ d ɑː d ɑː / ) or Dadaism was an art movement of the European avant-garde in the early 20th century. It began in Zurich , Switzerland in 1916, spreading to Berlin shortly thereafter. [ 1 ] To quote Dona Budd's The Language of Art Knowledge , Dada was born out of negative reaction to the horrors of World War I . This international movement was begun by a group of artist and poets associated with the Cabaret Voltaire in Zurich. Dada rejected reason and logic, prizing nonsense, irrationality and intuition. The origin of the name Dada is unclear; some believe that it is a nonsensical word.
Duchamp interviews
Art / CP30 descending the stairs Gr8 take off on NDS
Art / "Bride", by Marcel Duchamp (1912)
Marcel Duchamp - On Indifferent Taste
Marcel Duchamp - In His Own Words (Part 1)
Marcel Duchamp - In His Own Words (Part 2)
Surrealism is a cultural movement that began in the early 1920s, and is best known for its visual artworks and writings. Surrealist works feature the element of surprise, unexpected juxtapositions and non sequitur ; however, many Surrealist artists and writers regard their work as an expression of the philosophical movement first and foremost, with the works being an artefact. Leader André Breton was explicit in his assertion that Surrealism was above all a revolutionary movement. Surrealism developed out of the Dada activities during World War I and the most important center of the movement was Paris. From the 1920s onward, the movement spread around the globe, eventually affecting the visual arts, literature, film, and music of many countries and languages, as well as political thought and practice, philosophy, and social theory. [ edit ] Founding of the movement
Salvador Dali / Surrealism
Salvador Dali - Alka Seltzer
ANDRÉ BRETON, "L'Union libre"
A Hyperborean Adventure in Surrealism
Remedios Varo
Remedios Varo
Dorothea Tanning
'The oldest work of art ever': 42,000-year-old paintings of seals found in Spanish cave