Art
The old method These instructions can be followed with pencil and paper or using any computer based drawing or drafting program. I have used Corel Draw, Adobe Illustrator, and AutoDesk AutoCad for various projects, but my favorite is Corel Draw. In the tutorial below I show the method that I use in Corel Draw; however, I have deliberately left out program-specific instructions. I did this to make the instructions more broadly applicable to work with as many drawing and CAD programs as possible.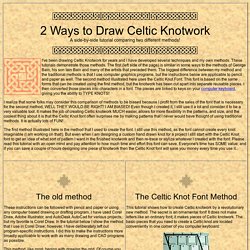 How to Draw Celtic Knotwork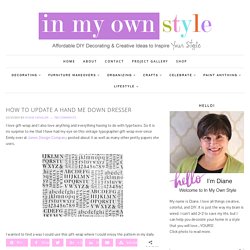 How to Update a Hand Me Down Dresser
I love gift-wrap and I also love anything and everything having to do with typefaces. So it is no surprise to me that I have had my eye on this vintage typographer gift-wrap ever since Emily over at Jones Design Company posted about it as well as many other pretty papers she uses. I wanted to find a way I could use this gift-wrap where I could enjoy the pattern in my daily life instead of only wrapping gifts with it and giving it away. When I started to update my guest room I got an idea on how I could incorporate it into the room. The gift-wrap comes in 20" x 28" sheets that cost $4.00 each.
Digital Painting 101: The Complete Guide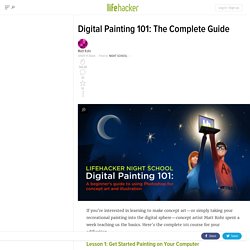 One thing I have to tell you guys who are interested in this (not my thing; I'm so bad at drawing, *stick figures* laugh at me—but I can write pretty well) is to try getting yourself a tablet laptop (NOT an iPad or Android slate) with a WACOM Penabled screen. My fiancee is a professional illustrator, classically trained, and she's so enamored of her now 3 year old Gateway C-140x laptop that I don't think she'll ever give it up as a drawing tool. Particularly if you're on a budget, you can get these laptops pretty cheap on ebay (she paid a lot more when they first came out, but today they can be found for about $350-400) and they're upgradeable to pretty recent Core 2 Duo processors if you need more heft.
How to Think of What to Draw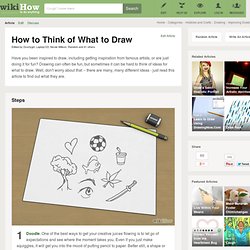 Edit Article Edited by Dvortygirl, Laptop123, Nicole Willson, Random and 39 others Have you been inspired to draw, including getting inspiration from famous artists, or are just doing it for fun? Drawing can often be fun, but sometimes it can be hard to think of ideas for what to draw. Well, don't worry about that -- there are many, many different ideas - just read this article to find out what they are. Ad
Drawing Lessons - How to Draw the Portrait - Drawing Figure - Drawing Still Life.
Figure & Gesture Drawing Tool
The most important part of a drawing is the start, not the finish. This tutorial will focus on how to start a portrait drawing, using basic blocking-in techniques. When drawing a portrait from life, you don't want to just jump-in and draw. I always walk around the model to get a better understanding of the model and plan out my composition.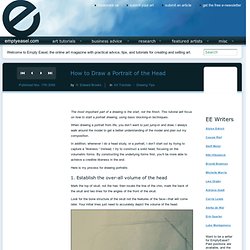 How to Draw a Portrait of the Head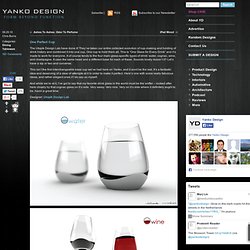 One Perfect Cup The Utopik Design Lab have done it! They've taken our entire collected evolution of cup-making and holding of drink history and combined it into one cup.
One Glass for Every Drink by Sven MILCENT & Utopik Design Lab