Art textile
FASHION SCARVES SHAWLS WRAPS par VitalTemptation sur Etsy
iDesign Custom Couture Tee Shirts | Personalize Beaded T-Shirts
textile and fibre art resources - inspiration>creativity
welcome to TextileArts.net
Art Quilt Reviews
art | tricia mckellar | plans & diagrams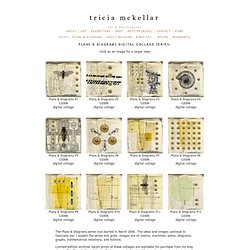 The Plans & Diagrams series was started in March 2006. The ideas and images continue to fascinate me; I expect the series will grow. Images are of insects, machines, plans, diagrams, graphs, mathematical notations, and buttons. Limited edition archival inkjet prints of these collages are available for purchase from my etsy shop in 7" x 7" and 12" x 12" sizes.
Maeda Importing Photo Gallery
Dolls United Interactive Magazine - a multi-media doll magazine for art doll makers and artists.
susancarlson.com
Home Page
Fiber Art Options
Blue Moon River - Susan Brubaker Knapp
As promised, here's another interesting fiber-jewelry book. Fabulous Fabric Beads by Kristal Wick is one of those high-value craft books that teaches you lots of different craft techniques within a simple project framework. The first section of the book is about making designs on a fabric surface. Each technique has clear step-by-step photos, and whether you make the beads or not, these techniques have application to all kinds of crafts. The book covers everything from sponging to salting to bleaching to stamping, foiling, stenciling, splattering, and more.
Review: Fabulous Fabric Beads
How an ENTWINEMENTS scarf is made-1
ABC: Embroidery Fonts Embroidery Alphabets, VictorianWhitework
Jacobean Embroidery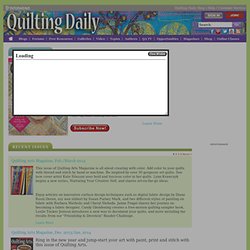 Sit down with a cup of your favorite hot beverage and enjoy our coffee or tea themed issue. You'll find a foaming latte among the projects Jeannie Palmer Moore shows in her article about using Tsukineko Inks and colored newspaper transfer in your quilts or explore Connie Fahrion's innovative paper quilts incorporating painted coffee filters. Learn how to enhance a collage using stitched organza with Leslie Tucker Jenison or paint a shibori forest with Holly McLean. Be inspired by over 30 quilts including works from Kate Themel, Melody Randol, and Studio Art Quilt Associates' "Seasonal Palette" exhibition plus enjoy the results of our "Coffee or Tea?"
Quilting Arts Challenges - Quilting Arts
Feeling Simply Quilty
1 - 20: 365 Days of Free Motion Quilting Filler Designs Project
Current Albums » Whimsical Quilts This album contains 12 pictures.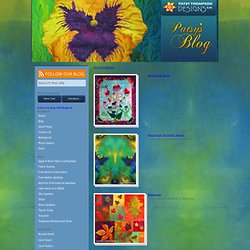 Patsy Thompson Designs, Ltd.
Workshop Classes for Quilters: One, two, and three day classes in fabric painting Phil Beaver-style, machine appliqué, and free motion quilting (see Workshop Retreat page for extensive content description) $650.00 per day, plus hotel and air fare $.40 per mile in Indiana and other areas within driving distance Special rates for neighboring communities 30 years public school teaching experience Slide Lectures for Quilters: Finding Your Own Signature in Quilting , Part 1 Join Phil Beaver for an hour slide lecture as he takes you back to an earlier time.
Lectures
Gallery of award winning heirloom machine quilts and unique quilt designs by Diane Loomis, a New England quilt artist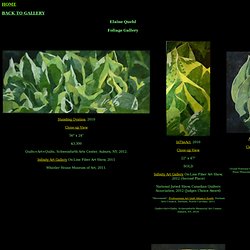 Untitled Document
Reach , 2008 Close-up View 37" x 50" Juried into SAQA: Transformations '09 – Festival of Quilts Birmingham, England, August 14-17, 2009, plus traveling show for 1 year Exhibited at Taiwan International Quilt Exhibition (invitational), Tainan City, Taiwan, March 25 - April 8, 2009. Opening Act , 2007
Sarah Ann Smith - Sarah By The Sea - Latest Quilts
Fembellish Journal
Square Rose Gallery
Gallery | Linda Matthews - Inspired by Textiles
instructions impressions sur tissu by sylviane84 Oct 11