Art textile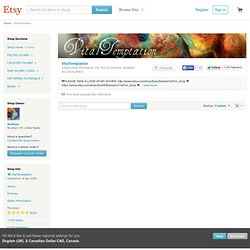 Knitting patterns, knitting scarves, felted scarves, wraps. ❤PLEASE TAKE A LOOK AT MY SHOPS: http://www.etsy.com/shop/EasyStreets?ref=si_shop ❤https://www.etsy.com/shop/ScarfObsession?ref=si_shop ❤
FASHION SCARVES SHAWLS WRAPS par VitalTemptation sur Etsy
iDesign Custom Couture Tee Shirts | Personalize Beaded T-Shirts
textile and fibre art resources - inspiration>creativity
welcome to TextileArts.net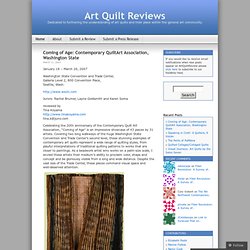 Art Quilt Reviews
Surface Tension: Contemporary Quilt Art James Howe Gallery, Vaughn-Eames Building Kean University 1000 Morris Ave, Union, NJ Nov. 1-22, 2006 Sandra Sider: Juror & Guest CuratorExhibit Website Reviewed by Rayna Gillmanwww.studio78.net/ Surface Tension, which opened November 1 at New Jersey's Kean University Howe Gallery is, on the whole, a strong, thoughtfully presented exhibit of contemporary quilt art with a focus on surface design.
art | tricia mckellar | plans & diagrams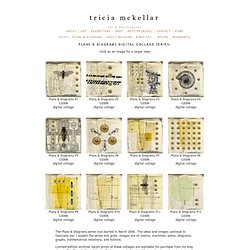 The Plans & Diagrams series was started in March 2006. The ideas and images continue to fascinate me; I expect the series will grow. Images are of insects, machines, plans, diagrams, graphs, mathematical notations, and buttons. Limited edition archival inkjet prints of these collages are available for purchase from my etsy shop in 7" x 7" and 12" x 12" sizes.
Maeda Importing Photo Gallery
Dolls United Interactive Magazine - a multi-media doll magazine for art doll makers and artists.
susancarlson.com
Home Page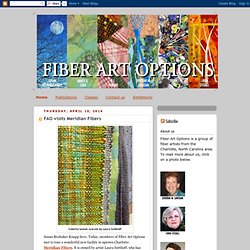 Fiber Art Options
I blogged, a while back on my series of shoe envy pieces...fun, cheaper than a pair of Jimmy Choo's and no worries about aching arches. Well shoe envy returns...this time in the form of a small commission. I had some pieces hung at a local art show when a woman approached me with an idea: her granddaughter, Janessa, had just purchased her first pair of honest-to-goodness-really-high-heels for a family wedding. She wanted to surprise Janessa with a memento of that first step (literally) as an "adult."
Blue Moon River - Susan Brubaker Knapp
ABC: Embroidery Fonts Embroidery Alphabets, VictorianWhitework
Jacobean Embroidery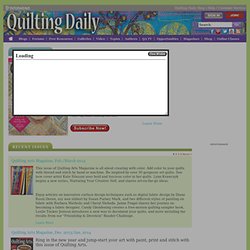 This issue of Quilting Arts Magazine is all about creating with color. Add color to your quilts with thread and stitch by hand or machine. Be inspired by over 30 gorgeous art quilts. See how cover artist Kate Stiassni uses bold and luscious color in her quilts.
Quilting Arts Challenges - Quilting Arts
Feeling Simply Quilty
1 - 20: 365 Days of Free Motion Quilting Filler Designs Project
Current Albums » Whimsical Quilts This album contains 12 pictures.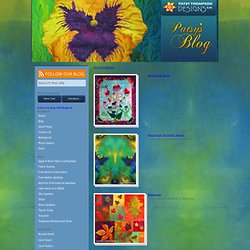 Patsy Thompson Designs, Ltd.
Lectures
Gallery of award winning heirloom machine quilts and unique quilt designs by Diane Loomis, a New England quilt artist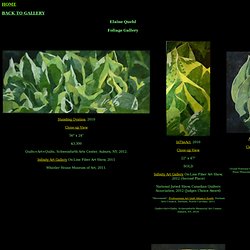 Untitled Document
Reach, 2008 Close-up View 37" x 50" Juried into SAQA: Transformations '09 – Festival of Quilts Birmingham, England, August 14-17, 2009, plus traveling show for 1 year Exhibited at Taiwan International Quilt Exhibition (invitational), Tainan City, Taiwan, March 25 - April 8, 2009. Opening Act, 2007
Sarah Ann Smith - Sarah By The Sea - Latest Quilts
Fembellish Journal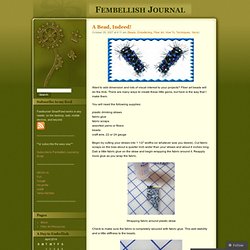 A Bead, Indeed! October 29, 2007 at 6:11 am (Beads, Embellishing, Fiber Art, How To, Techniques, Yarns) Want to add dimension and lots of visual interest to your projects?
Gallery | Linda Matthews - Inspired by Textiles